Edinburgh International Festival 2019: JARV IS review - Britpop legend still delivers
Edinburgh International Festival 2019: JARV IS review - Britpop legend still delivers
Pulp frontman brings expertly crafted songs and a tight, talented band to Leith Theatre
Jarvis Cocker on stage at the Leith Theatre
"Cunts Are Still". Well, that got your attention, didn't it? Not my words, merely the title of one of JARV IS's new tracks. In case you didn't get it, JARV IS is a play on words and the name of given to Pulp frontman and founder Jarvis Cocker's latest outfit. Cocker still is releasing new material. He still is an exuberant and energetic performer. He still is wearing those glasses. And still is very good.
The title of the aforementioned track refers not, however, to Britpop heroes playing major international arts festivals, but to those in political power who are "still ruling the world". A large portion of the crowd was singing along to the crudely titled song, Jarvis clearly having got them onside with his establishment-shaming preamble. He'd also welcomed the members of Extinction Rebellion who had greeted audience members at the front gates. Their cause also got a cheer from the crowd, though one can only speculate as to what the anti-ecocide protesters would have to say about the copious plastic cups which littered the floor after the gig.
Though only one of JARV IS's songs – "Must I Evolve" – is officially recorded and released, the band played with a tightness which implied quite a bit of previous performance. They're a very talented group of players. Multi-instrumentalist Emma Smith played violin like a rock star, with a piercing bite to her tone, and the drums, played by Jason Buckle and Adam Betts, were steady and driven. "House Music" – a song about a man who stays in his house listening to (you guessed it) house music – is a very well-crafted composition, despite being a bit of a parody. In fact, there was a lot in this set which all too easily could have been dismissed as merely "conceptual", but the strong musical integrity and artistic skill displayed by all on stage ensured that was not the case.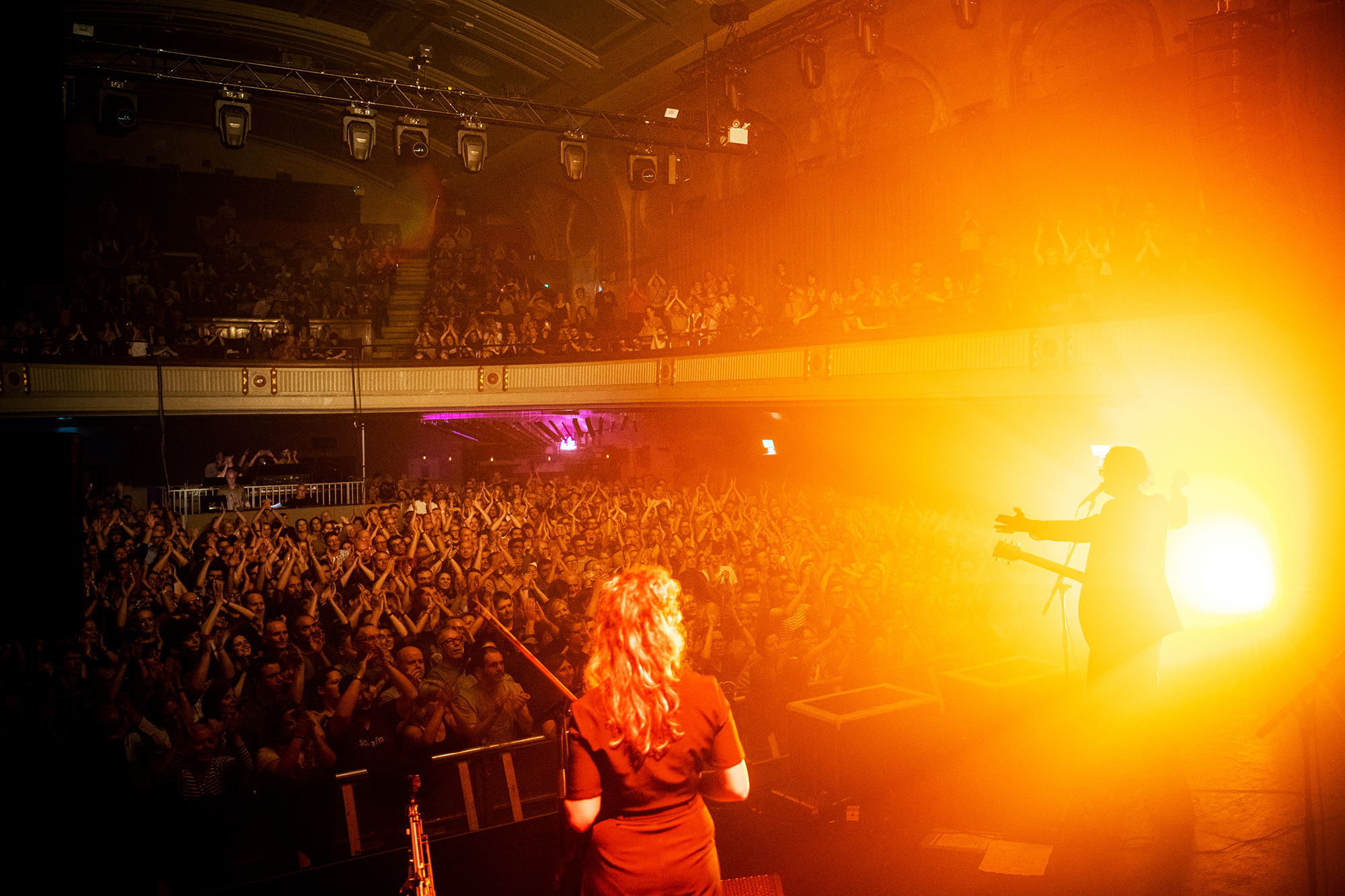 Cocker's stage presence is quite something. His performance was brash and boisterous as he writhed around with jagged yet fluid movements, appearing, miraculously, not to be affected by any heat as a result of wearing a suit. The venue looked fantastic too. The stage switched from being swathed in canary yellow to deep, warm magenta and violet hues, illuminating different sections of the band, and at times, revealing a little figurine of an explorer. Subtly placed at the back right-hand side of the stage, this little statuette was never referenced, but perhaps this effigy of a pioneer in search of a new world bore some relation to Cocker's current artistic direction.
Support on the night was from Our Lady of the Stars, a five piece of not particularly celestial seeming men. Fronted by Jackie (John) McKeown, better known for being the lead singer in Glasgow-based bands The Yummy Fur and 1990s, theirs was a straight up indie sound, which was an enjoyable, though not captivating, prelude to the main event.
Perhaps the effigy of a pioneer in search of a new world bore some relation to Cocker's current artistic direction
rating
Share this article