theatre reviews, news & interviews
Thursday, 09 April 2020
She's an ordinary young woman, and she really doesn't know what to think. After all, things are way out of control. She knows that the natural world is pretty fucked, and that nothing grows in the earth any more — well, at least not on her patch. She knows that the gators, the semi-aquatic reptiles that used to live in swamps, have now taken to strolling through cities. And that they fall in love with humans, and serenade them, and feel bad when they are rejected.
Wednesday, 08 April 2020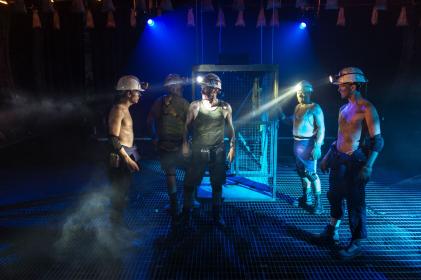 The talk is of an "economy in ruin [with] unemployment through the roof": a précis of Britain in lockdown?
London theatre is the oldest and most famous theatreland in the world, with more than 100 theatres offering shows ranging from new plays in the subsidised venues such as the National Theatre and Royal Court to mass popular hits such as The Lion King in the West End and influential experimental crucibles like the Bush and Almeida theatres. There's much cross-fertilisation with Broadway, with London productions transferring to New York, and leading Hollywood film actors coming to the West End to star in live theatre. In regional British theatre, the creative energy of theatres like Alan Ayckbourn's Stephen Joseph Theatre, Scarborough, the Bristol Old Vic and the Sheffield theatre hub add to the richness of the landscape, while the many town theatres host circling tours of popular farces, crime theatre and musicals.
lion_kingThe first permanent theatre, the Red Lion, was built in Queen Elizabeth I's time, in 1576 in Shoreditch; Shakespeare spent 20 years in London with the Lord Chamberlain's Men, mainly performing at The Theatre, also in Shoreditch. A century later under the merry Charles II the first "West End" theatre was built on what is now Theatre Royal Drury Lane, and Restoration theatre evolved with a strong injection of political wit from Irish playwrights Oliver Goldsmith and Richard Brinsley Sheridan. Catering for more populist tastes, Sadler's Wells theatre went up in 1765, and a lively mix of drama, comedy and working-class music-hall ensued. But by the mid-19th century London theatre was deplored for its low taste, its burlesque productions unfavourably contrasted with the aristocratic French theatre. Calls for a national theatre to do justice to Shakespeare resulted in the first "Shakespeare Memorial" theatre built in Stratford in 1879.
The Forties and Fifties saw a golden age of classic theatre, with Sir Laurence Olivier, Sir Ralph Richardson and Sir John Gielgud starring in world-acclaimed productions in the Old Vic company, and new British plays by Harold Pinter, John Osborne, Beckett and others erupting at the English Stage Company in the Royal Court. This momentum led in 1961 to the establishing of the Royal Shakespeare Company in Stratford, and in 1963 the launch of the National Theatre at The Old Vic, led by Olivier. In the late Sixties Britain broke the American stranglehold on large-scale modern musicals when Andrew Lloyd Webber and Tim Rice launched their brilliant careers with first Joseph and the Amazing Technicolor Dreamcoat and then Jesus Christ Superstar in 1970, and never looked back. The British modern original musical tradition led on to Les Misérables, The Lion King and most recently Matilda.
The Arts Desk brings you the fastest overnight reviews and ticket booking links for last night's openings, as well as the most thoughtful close-up interviews with major creative figures, actors and playwrights. Our critics include Matt Wolf, Aleks Sierz, Alexandra Coghlan, Veronica Lee, Sam Marlowe, Hilary Whitney and James Woodall.