Classical Music reviews, news & interviews
Wednesday, 29 November 2023
Frank Bridge's Phantasie Piano Quartet was astutely described by his student Benjamin Britten as "Brahms tempered with Fauré", so it made a lot of sense to programme it alongside the first piano quartets of those other composers. A "supergroup" of brilliant young soloists came together as an ensemble as tight as any that plays together every day, and made a committed case for each piece.
Tuesday, 28 November 2023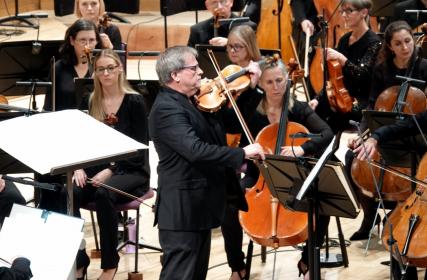 John Storgårds found himself literally facing both ways for the third item on the BBC Philharmonic's programme on Saturday: towards the audience, with one music stand in front of him, as he played the solo violin role in Sebastian Fagerlund's Helena's Song, and frequently turning 180 degrees, with the full score in view, to conduct at the same time.
London has more world-famous symphony orchestras than any other city in the world, the Philharmonia, Royal Philharmonic, London Philharmonic and London Symphony Orchestra vying with the BBC Symphony Orchestra and Royal Opera House Orchestra, crack "period", chamber and contemporary orchestras. The bursting schedules of concerts at the Wigmore Hall, the Barbican Centre and South Bank Centre, and the strength of music in Birmingham, Manchester, Leeds and Cardiff, among other cities, show a depth and internationalism reflecting the development of the British classical tradition as European, but with specific slants of its own.
brittenWhile Renaissance monarchs Henry VIII and Elizabeth I took a lively interest in musical entertainment, this did not prevent outstanding English composers such as Thomas Tallis and William Byrd developing the use of massed choral voices to stirring effect. Arguably the vocal tradition became British music's glory, boosted by the arrival of Handel as a London resident in 1710. For the next 35 years he generated booms in opera, choral and instrumental playing, and London attracted a wealth of major European composers, Mozart, Chopin and Mahler among them.
The Victorian era saw a proliferation of classical music organisations, beginning with the Philharmonic Society, 1813, and the Royal Academy of Music, 1822, both keenly promoting Beethoven's music. The Royal Albert Hall and the Queen's Hall were key new concert halls, and Manchester, Liverpool and Edinburgh established major orchestras. Edward Elgar was chief of a raft of English late-Victorian composers; a boom-time which saw the Proms launched in 1895 by Sir Henry Wood, and a rapid increase in conservatoires and orchestras. The "pastoral" English classical style arose, typified by Vaughan Williams, and the new BBC took over the Proms in 1931, founding its own broadcasting orchestra and classical radio station (now Radio 3).
England at last produced a world giant in Benjamin Britten (pictured above), whose protean range spearheaded the postwar establishment of national arts institutions, resulting notably in English National Opera, the Royal Opera and the Aldeburgh Festival. The Arts Desk writers provide a uniquely rich coverage of classical concerts, with overnight reviews and indepth interviews with major performers and composers, from Britain and abroad. Writers include Igor Toronyi-Lalic, David Nice, Edward Seckerson, Alexandra Coghlan, Graham Rickson, Stephen Walsh and Ismene Brown