Comedy reviews, news & interviews
Saturday, 25 November 2023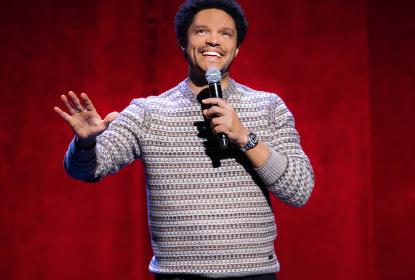 The O2 has to be the K2 of comedy peaks: a vast ovoid drum of a place where those right at the back have to be content with watching magnified images on screens. And for a standup, there are no electric instruments to drown out the echoing acoustics.
Friday, 10 November 2023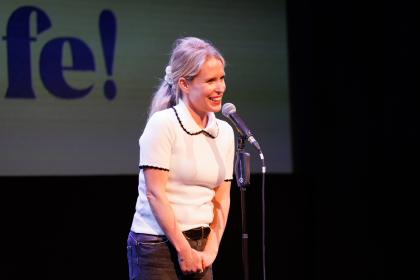 Lucy Beaumont tells some tall stories – many ridiculous and some of them true, one assumes.  But such is Beaumont's wide-eyed delivery that you believe her, particularly if you have seen her on the current series of Taskmaster, where her confused "I don't know what I thought would happen" approach provides great entertainment.
British comedy has a honourable history, dating back to Chaucer's Canterbury Tales, through Shakespeare's and Restoration plays to Victorian and Edwardian music hall and its offspring variety, and on to Monty Python's Flying Circus, working-men's clubs, 1980s alternative comedy, and today's hugely popular stand-up acts in stadiums seating up to 20,000 people.
In broadcast media, the immediate decades after the Second World War marked radio's golden age for comedy, with shows such as ITMA, The Goons, Round the Horne and Beyond Our Ken. Many radio comedy shows transferred to even greater acclaim on television - such as Hancock's Half Hour, The Hitchhiker's Guide to the Galaxy, Knowing Me, Knowing You, The Day Today, Red Dwarf, The League of Gentlemen, Goodness Gracious Me and Little Britain.
In television, the 1970s and 1980s were the great age of British sitcom, when shows such as Steptoe and Son, Till Death Us Do Part, Rising Damp, Dad's Army, Porridge, Yes, Minister, Only Fools and Horses, Fawlty Towers and Blackadder. They were marked by great writing, acting and directing, although the time should also be noted for great British dross such as On the Buses and Love Thy Neighbour.
By the 1990s, British sitcom had developed into intelligent über-comedy, with shows such as Absolutely Fabulous and The Office making dark or off-kilter (although some would say bad taste) shows such as Drop the Dead Donkey, Peep Show, Green Wing and The Inbetweeners possible. In film, British comedy has had three great ages - silent movies (Charlie Chaplin being their star), Ealing comedies (Passport to Pimlico perhaps the best ever) and Carry On films. The first are in a long tradition of daft physical humour, the second mark the dry sophistication of much British humour, and the last the bawdiness that goes back to Chaucer.
The 2000s marked the resurgence of live comedy, with acts (including Jimmy Carr, Peter Kay and Russell Howard) honing their talents at successive Edinburgh Fringes and their resulting TV, stadium tour and DVD sales making millionaires of dozens of UK comics. Comedians cross readily from TV to stand-up to film to West End comedy theatre. The British comedy industry is now a huge and growing commercial business, with star comics such as Peter Kay and Michael McIntyre grossing tens of millions of pounds from arena tours, and attendances of up to 20,000 at venues across the UK.