Edinburgh Fringe 2023 reviews: Olga Koch / Bill O'Neill / Mary O'Connell |

reviews, news & interviews
Edinburgh Fringe 2023 reviews: Olga Koch / Bill O'Neill / Mary O'Connell
Edinburgh Fringe 2023 reviews: Olga Koch / Bill O'Neill / Mary O'Connell
An eventful adult gap year, masterful mayhem, and an accomplished debut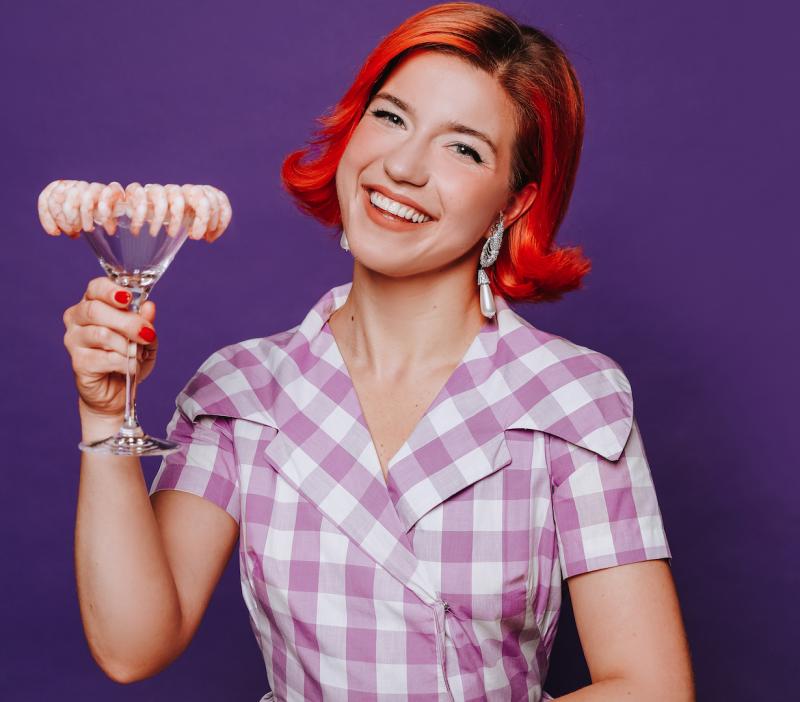 Olga Koch talks about pushing her sexual boundaries
Olga Koch Monkey Barrel ★★★★
Olga Koch's opening segment deals with bisexuality and her first threesome in some decidedly evocative language. That's what turning 30 does for you, she suggests – allowing her to engage in a more adventurous attitude to life and a more sex-positive one to relationships.
Prawn Cocktail is her vivid account of her sort-of adult gap year during which she not only pushed her sexual boundaries but also gained a master's degree in parasocial relationships – or the "reply guys" who hilariously think they have a real connection with the famous women they engage with online. It's gnarly subject that Koch effortlessly feeds into the narrative, which is filled with clever callbacks and silly aides referencing, among other things, Loose Women, spitting alpacas and Magic Mike.
Prawn Cocktail is essentially a long-form story about the London-based comic meeting a guy in New Zealand and deciding to have a shagathon with him in Tokyo, where he lives. After months of admin and juggling diaries, Koch travelled to Japan, only to find that the stud she had met was a dud in all other respects. Koch gets some great comedy in describing his lack of personality, where even sharing a hot-tub was less of a frolic and more of a chore.
Koch draws all the show's threads together in a wonderful, er, climax, ending with a terrific callback.
Bill O'Neill Pleasance Courtyard ★★★★
There's a nice conceit in a show titled The Amazing Banana Brothers, as only one performer – the American Bill O'Neill – appears. He plays two larger-than-life characters – Kevin Calamity, a carnival barker-type figure, and his younger brother, Joey Insanity. Kevin is staging a show in which he promises to slip on 1,000 banana skins in an hour, and Kevin is his assistant; older bro is working towards the most difficult banana pratfall, the Prestige Slip.
No spoilers, but that 1,000 would be an impossible feat – although many bananas do indeed meet their demise in the hour – as Joey recounts the brothers' origin story while involving audience members (don't sit in the front row if you are allergic to audience participation) in all sorts of frolics and general mayhem.
There are great sight gags, and others those of a sensitive disposition may wish not to witness – such as one involving Joey's nipples and some salad tongs as O'Neill throws himself around the stage (and on to innocent bananas) with abandon.
The show, directed by Natalie Palamides, looks like anarchic fun but O'Neill is masterfully pulling the strings, and it ends with a fantastic coup de theatre.
Mary O'Connell Pleasance Courtyard ★★★★
Mary O'Connell comes on stage flicking fake tenners at the audience. "I'm obsessed with money," the Londoner tells us in Money Princess. The only trouble is, she doesn't have much of it – but she does have a keen shopping habit.
What follows is an entertaining hour in which O'Connell offers biographical snippets, saying that as a "queer woman of colour" in the comedy industry she is expected to talk about certain things on stage – but that, we deduce, is just a way of saying she should stay in her lane. She also offers wry observations on class, capitalism and the cost-of-living crisis, and the anxiety it brings.
In a show (directed by Elf Lyons) that has several deft changes of tone, there are surreal riffs – O'Connell is not interested in having fun because how much money have you ever made on a bouncy castle? – and delicious visual gags too, such as when she switches on her mobile phone light ("I'm doing my own tech to save money").
Interwoven with all that is her account of taking part in a comedy competition sponsored by, of all companies, Only Fans. While O'Connell is aware of how it may appear to some, she does have that fondness for earning a buck or two. And, you won't be surpised to learn, there's a delicious sting in the tale.
O'Connell is smart and funny, and this is a very accomplished debut.
Koch draws all the show's threads together in a wonderful, er, climax
Explore topics
Share this article