Kate Berlant Is KATE, Soho Theatre review - glorious spoof of actory types |

reviews, news & interviews
Kate Berlant Is KATE, Soho Theatre review - glorious spoof of actory types
Kate Berlant Is KATE, Soho Theatre review - glorious spoof of actory types
US comic brings her off-Broadway hit to the UK
Tuesday, 12 September 2023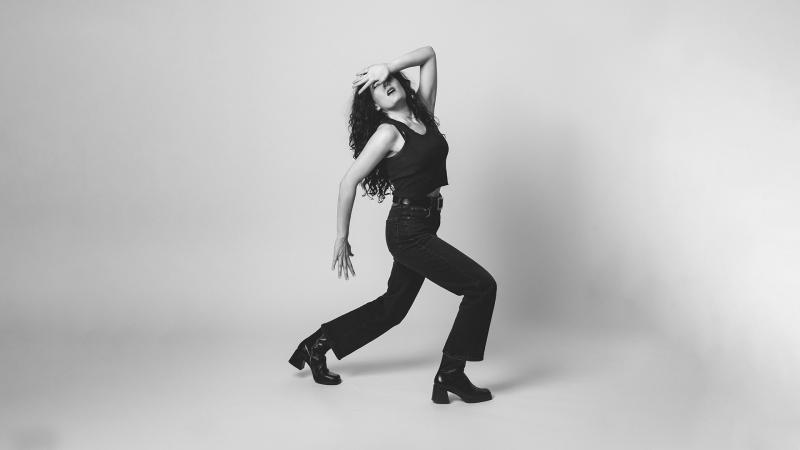 Kate Berlant shows off her terrific acting skills
The show begins before the audience troops into the theatre; the walls of the staircase leading to it are plastered with images of Kate Berlant, its writer and performer; we file past her (sitting by the doorway with a sign saying "Ignore me") and a long word-salad statement by her; and then, before she appears, we watch a film on the onstage screen in which – in arty black-and-white, quoting Stanislavsky and Oscar Wilde – Berlant preens and pouts and Looks Very Serious.
It nicely sets up Kate Berlant Is KATE, her one-woman show (already a hit off-Broadway), in which the American stand-up and performer effortlessly lampoons the self-regarding, the faux-earnest and the raging narcissists in her industry.
Much of the show displays Berlant's terrific acting skills as we see – often in close-up as much of the action is captured by the onstage camera and shown on the screen (in real time or recorded, we're never too sure) – her expressive face conveying any number of emotions as she tells her story.
We learn of her fractured childhood – absent Jewish father and Spanish mother, here portrayed as Irish as she's "playing with a certain emotional register here that only an Irish accent can give" – and her (what she says are) struggles as an actor.
We see Berlant's recreation of a disastrous screen test, her face contorting into variations of the same moue whatever the emotion being required. It's one of many times in the show that Berlant, in pretending to be a not very good actor, shows us just how good she is.
There are lovely blink-and-you'll-miss-them gags – her use of the word "ant" and the mention of a copy of Freakonomics on someone's bookshelves to sum up an entire generation are both still making me laugh days later – and Berlant keeps crashing the fourth wall as the tech (supposedly) goes wrong and she feels the need to explain her craft to the audience.
You have to have massive confidence as a performer to be so condescending, but Berlant pulls it off magnificently. But then, the audience has been primed by everything that's gone before to be in on the joke, a signature trick of her director, Bo Burnham.
Berlant tops and tails the show as a deliberately cliched cock-er-ny stage sweeper commenting on her, yet another chance for the comic to make meta jokes about shows within shows, and another opportunity to pretend to be a flailing performer. She is anything but.
Satirical takedowns of the pretensions of theatre folk and their raging egos is an established comedy trope (as is, of one-woman shows, done brilliantly at the same theatre by Liz Kingsman) but Berlant adds layers of prickly narcissism to the mix as she delivers a withering view of a society now existing online, constantly performing for the camera. It's a great 70 minutes.
There are lovely blink-and-you'll-miss-them gags
rating
Explore topics
Share this article