Edinburgh International Festival 2019 review: Roots |

reviews, news & interviews
Edinburgh International Festival 2019 review: Roots
Edinburgh International Festival 2019 review: Roots
Captivating and macabre, 1927's new show marks a partial return to their own origins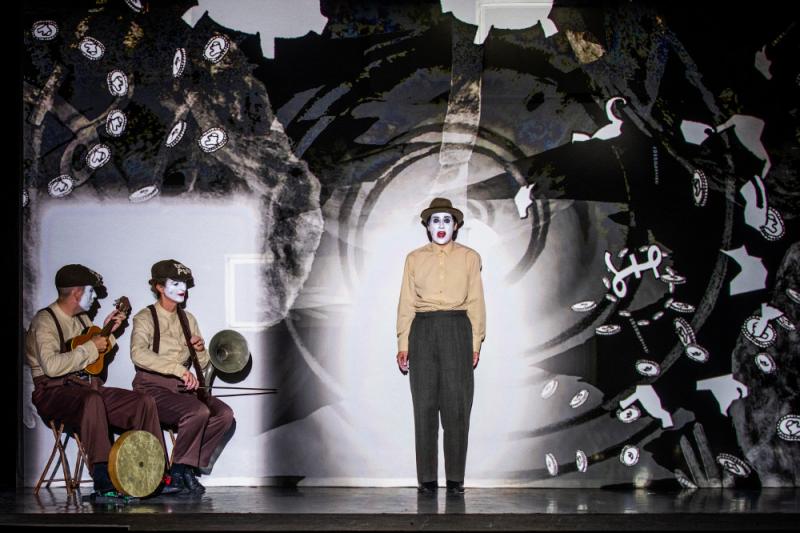 Warped music and white-faced innocents: David Insua-Cao, Francesca Simmons and writer/director Suzanne Andrade in Roots
A fat cat who gobbles up everything in sight. A king who tests his wife's fidelity with increasingly horrific trials. A man whose flatmate is Poverty. It's hard to ignore the scathing contemporary resonances in theatre company 1927's sly, witty new Roots, getting its first European performances at the Edinburgh International Festival.
The 1927 team cut their teeth in Edinburgh, way back in 2007 at the Fringe, with the gleefully gruesome Between the Devil and the Deep Blue Sea, a succession of miniature tableaux telling of devilish deeds and worrysome characters. Since then, they've gone on to huge international success, but their trademark style has remained essentially the same, blending live action and sometimes grotesque animations (the dark visions of the brilliant Paul Barritt), and channelling silent cinema, expressionism, Robert Wilson, and a peculiarly English sense of upper-class decorum.
And Roots feels rather like a return to the company's own roots, back to the piquant mini-scenes of Between the Devil…, but now imbued with all the technical know-how and thematic subtlety they've gathered in the interim. But while Between the Devil… shocked and delighted with its Edward Gorey-style gothic, Roots shines a probing light on our own times, never without humour, but with an unmistakable seriousness of purpose. Its short tales – some vaguely familiar, others weird and unknown – are captivating in their own terms, but together they form a picture of a world that's unhinged, driven by greed and mistrust, and in which dark deeds are accepted as the norm.
But, 1927 seem to be saying, it was ever thus. Writer, director and performer Suzanne Andrade has assembled her stories from the British Library's Aarne Index, a catalogue of ancient folk tales from right across the world. Andrade gives them a few modern twists – the odd oblique reference to Trump is unmistakable – and they're read on a soundtrack by some of the company's friends and family, bringing an unadorned authenticity and disarming directness to their strange twists and turns.
But what really carry the show are its visuals, those gloriously inventive, sometimes troubling animations from Barritt, as well as the the white-faced, wide-eyed innocents inserted among them. And in Roots, Barritt is noticeably broadening his design palette. A strikingly semi-abstract sequence on a sex change provoked by mating snakes is particularly memorable, as are his evocations of the 18th-century splendours of a royal court. Lillian Henley's warped music blends marvellously, as ever, with Barritt's eerie inventiveness, and it's played live on an impressive collection of instruments, from berimbau to bodhran, from dulcimer to donkey's jaw.
Roots is utterly captivating, gleefully macabre, and it makes its points so cunningly that they might just slip into your subconscious without you even noticing.
Roots at the Church Hill Theatre until 25 August
Roots' short tales form a picture of a world that's unhinged, driven by greed and mistrust
rating
Explore topics
Share this article