Inspector George Gently, BBC One review - power, corruption and lies in his last-ever case |

reviews, news & interviews
Inspector George Gently, BBC One review - power, corruption and lies in his last-ever case
Inspector George Gently, BBC One review - power, corruption and lies in his last-ever case
No more friends in the North East
Towering performance: Martin Shaw as George Gently
And now the end is near… and so Inspector George Gently faces his final case. Deemed too political to be broadcast in its original slot in May – 10 days before the General Election – Gently and the New Age was postponed until 8.30pm last night.
An ignominious time for a crime show that often burst the bonds of genre to create
drama
of real power. At least, in more ways than one, it went out with a bang.
It is December 1970 and yet the winter of discontent seems to have already begun. A scab – or, as John Bacchus (Lee Ingleby) suggests, "a non-union worker" – is stabbed as he crosses the picket line outside a local factory. In fact, the dead man turns out to have been an undercover journalist investigating the company's secret links with Ted Heath's ruling Tories.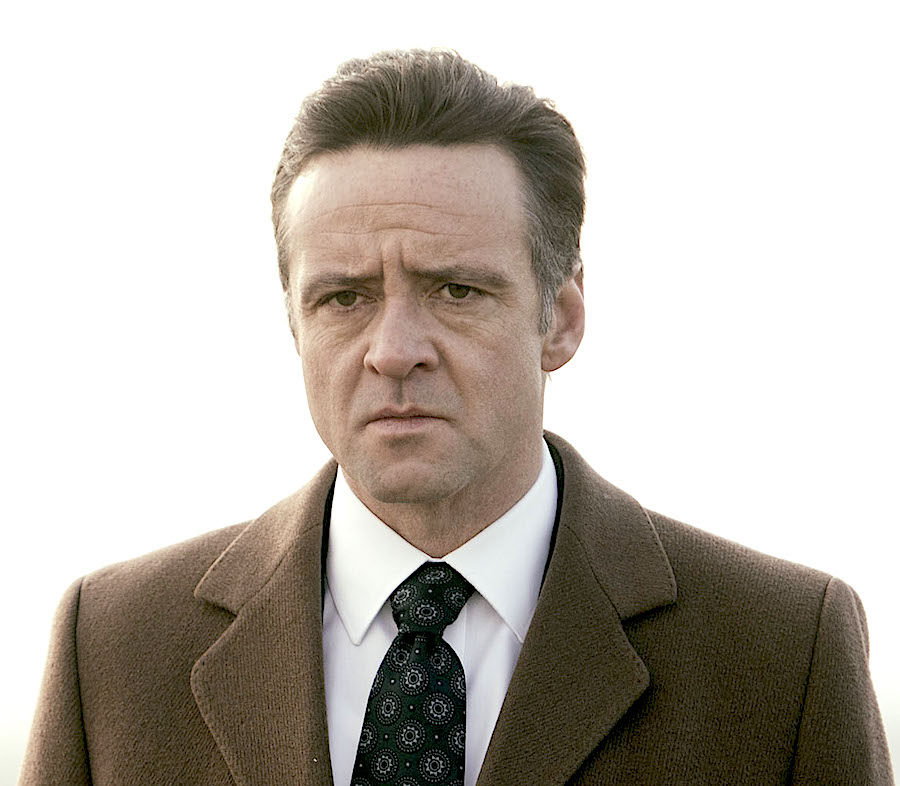 Meanwhile, old warhorse Gently (Martin Shaw) – whose initials are GG – is two weeks from retirement. Having just helped send down a few bent coppers at the Old Bailey, he is asked to investigate the investigation into the murder of a young woman in Washington four years ago. The chief suspect appears to be the local MP Michael Clements (Richard Harrington, pictured right, fresh from Poldark and Hinterland), a Downing Street contender until he was booted out of Harold Wilson's cabinet for protesting against the Vietnam war.
Clements is the cheerleader for a development project known as Marwick Point that will see a new bridge built across the Humber. His catchphrase (echoing George Osborne's Northern Powerhouse) is "Believe in the North!" Unfortunately, his enthusiasm for Europe is only matched by his taste for female company. When Gently gets too close, he offers to tell him who really killed his wife Isabella in a hit-and-run incident that has cast a shadow over the inspector's life ever since. His thirst for knowledge (and revenge) is so great that he grants Clements a week's grace.
Of course it all ended in tears. Gently refused to compromise as more and more details of high-level conspiracy and corruption leaked out. Like one of Conrad's doomed heroes, his duty (to uphold the rule of law; to stand up for common decency) is his reason for living. Without it – and without his wife – he is nothing.
Shaw gave a towering performance that provided a fitting climax to the 24 episodes that comprise Peter Flannery's portrait of 1960s Geordieland. The froideur that had lately developed between him and his sidekick Bacchus was subtly resolved in Robert Murphy's script that highlighted the social aspiration that new towns represented – even if the trees were all the same height. Director Bryn Higgins has a fine eye for the North East's industrial and architectural heritage, and ensured the characters appeared as real people rather than regional stereotypes.
Ingleby (pictured above), who first showed off his talents in Nature Boy (2000), is known for The A Word and Line of Duty today, but he has never been better than in the scenes with Shaw. Like John Thaw and Kevin Whately as Morse and Lewis before them, the pair struck sparks off each other in the 10 years they have been together.
Will the series return as Bacchus? Viewers around the world will hope so, however unlikely. In the meantime the end of Gently provides the perfect excuse, should one be needed, to watch Flannery's magnificent Our Friends in the North (1996) again.