TV reviews, news & interviews
Thursday, 18 September 2014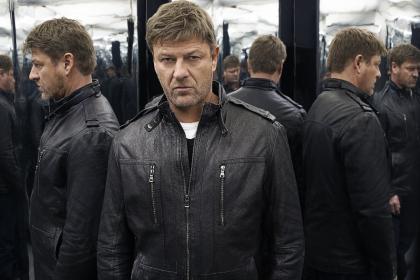 Let's face it, there are so many big-budget, densely plotted US TV imports around now that it seems a little hackneyed to compare them to buses - but even by those standards, scheduling the two newest ones concurrently seems a little careless. Your choice: Legends, an FBI procedural with a twist from Homeland show-runner Howard Gordon; or Guillermo del Toro's vampire virus horror The Strain.Neither premise is particularly original but Legends (***), with Sean Bean in the lead role as veteran...
Thursday, 18 September 2014
We think we know the story. As recounted in Philomena, in the 1950s and '60s the Irish state and Catholic Church colluded in putting children born out of wedlock up for adoption. A small minority was sent to America, causing a lifetime of trauma and longing in both mothers and children. For portraying one such mother who went in search of her son, Judi Dench was nominated for an Oscar, and the woman she played met Pope Francis. The film's ending was, if not quite happy, then at least redemptive...
You could almost chart the history of British TV by following the career of ITV's Coronation Street, as it has ridden 50 years of social change, seen off would-be rivals, survived accusations of racism and learned to live alongside the BBC's EastEnders. But no single programme, or even strand of programmes, can encompass the astonishing diversity and creativity of TV-UK since BBC TV was officially born in 1932.
Nostalgists lament the demise of single plays like Ken Loach's Cathy Come Home or Mike Leigh's Abigail's Party, but drama series like The Jewel in the Crown, Edge of Darkness, Our Friends in the North, State of Play, the original Upstairs Downstairs or Tinker, Tailor, Soldier, Spy will surely loom larger in history's rear-view mirror, while perhaps Julian Fellowes' surprise hit, Downton Abbey, heralds a new wave of the classic British costume drama. For that matter, indestructible comic creations like George Cole's Arthur Daley in Minder, Nigel Hawthorne's Sir Humphrey in Yes Minister, the Steptoes, Arthur Lowe and co in Dad's Army, John Cleese's Fawlty Towers or Only Fools and Horses insinuate themselves between the cracks of British life far more persuasively than the most earnest television documentary (at which Britain has become world-renowned).
British sci-fi will never out-gloss Hollywood monoliths like Battlestar Galactica, but Nigel Kneale's Quatermass stories are still influential 60 years later, and the reborn Doctor Who has been a creative coup for the BBC. British series from the Sixties like The Avengers, Patrick McGoohan's bizarre brainchild The Prisoner or The Saint (with the young Roger Moore) have bounced back as major influences on today's Hollywood, and re-echo through the BBC's enduringly successful Spooks.
Meanwhile, though British comedy depends more on maverick inspiration than the sleek industrialisation deployed by US television, that didn't stop Monty Python from becoming a global legend, or prevent Ricky Gervais being adopted as an American mascot. True, you might blame British TV (and Simon Cowell) for such monstrosities as The X Factor or Britain's Got Talent, but the entire planet has lapped them up. And we can console ourselves that Britain also gave the world Jacob Bronowski's The Ascent of Man, David Attenborough's epic nature series Life on Earth and The Blue Planet, as well as Kenneth Clark's Civilisation. The Arts Desk brings you overnight reviews and news of the best (and worst) of TV in Britain. Our writers include Adam Sweeting, Jasper Rees, Veronica Lee, Alexandra Coghlan, Fisun Güner, Josh Spero and Gerard Gilbert.
Subscribe to theartsdesk.com
Thank you for continuing to read our work on theartsdesk.com. For unlimited access to every article in its entirety, including our archive of more than 7,000 pieces, we're asking for £2.95 per month or £25 per year. We feel it's a very good deal, and hope you do too.
To take an annual subscription now simply click here.
And if you're looking for that extra gift for a friend or family member, why not treat them to a theartsdesk.com gift subscription?