Comedy reviews, news & interviews
Monday, 27 June 2016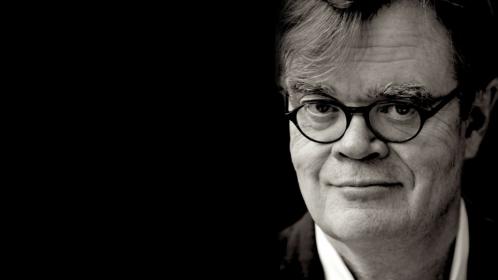 It's been a quiet week in Lake Wobegon, and has been for the past 42 years, ever since Garrison Keillor first reported on the town's goings-on in his weekly radio show A Prairie Home Companion. Keillor's purring baritone is the gentle voice of non-coastal America, and it is picked up by 700 local public radio stations by four million listeners. But at 72, and after a health scare, Keillor is stepping down. So anyone who wants to get a regular fix from Lake Wobegon will need to go back to the...
Saturday, 11 June 2016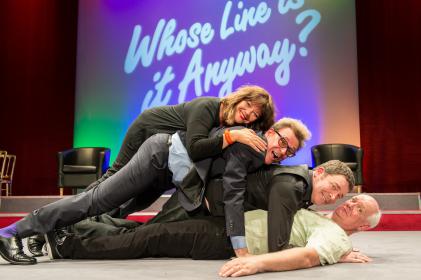 At least half the audience for this live version of the short-form improv show, which was shown on Channel 4 between 1989 and 1998, couldn't possibly have seen Whose Line Is It Anyway? when it was first broadcast, so one assumes they must have become fans via YouTube or rerun channels – testimony to the idea that good comedy is timeless and ageless.The West End version of Dan Patterson and Mark Leveson's creation is an appealing melding of old and new. The acerbic and quick-witted Clive...
British comedy has a honourable history, dating back to Chaucer's Canterbury Tales, through Shakespeare's and Restoration plays to Victorian and Edwardian music hall and its offspring variety, and on to Monty Python's Flying Circus, working-men's clubs, 1980s alternative comedy, and today's hugely popular stand-up acts in stadiums seating up to 20,000 people.
In broadcast media, the immediate decades after the Second World War marked radio's golden age for comedy, with shows such as ITMA, The Goons, Round the Horne and Beyond Our Ken. Many radio comedy shows transferred to even greater acclaim on television - such as Hancock's Half Hour, The Hitchhiker's Guide to the Galaxy, Knowing Me, Knowing You, The Day Today, Red Dwarf, The League of Gentlemen, Goodness Gracious Me and Little Britain.
In television, the 1970s and 1980s were the great age of British sitcom, when shows such as Steptoe and Son, Till Death Us Do Part, Rising Damp, Dad's Army, Porridge, Yes, Minister, Only Fools and Horses, Fawlty Towers and Blackadder. They were marked by great writing, acting and directing, although the time should also be noted for great British dross such as On the Buses and Love Thy Neighbour.
By the 1990s, British sitcom had developed into intelligent über-comedy, with shows such as Absolutely Fabulous and The Office making dark or off-kilter (although some would say bad taste) shows such as Drop the Dead Donkey, Peep Show, Green Wing and The Inbetweeners possible. In film, British comedy has had three great ages - silent movies (Charlie Chaplin being their star), Ealing comedies (Passport to Pimlico perhaps the best ever) and Carry On films. The first are in a long tradition of daft physical humour, the second mark the dry sophistication of much British humour, and the last the bawdiness that goes back to Chaucer.
The 2000s marked the resurgence of live comedy, with acts (including Jimmy Carr, Peter Kay and Russell Howard) honing their talents at successive Edinburgh Fringes and their resulting TV, stadium tour and DVD sales making millionaires of dozens of UK comics. Comedians cross readily from TV to stand-up to film to West End comedy theatre. The British comedy industry is now a huge and growing commercial business, with star comics such as Peter Kay and Michael McIntyre grossing tens of millions of pounds from arena tours, and attendances of up to 20,000 at venues across the UK.
Advertising feature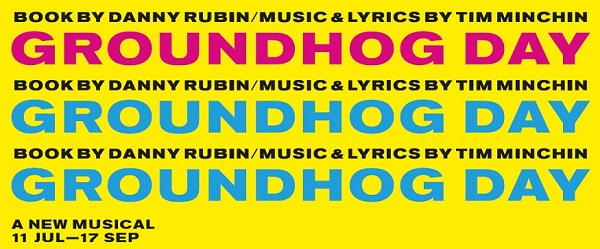 Groundhog Day

Groundhog Day is the story of Phil Connors (Andy Karl), a cynical Pittsburgh TV weatherman who is sent to cover the annual Groundhog Day event in the isolated small town of Punxsutawney, Pennsylvania, when he finds himself caught in a time loop, forced to repeat the same day again and again…and again. As each day plays out exactly the same as before Phil becomes increasingly despondent, but is there a lesson to be learnt through his experiences, will he ever unlock the secret and break the cycle?

Director Matthew Warchus, composer and lyricist Tim Minchin, choreographer Peter Darling and designer Rob Howell, four of the creators of the international sensation Matilda The Musical, have joined forces with writer Danny Rubin to collaborate on this new musical based on his 1993 hit film.

Andy Karl's numerous Broadway credits include On the Twentieth Century, Rocky, The Mystery of Edwin Drood, Jersey Boys, Wicked, 9 to 5, Legally Blonde, The Wedding Singer and Saturday Night Fever.

Andy Karl is appearing with the support of UK Equity, incorporating the Variety Artistes' Federation, pursuant to an exchange program between American Equity and UK Equity.

#GroundhogDay

@oldvictheatre
---
Subscribe to theartsdesk.com
Thank you for continuing to read our work on theartsdesk.com. For unlimited access to every article in its entirety, including our archive of more than 10,000 pieces, we're asking for £2.95 per month or £25 per year. We feel it's a very good deal, and hope you do too.
To take an annual subscription now simply click here.
And if you're looking for that extra gift for a friend or family member, why not treat them to a theartsdesk.com gift subscription?