Visual Arts reviews, news & interviews
Monday, 09 December 2013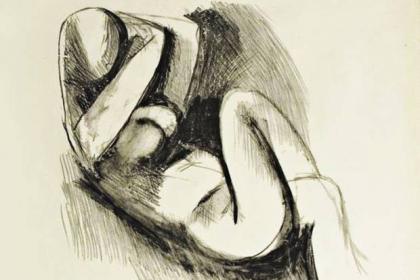 The photographs of Henri Matisse at work show, over the years, a sober, suited, bearded and dignified figure; there is also a charming series of Matisse in a white coat, as though he were a doctor, sitting in his studio and thoughtfully examining in close-up a curvaceous naked young woman, his model. In his maturity, he looks almost like the stereotype of the upper middle class professional, the lawyer that he once almost was.Of course, what happened is that he became, against family opposition...
Monday, 09 December 2013
Jake and Dinos Chapman: Come and See, Serpentine Sackler Gallery (see picture) The Chapman brothers hijack our affections by being brilliant and funny. Until 9 FebruaryAna Mendieta: Traces, Hayward Gallery A life cut short before its amazing promise could be fully realised. Until 15 December Final WeekSarah Lucas: Situation, Whitechapel Gallery Bodily functions, toilet humour, saucy root vegetables - but it's not all laughs and good, clean fun. Until 15 December Final WeekDaumier: Visions of...
The National Gallery, the British Museum, Tate Modern, the Victoria & Albert Museum, the Royal Collection - Britain's art galleries and museums are world-renowned, not only for the finest of British visual arts but core collections of antiquities and artworks from great world civilisations.
Holbein_Ambasssadors_1533The glory of British medieval art lay first in her magnificent cathedrals and manuscripts, but kings, aristocrats, scientists and explorers became the vital forces in British art, commissioning Holbein or Gainsborough portraits, founding museums of science or photography, or building palatial country mansions where architecture, craft and art united in a luxuriously cultured way of life (pictured, Holbein's The Ambassadors, 1533 © National Gallery). A rich physician Sir Hans Sloane launched the British Museum with his collection in 1753, and private collections were the basis in the 19th century for the National Gallery, the V&A, the National Portrait Gallery, the original Tate gallery and the Wallace Collections.
British art tendencies have long passionately divided between romantic abstraction and a deep-rooted love of narrative and reality. While 19th-century movements such as the Pre-Raphaelite painters and Victorian Gothic architects paid homage to decorative medieval traditions, individualists such as George Stubbs, William Hogarth, John Constable, J M W Turner and William Blake were radicals in their time.
In the 20th century sculptors Barbara Hepworth and Henry Moore, painters Francis Bacon and Lucian Freud, architects Zaha Hadid and Richard Rogers embody the contrasts between fantasy and observation. More recently another key patron, Charles Saatchi, championed the sensational Britart conceptual art explosion, typified by Damien Hirst and Tracey Emin. The Arts Desk reviews all the major exhibitions of art and photography as well as interviewing leading creative figures in depth about their careers and working practices. Our writers include Fisun Guner, Judith Flanders, Sarah Kent, Mark Hudson, Sue Steward and Josh Spero.
theartsdesk is changing
Thank you for continuing to read our work on theartsdesk.com. In September we reached our fourth birthday and feel that the time is now right, in line with other media outlets, to start asking our regular readers for a contribution to help us develop the site further. Theartsdesk has therefore moved to a partial subscription model. For unlimited access to every article in its entirety, including our archive of more than 7,000 pieces, we're asking for £2.95 per month or £25 per year. We feel it's a very good deal, and hope you do too.
Take an annual subscription now simply click here.