An Octoroon review - slavery reprised as melodrama in a vibrantly theatrical show |

reviews, news & interviews
An Octoroon review - slavery reprised as melodrama in a vibrantly theatrical show
An Octoroon review - slavery reprised as melodrama in a vibrantly theatrical show
A major work of new American drama receives its European premiere at Richmond's Orange Tree Theatre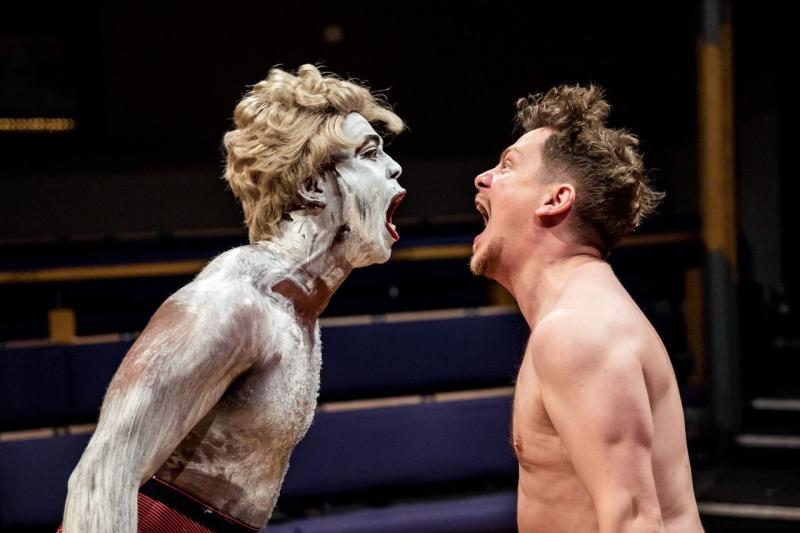 Two playwrights make a noise: Ken Nwosu, left, and Kevin Trainor
Make no mistake about it, Branden Jacobs-Jenkins is a playwright to watch.
London receives its first opportunity to appraise his vibrant, quizzical talent with this production of
An Octoroon
, for which he received an OBIE in 2014 (jointly with his second Off-Broadway work of the same year,
Appropriate
)
.
His follow-on play
Gloria
, opening at the Hampstead Theatre in June, was a finalist in the Pulitzer drama category in 2016.
An Octoroon is a cracking piece of writing. Jacobs-Jenkins has taken on that defining American subject, slavery, and deconstructed it via the prism of an 1859 melodrama by the great 19th century theatrical warhorse, Dion Boucicault. A runaway hit in its time, Boucicault's The Octoroon – the difference between the two titles is their determiner, no more, and we're left to ponder the implications of that change – played on the uneasy sentiments of antebellum America: the word itself refers to one who is one-eighth black by blood, a detail of miscegenation on which Boucicault's story crucially swung. That borrowing is a stroke of inspiration in itself – melodrama being a self-referential genre, the satiric contexts of then and now contrast very nicely – but it's the richness of Jacobs-Jenkins's own imagination that really sets this show soaring.
Jacobs-Jenkins demands impossible agility from his central character
Just how do you deconstruct a tale of slavery, and the challenge of writing about it today? Jacobs-Jenkins hits on the device of a prologue, "the act of dramatic composition", in which a writer, BJJ – the initials give it away – riffs on the problems he faces in creating the work we are about to see. "Hi, everyone. I'm a black playwright," he introduces himself, the actor Ken Nwosu naked before us, except for pants and socks.
BJJ somewhat mischievously appraises the challenge of his position: "Black playwright. I can't even wipe my ass without someone trying to accuse me of deconstructing the race problem in America." It becomes even more incongruous from the fact that, as he talks, Nwosu is applying whiteface. When you ask a white actor to play a racist these days, BJJ explains, they run screaming. So to get his show on the road (black) BJJ will be doubling its (white) lead male roles, its hero George, the newly-arrived inheritor of a Louisiana plantation, and villain, the dastardly M'Closky who's determined to take it from him.
But that's not the limit of Jacobs-Jenkins's invention. BJJ's monologue is interrupted by the appearance of another self-obsessed soliloquiser, whom we quickly realise is a playwright too. Then, after the two have exchanged a furious "Fuck you!" barrage at one another, the penny drops: the sozzled Irishman is BJJ's partner in crime, as it were, Dion fecking Boucicault, no less. It only needs for him (Kevin Trainor) to put on the redface – for the American Indian role – and an assistant (white, Alistair Toovey) to surface and black himself up to play the male slave roles, and this unlikely production-within-a-production is ready to go.
Varied strands jostle for attention at the Terrebonne Plantation to which the action then moves. The absurdities of melodrama, particularly when its conventions are reappraised in hindsight, make for an enjoyable layer of parody throughout, literally so in the case of Dora, the Southern belle who's played to the rooftops by Celeste Dodwell. Meanwhile the two women house slaves, Minnie (Vivian Oparah) and Dido (Emmanuella Cole), act as a kind of chorus, observing developments – but they're speaking in the distinctive black street language of today ("Ain't nobody told us, neither, nigga!"). (Pictured above: Emmanuella Cole, Alistair Toovey, Vivian Oparah)
There's a growing unease that comes partly from the script – a huge-headed Br'er Rabbit, from the Uncle Remus folktales that are another legacy of plantation life, drops in and out of the action – and partly from Ned Bennett's staging. The interludes between the five acts are defined by deafening blasts of aural storm (George Dennis, sound), alternating between darkness and strobe effects (Elliot Griggs, lighting). Theo Vidgen's score plays in close sync throughout, including masterful use of live solo cello (played by James Douglas) in counterpoint.
Bristling towards a frenzied conclusion, Bennett achieves things you'd never expect, even from the Orange Tree's versatile space. Jacobs-Jenkins demands almost impossible agility from his central character, as George and M'Closky wrestle one another in the bravura climax of Nwosu's performance (Ken Nwosu, pictured above). Does the complexity of some of the later business get in the way? Occasionally. But this an effervescent production of a richly imaginative play. Jacobs-Jenkins evokes all the stage panache of his now-forgotten predecessor and melds it together with an invigorating post-modern twist. An Octoroon is vital drama, in every sense of the word.
Just how do you deconstruct a tale of slavery, and the challenge of writing about it today?
rating
Explore topics
Share this article