Trouble in Mind, The Print Room review - Tanya Moodie is a treat to watch |

reviews, news & interviews
Trouble in Mind, The Print Room review - Tanya Moodie is a treat to watch
Trouble in Mind, The Print Room review - Tanya Moodie is a treat to watch
Alice Childress's groundbreaking 1955 drama played with panache
Friday, 22 September 2017
Tanya Moodie - 'all the gestures and expressions that make up the complex character that is Wiletta'
Truth is pursued in different ways in Alice Childress's groundbreaking 1955 Trouble in Mind, and its play-within-a-play story of rehearsals for a Broadway show fully mines the range of theatrical opportunities, for much comic as well as rather more serious purpose.
On the one hand, it's the decade when method acting was becoming all the rage, which has the (white) director Al (Jonathan Singer) bamboozling – and sometimes plain manipulating – his (largely black) cast into bringing extra power to their performances.
But the other level at which Childress explores the concept of truth is more literal one, and her powerful closing scene leaves an indelible mark. That's the moment when her heroine, actress Wiletta Mayer (Tanya Moodie), has her moment expounding on the truth-to-life quotient in the play that the company is rehearsing. Trouble in Mind is all about prejudices and preconceptions, and the degree to which all involved play along with them, sometimes consciously, sometimes not. Its opening scene has Wiletta, the first to arrive for rehearsal, giving her young colleague John (Ncuti Gatwa, with Tanya Moodie, pictured below) some lessons in advancement. "White folks can't stand unhappy negroes," she tells him, recommending that he laugh at all the director's jokes.
Al's assertions of his liberal spirit will duly be revealed as illusory
Childress was the first African-American woman to have her work professionally produced in New York, and in the character of Wiletta she draws on her own experiences as a black actress in the white-dominated theatre of the day, with all the limiting expectations associated with it. Trouble in Mind was a success in its off-Broadway premiere in 1955, winning an Obie award, but when producers proposed a Broadway transfer, they asked for changes to the script – just the kind of expectation that Wiletta finally faces down. Childress refused.
Director Al sees himself as a progressive who is taking a risk staging the work we see being rehearsed, Chaos in Belleville, on Broadway. He thinks it's risky for the day, even if it appears to us an emphatically hokey – or is that hindsight speaking? – drama of life in the South, portraying relations between black sharecroppers and their white masters.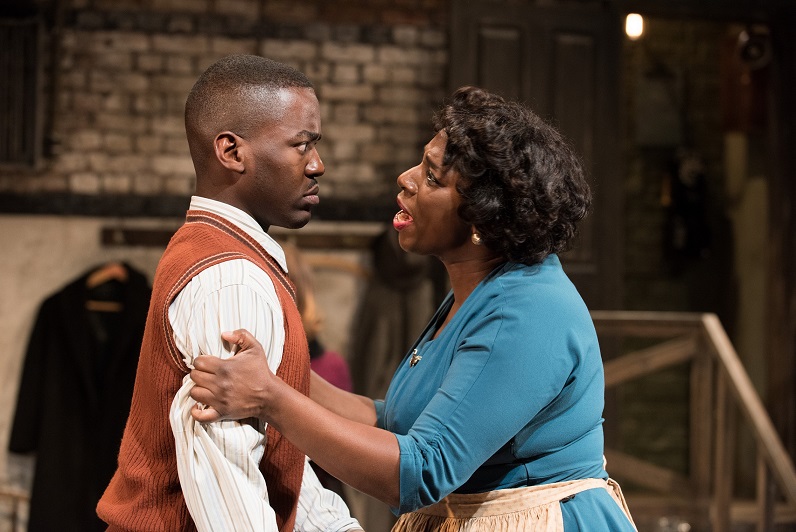 If the terrorising Al and his associates – the assistant whom he bates, the production's white patriarch, and the young Judy (Daisy Boulton) who plays the latter's daughter – count as liberals, in that emphatically New York sense, then we are left to imagine the attitudes still prevailing elsewhere in the country: the hopeful assertion made at one point here, "People are all the same", is either ludicrously naive or just plain deluded. Al's assertions of his liberal spirit will duly be revealed, in a powerful moment of conflict, as illusory. All the boldness he claims for himself, the "character parts" he boasts of having created for Wiletta, remain for her just "mammy parts", with all the associations of "tomming". No accident that she finds much in common with the aged Irish janitor Henry (Pip Donaghy, something of a Chekhovian Firs), who has his own historic sense of his race bruised by the standards of others.
Trouble in Mind may look quite conventional today, but it was surely a forerunner. Four years later, Lorraine Hansberry's A Raisin in the Sun would be the first play by a black woman to be produced on Broadway, with Sidney Poitier in the lead (Poitier was a close friend of Childress: she wrote her very first piece of drama, the one-acter Florence, to prove to him that a play could be written overnight).
Trouble in Mind has a crucial exchange at the end of the play between Al and Wiletta: "The story goes a certain way," he says, to which she replies, "It ought to go another way." Hansberry's final, unfinished play Les Blancs, seen last year at the National, surely explores that idea. And, bringing it all right up to date, how fascinating to watch Childress's play in the light of Branden Jacobs-Jenkins' An Octoroon, so winningly premiered at the Orange Tree earlier this year, in which the young black dramatist assumed total control of the myths that had once defined black experience, to treat them with his own consciously controlling irony.
If that suggests a certain academic dryness, Lawrence Boswell's production at the Print Room at the Coronet is anything but: it plays very fluently indeed, with a company confidence in evidence that can't only be due to its run last year at Theatre Royal Bath (only Tanya Moodie, Pip Donaghy, and Geoff Leesley as Bill O'Wray remain from that production). The large hall of the Coronet is an ideal space, Polly Sullivan's design playing on its atmosphere of faded theatre history. This is genuine ensemble playing, but Tanya Moodie can't help standing out, substantial in her stage presence and revelling in all the gestures and expressions that make up the complex character that is Wiletta. She's a treat to watch.