Les Blancs, National Theatre |

reviews, news & interviews
Les Blancs, National Theatre
Les Blancs, National Theatre
Lorraine Hansberry's final play leaves issues unresolved, but Yaël Farber's production excels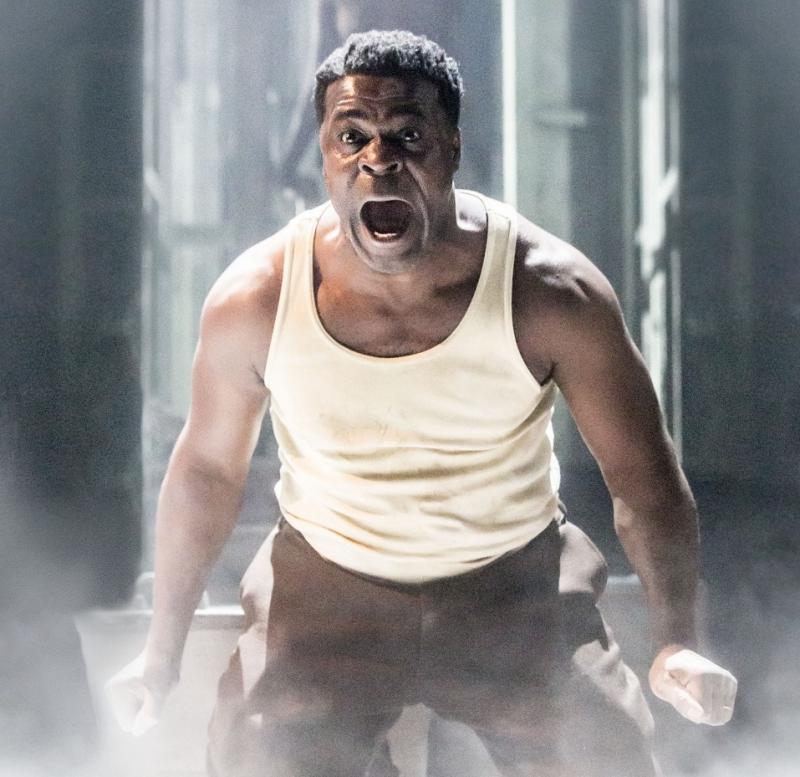 Danny Sapani as Tshembe: distinctive bulk and presence regardless of uncertainty
Lorraine Hansberry's career as a playwright proved tragically short. A Raisin in the Sun is by some distance her best-known work, a key piece about the African American post-war experience. But she thought Les Blancs (The Whites) was potentially her most important play, although it remained unfinished at her death in 1965, aged only 34; it was assembled from drafts by her ex-husband and executor Robert Nemiroff, finally reaching Broadway in 1970.
Les Blancs expands Hansberry's dramatic range enormously, taking us from the direct American realism of Raisin to an unspecified African country – "yesterday, today, tomorrow, but not very long after that" is how she defines its timeline – where the late days of European colonialism are playing themselves out against an undercurrent of rising African nationalism. Its attempt to comprehend two increasingly conflicting worlds – the violence may be largely offstage, but hangs heavily in the air nonetheless – somehow seems to lead to a certain dramatic incompleteness (though that's hard to say finally when the work was itself left incomplete).
Not least because Les Blancs is at least partly about the sundering of relationships. Its setting is a remote mission hospital that over the decades has dispensed medicine, and education, to the local community; its patriarch Reverend Neilsen, notably absent through the play, is based on someone like Albert Schweitzer, even down to the cello. His ageing wife, played with a magnificent steely-eyed sense of experience by Siân Phillips (pictured left, with Anna Madeley), at one point recalls how her closest friend used to be the now-deceased wife of the chieftain of the local community. Now the chieftain himself has died, something she only learns when Tshembe (Danny Sapani), one of that leader's sons, visits her: he has returned from London, where he has established a new life, in time for the funeral rites. Clearly these two had been close in earlier years, when Tshembe was a boy, but now all that is in the past, whatever memories remain.
Phillips's character refers to a change in the relationship between the two sides in a conversation with another visitor, the well-meaning liberal American journalist Charlie Morris (Elliot Cowan) who has come to write about the hospital set-up. "They chilled their hearts to us," is how she describes it, and we learn later, in a darkly sardonic monologue – one of the play's most striking pieces of writing – from another of the hospital's doctors, Willy Dekoven (James Fleet), how that happened.
It marked the realisation that Neilsen's time as a "father" in this wider community – the kind of easy story that Morris had intended to tell – has passed, and these "children" have grown up to demand their adult rights, even if they are still uncertain exactly what those may be, or how best to achieve them. The faithful house steward Peter (Sidney Cole) now doubles as a leader of the underground movement that is killing white settlers. In turn these "colonials", most notably the bitterly pragmatic local police chief Major Rice (Clive Francis), who's quite happy to unleash increasing violence in retaliation, insist that it is "their" country too. Each stakes their claim to truth as absolute.
The most conflicted figure here, Tshembe, is all too honest about his own separation from his past: he has become the well-travelled African, who's close to the future new nation's possible leader-to-be (until that figure duly dies in custody); he's anchored as much to his white wife and newly-born child in Europe as in this world where he grew up. He's no less critical of another brother, Abioseh (Gary Beadle), who has become a priest, aligning himself in Tshembe's eyes with the colonialist structures. Each has a plan to take their youngest sibling, Eric (Tunji Kasim), away with them: the last is not only mixed-race, the literal embodiment of the confused relationship between two worlds, but has hit the bottle in a bad way. When Eric refuses to leave, insisting to both that "I am staying where I belong", there's surely heavy irony in such apparent certainty being articulated by someone who is in every sense so mixed-up.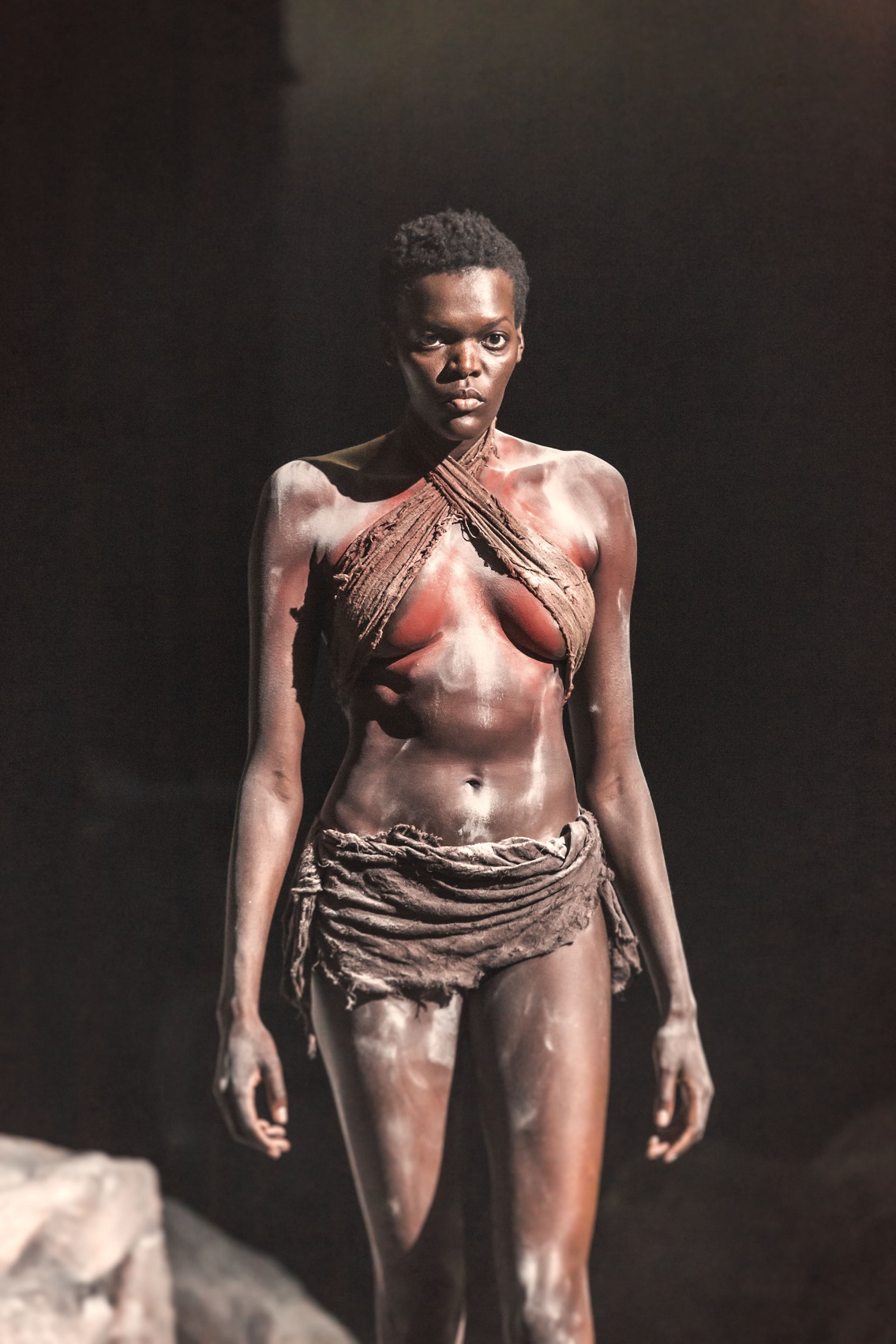 There's no more optimism about the possibility of new connections. Two of the longest scenes are interactions between Tshembe and the well-intentioned Morris, but the latter's willingness to engage sympathetically is fiercely dismissed. Tshembe sees his wish "to plumb my depths, seek out my frustrations" as no less appropriating than the process of colonialism itself, rejecting the thought that 300 years of the rape of a continent can be dissolved in friendly discourse over whisky and cigarettes.
Tshembe's cry "I don't know what to do" may draw comparisons with a speechifying Hamlet, but Sapani conveys a distinctive bulk and presence regardless of his uncertainty (main picture). On a different level is the admission that the hospital's white staff – as well as the sardonic Dekoven, there's the rather more anchored surgeon Marta (Anna Madeley) – really came to Africa for self-fulfilment, rather than any more "noble" motive. If Hansberry is unflinching in revealing the illusions of her characters, her play is on one level no less conflicted. When Madame Nielsen tells Morris, "Few men get to see the end of an epoch and the opportunity to know it at the same time," she's articulating a quintessentially Chekhovian motif, but we surely feel that Hansberry would categorically reject such an interpretation: for her this world has to vanish, and there should be no cause to regret its passing. It also makes for a strange transition to Tshembe's final decisive act which draws on a more elemental sense akin to Greek tragedy.
If this white microcosm (centre picture, Elliot Cowan in foreground) is the immediate location in which Hansberry's drama unfolds, director Yaël Farber makes it fully clear that it is surrounded by Africa herself, with its walking players and singers (Soutra Gilmour's revolve set opens up the sense of space beautifully, right back to the starry sky), and music and sounds (no less embracing, from Adam Cook) adding true ambience. The ensemble cast is excellent: among the supporting figures in the landscape none is more striking than Sheila Atim's Woman (pictured above right), lone and wordless, who stalks the stage with a proprietary, languorous dignity, at first proudly tall and thin in stature, then for a time in the second half somehow stooped, even collapsed. It's an inspired addition which dominates the production, on which it forces its own measured pace. Not that Hansberry was suggesting that the answers lie in any such primal past alone, rather in its combination with new action, a direction for which remains still to be discovered.
We surely feel that Hansberry would categorically reject such a Chekovian interpretation: for her this world has to vanish, and there should be no cause to regret its passing
rating
Share this article