Mies Julie, Riverside Studios |

reviews, news & interviews
Mies Julie, Riverside Studios
Mies Julie, Riverside Studios
Electrifying Strindberg adaptation prompts not shock or horror but desperate sadness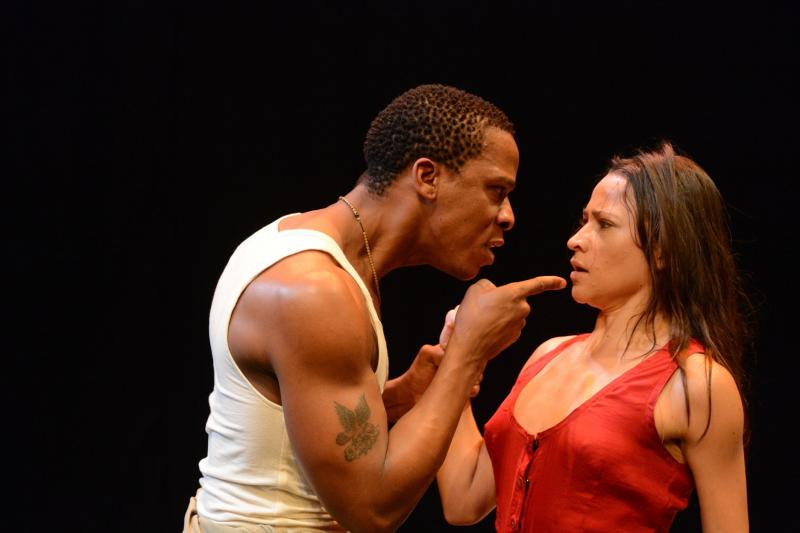 Romeo and Juliet gone awry: Bongile Mantsai as John and Hilda Cronje as Julie
Snow flurries outside, steam heat within. Writer-director Yael Farber's transposition of Strindberg from a 19th-century Swedish estate to a contemporary farm in South Africa's Karoo region on the eve of a storm is so painstakingly evocative that all worries about the latest publicity image – shades of blaxploitation, more Mandingo than Miss Julie – instantly evaporate.
There's much of the same giddying power-shifts and sexual violence that buffet the original, but Farber's recent conception, fresh from acclaim at last year's Edinburgh Festival, recalibrates the context dramatically. The overwhelming sense is not one of shock or horror but simply of desparate sadness for what might have been a tale of a veldt Romeo and Juliet.
Strindberg in 1880 denied the possibility of true love between his "two spirits of such unequal quality". Farber and her extraordinary actors believe in it passionately. Yet while the tensions and releases of Mies Julie and her black servant John always feel truthful, set against the real background of so-called Freedom Day in a new South Africa where apparent miracles always set you back where you began, stylisation rules.
Entering the Riverside's Studio Two, we're taken straight to the Karoo by Patrick Curtis's design of a homestead kitchen: cracked reddish-brown tiles with Xhosa ancestral tree roots breaking through, a makeshift table with two chairs, the birdcage of Strindbergian infamy, numerous pairs of boots including a centrally placed leather pair for John to polish (the boss's, of course). As the play begins, though, the four participants prowl and pace their frustrations to a doomy soundscape from Daniel and Matthew Pencer. Throughout, the vividly choreographed sexual interplay of Hilda Cronje's Julie and Bongile Mantsai's John is so well executed that you'd be happy to watch the drama as a balletic play without words (Strindberg, of course, has cues for dance and pantomime).
Cronje startles us when Julie eventually begins to speak. This small, wiry, pent-up figure has a voice of velvety depths. Mantsai's John is going to be hard-pressed to match her total command of the stage, though he often does, and in any case Farber's scales are weighted perhaps too much in his favour as a Xhosa dispossessed of his land by generations of Boer wrongdoing.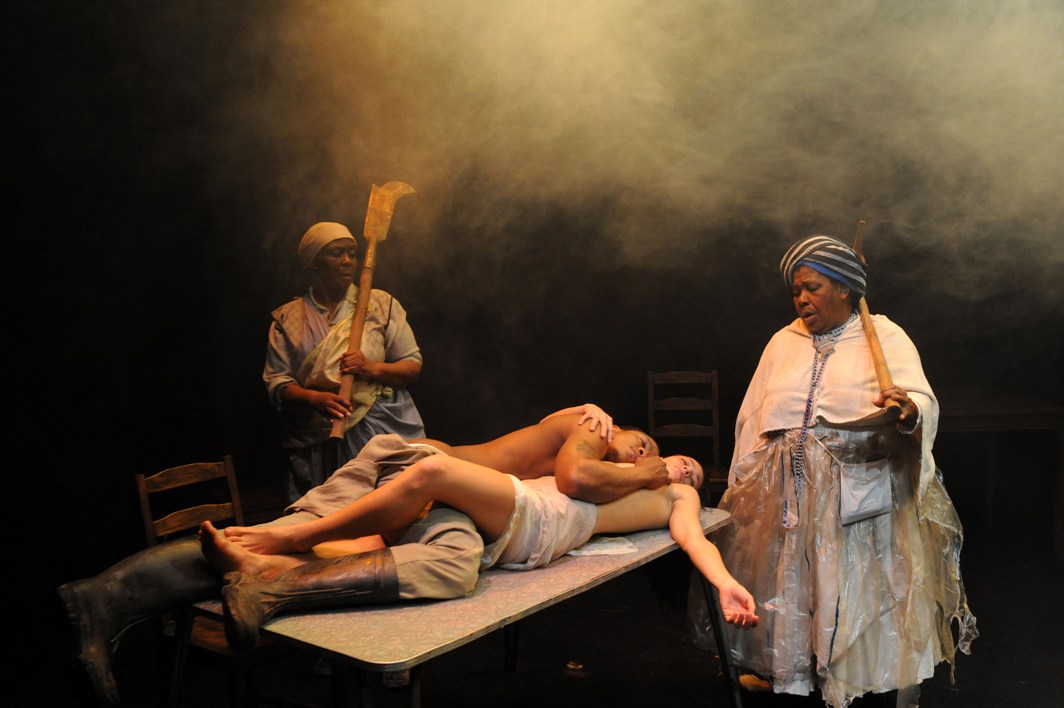 Cook Christine (Thoko Ntshinga) is not, as in Strindberg, the fellow-servant he's expected to marry but a mother with far more powerful claims on son John's loyalty. She's haunted in turn by an ancestral ghost (Tandiwe Nofirst Lungisa, pictured on the right with Ntshinga, Cronje and Mantsai) who paces the perimeter of the kitchen, sometimes invading it. Julie's own unstable mother has committed suicide, a powerful background to her lost-soul desperation, and it's another twist to the central relationship that Christine raised Julie in the absence of first-hand maternal attention.
As the main pair couple brutally, move to the point of real tenderness and tear each other apart through their self-hating apartness, the spirit of place – overwhelming in an interlude featuring consummate overtone-singing from Lungisa – gives them no chance. The soundscape can be invasive; Cronje and Mantsai are actors to trust unassisted in generating all the heat and shade through word and gesture. Slowly and devastatingly they kindle in us a sense of anguish for what might have been.
Their love and hate remain universal, recognisable to a degree - I should hope - in sexual relationships of any kind. The denouement, suffice it to say, isn't Strindberg's queasy shocker but painful and faintly unreal. You'll be moved and jolted, never repelled, which may not be exactly what the twisted Swede expected – but it certainly makes for great, essential theatre. Don't miss it.
The vividly choreographed sexual interplay of this pair is so well executed that you'd be happy to watch the drama as a balletic play without words
rating
Explore topics
Share this article