Listed: Wall Flowers - The Best of Berlin |

reviews, news & interviews
Listed: Wall Flowers - The Best of Berlin
Listed: Wall Flowers - The Best of Berlin
It divided a city, but the Wall produced great stories and songs, dramas and films. We pick our favourites
Saturday, 08 November 2014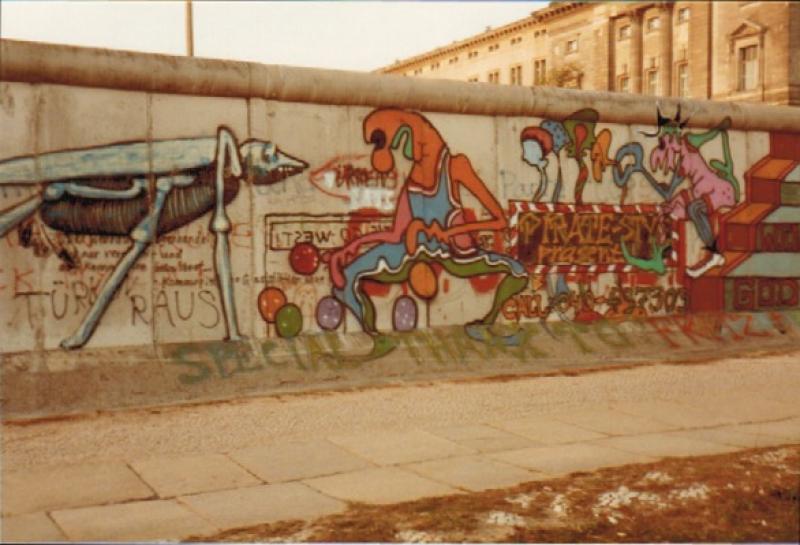 The Berlin Wall in 1984: it was the biggest artists' canvas in the world
It has long since become a cliché that the news of John F Kennedy's assassination is implanted on the memories of those who remember hearing it for the first time. As that generation thins out, their children are now likelier to think of the breach of the Berlin Wall 25 years ago this weekend.
To mark the anniversary, theartsdesk's writers have come together to nominate works of art inspired by divided Berlin. Necessarily, many of the songs, films and books suggested here have a British perspective, but others are more indigenous commentaries on what one film memorably refers to as the lives of others.
A note on the main photograph illustrating this edition of Listed. We don't normally publish our own grainy snaps but this one is different. It was taken by theartsdesk's film writer Graham Fuller in 1984. It depicts a section of the west side of the Wall. "Most of the graffiti appeared anonymously after the Wall was reconstructed in 1980," he notes. "Little graffiti appeared on the east side since would-be artists were not able to get close enough."
Our first Wall flower is supplied by the great laureate of the Cold War, a British novelist who was himself a foot soldier for MI6 and knew the story from the inside.
The Spy Who Came in from the Cold: John Le Carré, 1963
This quintessential Cold War spy novel was published two years after the building of the Berlin Wall. Beginning and ending with scenes involving East German border guards, it is a page-turning thriller that centres on Alec Leamas, a disillusioned British intelligence officer. The film version, released in 1965, stars a tortured Richard Burton, and is a classic. Aleks Sierz
"Heroes": David Bowie, 1977
"We can beat them, just for one day." A Cold War classic triggered by listening to Neu!'s track "Hero!" during Bowie's post-alien Berlin period. The immense sound with Brian Eno's VCS3 synth and Robert Fripp's feedbacked guitar gives the song of doomed lovers in the shadow of the Wall an ironic (the title is in inverted commas) triumphalism. Peter Culshaw
Fatherland: Ken Loach, 1986
Trevor Griffiths wrote this brooding historical thriller about an East Berlin protest singer (Gerulf Pannach, pictured), who crosses Checkpoint Charlie and condemns vestigial Nazism in the West German government as fiercely as he condemned the East's betrayal of Marxism. Constantly followed, the spiky dissident and a supposed journalist (Fabienne Babe) travel to his defector father's English refuge for a climax that justifies the paranoid mood. Graham Fuller
Wings Of Desire: Wim Wenders, 1987
Wenders' love letter to a divided Berlin sees angels over the city observing its complex life, but unable to join in. Beautifully shot, with dialogue inspired by Rilke's poems, and performances from Bruno Ganz, Solveig Dommartin and Peter Falk, Wings Of Desire could only work in Berlin – as demonstrated by its disastrous Los Angeles remake City of Angels. Simon Munk
Rostropovich plays Bach by the Wall, 13 November 1989
This was no publicity stunt: the world's greatest cellist wanted to mark part of the history in which he had already played a major role. Stripped of his Soviet citizenship along with his wife, soprano Galina Vishnevskaya, for supporting Alexander Solzhenitsyn back in 1972, he would go on to fly straight to Moscow when he heard news of the White House coup and play on one of the soldier's tanks. Bach's Cello Suites would always be the symbol of Germany's freedom and greatness, so his choice in 1989 was an inevitable one. He says to the crowd it comes straight from the heart, and he's telling the truth. David Nice
The Innocent: Ian McEwan, 1990
In the rubble and spy tunnels of 1955 Berlin, McEwan creates symbolism of seething decay through which to follow his ingénu protagonist Leonard Marnham's journey of increasingly grisly self-discovery, including a bloody, graphic death McEwan now claims he regrets writing. Plotting is as tight as the drum on which McEwan beats a lament for the loss of innocence, and the horror which ensues. Matthew Wright
Good Bye, Lenin!: Wolfgang Becker, 2003
The advent of capitalism did not improve the lives of all East Germans: even today, the so-called "new Bundesländer" remain economically depressed. Good Bye, Lenin! shows the mixed blessings brough by the Wall's fall from the point of view of a young man, Alex, who "recreates" the GDR to save his ailing mother from a fatal shock in a sweet, poignant film that winningly combines love story, family drama and caper comedy. Perhaps appropriately, its global success laid the groundwork for the successful marketisation of "Ostalgie" (the nostalgia felt by some "Ossis" for the sights, sounds and cultural textures of life in the GDR), which is now well catered-for by the Berlin tourist industry. Hanna Weibye
Stasiland: Anna Funder, 2003
Curiously, the big international bestseller about the experience of living in East Berlin is by an Australian journalist. Placing classified ads to find her interviewees, Anna Funder's Stasiland (German edition pictured) sought out those on both sides of the ideological divide: the Stasi's omnipresent spies, and those whom they spied upon in history's biggest pre-internet network of state surveillance. The resulting psychological profile is of an entire society suffering from PTSD. Jasper Rees

The Lives of Others: Florian Henckel von Donnersmarck, 2006
This marvellous movie, with its grey East Berlin glinting in the rain, was an improbable fairytale for westerners. A committed, clever Stasi officer questions his beliefs, to sabotage the investigation closing in on a privileged playwright. Superb acting conveys a terrifying awareness that the state is almost – but not quite – omnipotent, as everyone spies on everyone and no one gets home free. Marina Vaizey
Berlin: David Hare, 2009
Hare himself performed searching monologues Berlin and Israel/Palestine-focused Wall: one barrier keeping people in, the other keeping people out. His frank meditation on Germany's restored capital blends political inquiry with personal musing, as he seeks the soul of modern Berlin and asks how much history should be left behind. Marianka Swain
Over There: Mark Ravenhill, 2009
There have been few odder political parables than Over There, the Royal Court play by Mark Ravenhill that cast actor-twins Luke and Harry Treadaway as Berlin twins separated by the Iron Curtain. At one point, these real-life brothers stripped to their skivvies, so that one could lick all manner of glop off the other's bare torso: an allegorical first, to be sure. Matt Wolf
Wrapped Reichstag: Christo and Jeanne-Claude, 1995

Six years after the fall of the Wall, and with Bonn still the official seat of power, artist duo Christo and Jeanne-Claude finally realised their long-awaited plan for wrapping the Reichstag. Throughout its turbulent history, the building had remained for many a powerful and resonant symbol of democracy. Finished in 1894 – decades after Germany's unification – the building had fallen into disrepair following the fire of 1933 (whether Hitler had sanctioned the attack or not, the Nazis certainly exploited it for political gain, using it as a pretext to disempower parliament and outlaw all political opposition).
The wrapped Reichstag was seen by five million visitors during two weeks of the summer of 1995, before work finally began on a four-year renovation by Norman Foster. A new glass dome, complete with viewing platform, was included to signify the openness and transparency of democracy. A full decade after the fall of the Wall, Berlin was reinstated as the capital of a reunited Germany. Fisun Güner