The Silent War, BBC Two |

reviews, news & interviews
The Silent War, BBC Two
The Silent War, BBC Two
Strange secrets from the invisible underwater struggle waged by three navies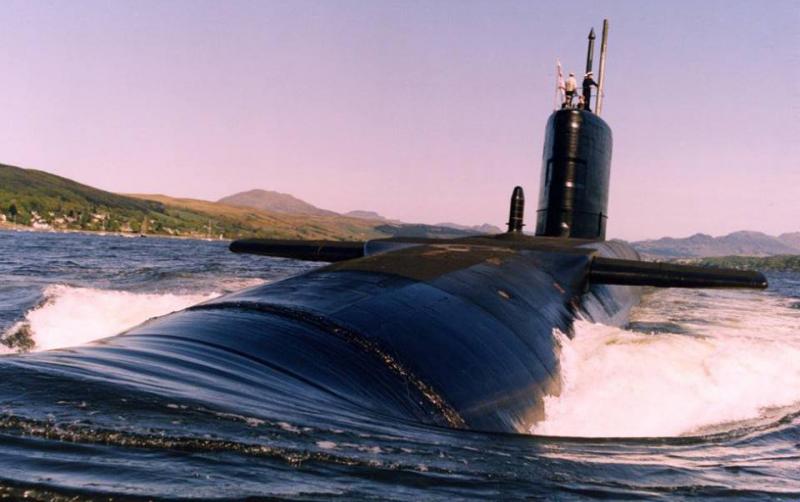 Ballistic missile submarine HMS 'Resolution', in service from 1967 to 1994
The cumulative effect of the BBC's Cold War season hasn't been to remind us that truth is stranger than fiction so much as to demonstrate how they swirled together into a miasma of delusion and uncertainty. We've seen Reds under the bed and spies in the ointment and revisited once again notorious episodes of the highest treason.
In BBC Two's Cold War, Hot Jets, we were shown not only how Britain suicidally sold its cutting-edge jet engine technology to the Russians, but how the crews of the RAF's nuclear-equipped V-bombers were trained to fly their final, cataclysmic missions beyond the Iron Curtain while preparing to wear their standard-issue eye patch. The cunning official plan was that the patch would protect one eye against the nuclear blast which would destroy the eyesight in the other one. Only problem was that there wouldn't have been anywhere left to land.
As for The Silent War (part two next week), it reveals how, as Russian bombers probed Western air defences, the British and American submarine fleets were waging a hysterically intense underwater struggle against their Russian counterparts. Rarely can so much money, energy and ingenuity have been spent on an invisible campaign which led to no set-piece battles and incurred no casualties (other than some carefully unspecified accidental ones), but could easily have prompted the annihilation of both sides with the entire planet as collateral damage. There was at least one major collision between a British boat and its Russian quarry, described in detail here by a British sailor who was there, though the official story at the time was that they'd hit an iceberg (launch of HMS Swiftsure in 1967, pictured above).
Insane though the entire period seems now, the participants rounded up by the film-makers had no doubts about the value of their work. "It's a small club and it's great to be a member of it," said one former Royal Navy submarine skipper stoutly. Sandy Woodward (subsequently deceased), who commanded the task force to the Falklands, reminisced fondly about life as a submariner in the Fifties and Sixties. For one thing, you got much better food than the average civilian in rationing-afflicted post-war Britain - laughing in the face of the Red Menace, the chaps signed up not only for the sausages, but also the fruit juice (veteran Russian diesel sub S189, pictured below).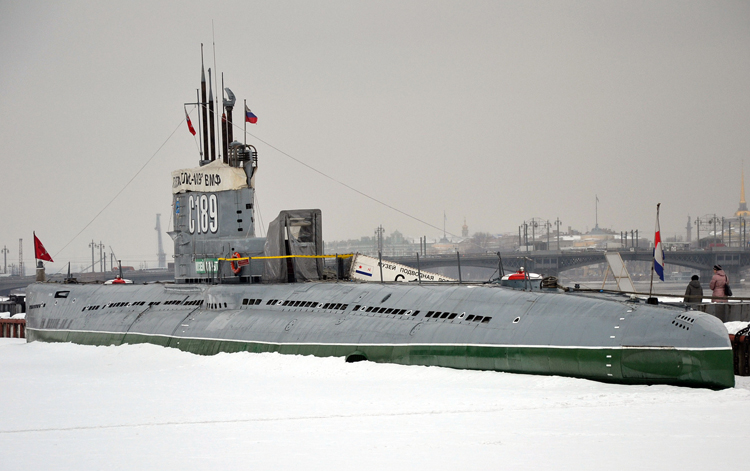 Before the advent of nuclear subs at the end of the Fifties, which could cruise the depths for months without having to surface, subaqueous life was little changed from World War Two and the U-boat era. Subs had to run on batteries while submerged, and had to surface after a few hours when the air ran out. The nuke boats changed all that, prompting an infinite game of three-dimensional chess in which the opponents never saw each other but tracked their prey with sonar and recorded the opposition's distinctive audio signatures. (The Americans wired up the entire north Atlantic with their SOSUS system of sea-bed listening equipment.)
There was an eerie account of how the British submarine Swiftsure was sent, in even higher secrecy than usual, to track down the menacing new Russian super-carrier Kiev. The Brits found their quarry in the Barents Sea, in the midst of an enormous Russian naval exercise with ships blasting off rockets and torpedoes in all directions. They managed to slide under the Kiev - Swiftsure's raised periscope was only 10 feet below it - to take sound recordings and photos. Their blurry snaps of a propeller blade or a chunk of keel seemed as spooky and alien as artefacts retrieved by a mission to Mars.
Did it all really happen? Swiftsure was decommissioned 20 years ago, and the Kiev was sold to China and converted into a luxury hotel in a military theme park. You couldn't make it up, but somebody did.
Subscribe to theartsdesk.com
Thank you for continuing to read our work on theartsdesk.com. For unlimited access to every article in its entirety, including our archive of more than 10,000 pieces, we're asking for £3.95 per month or £30 per year. We feel it's a very good deal, and hope you do too.
To take an annual subscription now simply click here.
And if you're looking for that extra gift for a friend or family member, why not treat them to a theartsdesk.com gift subscription?