The White Card, Soho Theatre review - expelling the audience from its comfort zone |

reviews, news & interviews
The White Card, Soho Theatre review - expelling the audience from its comfort zone
The White Card, Soho Theatre review - expelling the audience from its comfort zone
Art and race intersect to provocative effect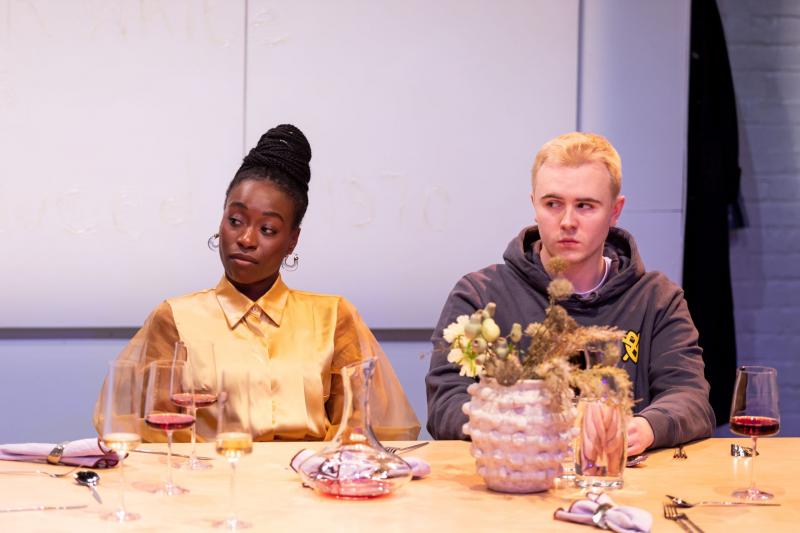 Raising questions: Christine Gomes and CJ Coleman in 'The White Card'
We're in New York City, in an upscale loft apartment, with that absence of stuff that speaks of a power to acquire anything. There are paintings on the walls, but we see only their descriptions: we learn that the owner (curator, in his word) really only sees the descriptions, too, and that the aesthetic and artistic elements barely register.
The maid has been given the evening off
–
it's soon obvious why
–
and an art dealer flits about nervously waiting for his client to arrive with a view toward arranging a significant purchase. The artist is Black; everyone else, indeed, everything else, is white.
Claudia Rankine's play premiered in 2018 and feels, superficially at least, very much of its time and place. There's much talk of Trump, of the legacy of slavery, of police murders. Delve a little deeper – and this play insists that its audience does so – and more general concerns emerge, questions that probably didn't need the mirrors brought out during a scene change to persuade a largely white London public to see itself reflected in the themes presented.
Directed at a terrific pace by Natalie Ibu, the two central characters circle each other with a wary respect but also a bubbling hostility. Charles and Charlotte – no coincidence in those names – appear to want the same thing: to bring the lived experience of black oppression into the light through art. But their histories, ideologies and methods are so at variance as to be irreconcilable (well, almost but not quite, as it transpires).
Christine Gomes (with Matthew Pidgeon, above right) gives Charlotte a steely confidence, a commitment to her art and to her framing of Black America's violent suppression as a direct product of white America's unwillingness to confront its own reality, subconsciously hiding behind learned behaviours so internalised that they are accepted as inevitable. In the year that passes between the first act and the second, she turns her camera from photographing the consequences of white America's grip over Black America to its causes, Charles now no longer a third party in her work.
Matthew Pidgeon is all liberal guilt and blundering condescension with a side order of victimhood as Charles, a man who cannot help but see life as transactional, for all of his white saviour obsession. In business, he builds private prisons benefitting hugely from the incarceration-heavy locale that is 21st century USA - but he also builds hospitals. He is abhorred, genuinely traumatised, by the police violence meted out to their Black victims but funds artists to portray it. He has been implored by his wife to help his elder son avoid prison, but at the same time feels that drug addicts must get what's coming to them.
Minor characters are less complex. Kate Copeland plays Virginia, Charles' fragile, embittered wife, as a cheerleader against racial inequality whose understanding of its impact and causes is barely as deep as the paint on the canvases she resents filling her walls. CJ Coleman lends a resentful rich kid wokeness to their younger son, Alex, the kind of Ivy Leaguer for whom the Dead Kennedys wrote "Holiday in Cambodia" 42 years ago. Nick Blakeley does what he can with his caricature of a dealer who will say anything to close the sale, an exemplar of big business's relentless cynicism.
The White Card presents much to chew on without ever losing sight of the drama that drives its central relationship. Few will be more comfortable with their thoughts on the way out as they were on the way in and a difficult question hangs heavy in the air for (let's guess) 90% of its audience. What are you going to do about it?
Few will be more comfortable with their thoughts on the way out as they were on the way in
rating
Explore topics
Share this article