The Gamechangers, BBC Two / Narcos, Netflix |

reviews, news & interviews
The Gamechangers, BBC Two / Narcos, Netflix
The Gamechangers, BBC Two / Narcos, Netflix
The magic deserts Daniel Radcliffe, and Netflix goes to Colombia
Wednesday, 16 September 2015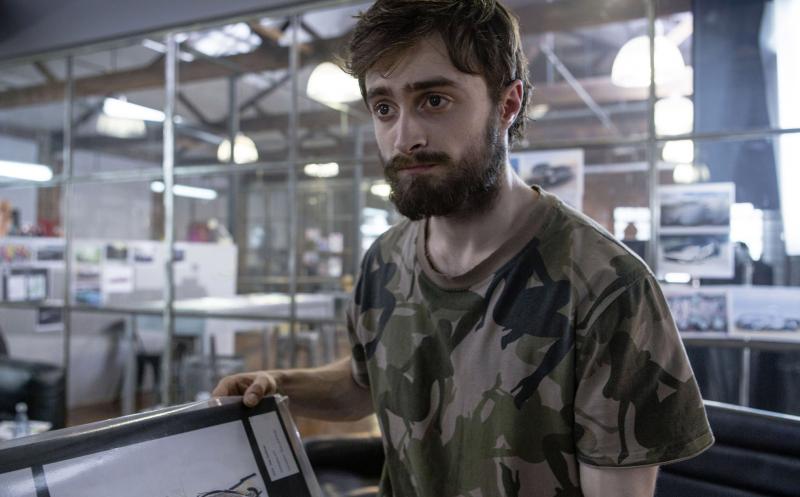 Daniel Radcliffe as games guru Sam Houser
Starring Daniel Radcliffe as Sam Houser, who's portrayed as the dominant creative mastermind behind Rockstar Games and its phenomenally successful Grand Theft Auto series, The Gamechangers (**) sought to depict legal battles over GTA's violent and sexually explicit content as landmarks in the history of artistic freedom.
Rockstar Games didn't approve the film and, having filed a lawsuit against the BBC for trademark infringement, denounced the finished product as "random, made-up bollocks".
They do have a point, since the film visibly staggers under its own contradictions. A skimpy budget meant that a lot of the 90 minute running time was just a bunch of dweebs sitting around in lofts being shouted at by the bossy and pedantic Houser, while scenes supposedly set in New York, Alabama or Florida looked suspiciously like props department sleight of hand. Meanwhile computer games may be brilliant when you're personally immersed in them, but they don't exist outside the digital domain, and offer nothing in the way of dramatic meat. Hats off, at least, to Bill Paxton, who brought some resounding Bible Belt righteousness to the role of crusading anti-games lawyer Jack Thompson.
This was a Science Production from BBC Scotland, which might explain why the 'people' bit went AWOL
This isn't to say that the real-life case of Devin Moore, who shot three policemen in Alabama after being a compulsive player of Grand Theft Auto, didn't throw up searching questions about the possible effects on certain personalities of games where you go around massacring people. However, no causal link has ever been proved, nobody except Devin Moore went to jail, and GTA just kept on getting bigger and better. The credits revealed that this was a Science Production from BBC Scotland, which might explain why the "people" bit went AWOL.
The latest in Netflix's roster of ambitious original productions, Narcos (***) is the story of Colombian drug lord Pablo Escobar (Wagner Moura, pictured below), who dominated the international cocaine trade in the late 1970s and '80s. He would eventually meet a bullet-riddled fate in 1993 (though that lies beyond the scope of this first series), but not before he had visited anarchy and carnage on his homeland.
His story is so lurid and fantastical – an opening caption suggested "magic realism", a form often associated with Latin American writers, to describe it – that it's barely possible to fictionalise it. The show's writers (Chris Brancato, Eric Newman and Carlo Bernard) evidently found this out the hard way, since the early episodes struggle to find a convincing balance between factual history and character-based drama. The first episode, with its parade of facts, statistics and archive TV news clips, could pass for a National Geographic documentary tracing the rise of the South American cocaine industry, were it not for the Hollywood-gumshoe voice-over delivered by drug enforcement agent Steve Murphy (Boyd Holbrook).
However, if you can stick with it, Narcos begins to exert serious grip by the time it reaches episode three, as the various circles of politics, police and judiciary, gangsters and the media begin to clash and intersect. Brazilian director José Padilha (who made the the Elite Squad crime thrillers) juggles his narrative layers with a fine touch, building up a carefully detailed portrait of a society fraught with social and political divides. As Colombian coke and its murderous turf wars begin to saturate Miami and the US mainland, the CIA and the DEA become increasingly active inside Colombia, with the local politicians caught between needing US assistance but resenting Washington's overbearing interference.
For Escobar, Padilha cast his Elite Squad star Wagner Moura, who plays the mega-gangster with icy ruthlessness but also with flashes of wit and charm which help explain how he managed to command popular support in Colombia. Escobar initially aimed for a political career before his drug business became so incontinently lucrative that even after he'd bought boats, aircraft, paintings and an island in the Bahamas, he was still forced to bury huge piles of dollars all over Colombia (troops and DEA agents fight the war on drugs, below).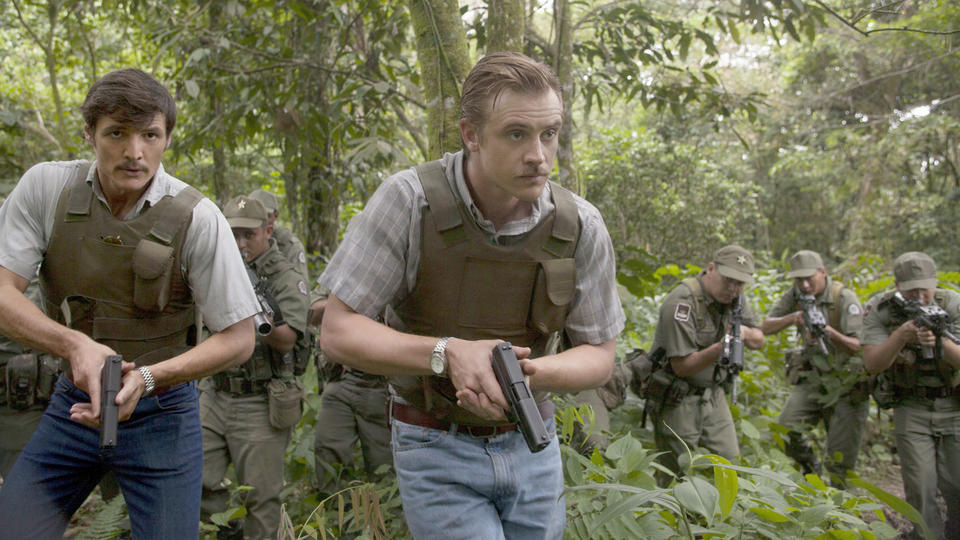 Nonetheless he successfully sold himself as a "man of the people" who built social housing and handed out cash to the poor, in the meantime slaughtering policemen, politicians and business rivals without a second thought. Even Escobar's most devoted henchmen thought he might have gone a bit too far when he blew up an Avianca airliner, killing 107 people, none of whom was his intended target, Colombian presidential candidate César Gaviria. Yet he was so powerful that he was able to negotiate a truce with the Gaviria government, via which he supposedly renounced all criminal activity and retired to his own purpose-built "prison", La Catedral, where he lived in luxury with his entourage while the Colombian authorities were forbidden access.
Perhaps it was inevitable that all this outlandishness should often overshadow the individual characters. The DEA agents, Murphy and Peña (Pedro Pascal), are played with a kind of flat functionality that doesn't explain why they're prepared to take such life-threatening risks, while Padilha's habit of dropping in real-life photos or film clips of his protagonists keeps raising the nagging is-it-reality-or-drama? question. Nevertheless, whatever you do to it, the Escobar story remains utterly astounding.