Gotham, Series 1 Finale, Channel 5 / Daredevil, Netflix |

reviews, news & interviews
Gotham, Series 1 Finale, Channel 5 / Daredevil, Netflix
Gotham, Series 1 Finale, Channel 5 / Daredevil, Netflix
Comic book heroes battle for control of the small screen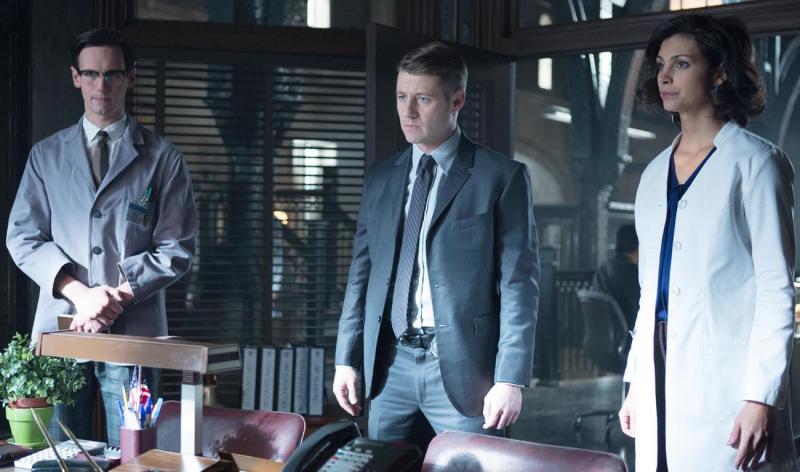 'Gotham': Ben McKenzie (centre) as Jim Gordon, with Edward Nygma (Cory Michael Smith) and Dr Leslie Thompkins (Morena Baccarin)
Finally reaching its concluding 22nd episode, delayed further by the "mid-season break" fashionable with American shows, Gotham [****] stands tall as a distinctive contribution to the seemingly inexhaustible superhero universe.
Instead of relying on gargantuan cartoon characters and a hurricane of computerised effects in Marvel Avengers style,
Gotham
has used the scope afforded by a prolonged TV series to develop a specific world populated by rounded characters which evolve and move convincingly through time.
A Batman prequel rooted in DC Comics mythology, Gotham pieces together a putative past for such future Batman stalwarts as the Riddler, the Penguin and upstanding police chief Commissioner Gordon, but has managed to smuggle some authentic dramatic weight into its often fantastical plotlines. Leaving aside transient villains who pull off bizarre stunts with catastrophic electrical voltage or weather balloons, Gotham has centred itself in a brutal and treacherous gangland world which (as we're often reminded) threatens to rip the benighted city apart (pictured below, Robin Lord Taylor as Oswald Cobblepot, the future Penguin).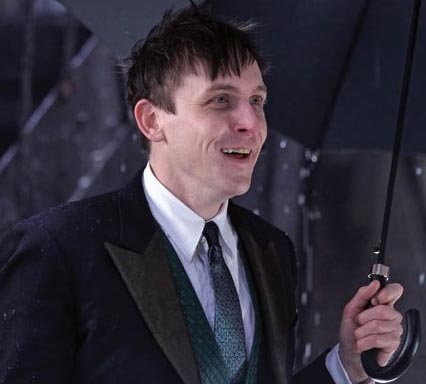 The great John Doman has brought both menace and pathos to the role of ageing mob boss Carmine Falcone, locked in a three-cornered struggle with the leering Sal Maroni (David Zayas) and Jada Pinkett Smith's fatal femme, Fish Mooney. Echoes of The Godfather seem entirely intentional, like this week's scene where Detective Gordon (Ben McKenzie) found himself guarding an injured Falcone from a squad of hitmen prowling the hospital corridors. Series one ended with Falcone reaching an uneasy truce with Gordon, the latter having reluctantly concluded that Falcone is "a bad man but he's the best bad man we've got."
For his part, Falcone foresees a future for Gordon as the strong leader who can haul Gotham City out of its abyss of violence and corruption. Before that though, he'll have to survive the delusional craziness of his ex-girlfriend Barbara, who is beyond disgruntled that Gordon is getting it on with the feline Dr Leslie Thompkins (Morena Baccarin, aka Brody's wife in Homeland). As for young Batboy himself, Bruce Wayne, he's just discovered that his late father kept a whole load of secret subterranean stuff up at stately Wayne Manor. Series two is, happily, inevitable.
If DC Comics had a TV show then naturally Marvel Comics had to launch a counter-attack, which arrived recently on Netflix in the shape of Daredevil [****]. Extending yet further the extraordinary prominence of British actors on American TV, this stars Charlie Cox (already familiar Stateside from his prominent role in Boardwalk Empire) as the titular hero. By day he's lawyer Matt Murdock defending the poor and downtrodden in New York's Hell's Kitchen, and by night he's a masked crime-fighter doling out beatings (and suffering a few in return) to assorted scumbags.
Like Batman, Daredevil isn't really a superhero, more an ordinary man who has developed special skills. Having been blinded as a young boy, he has compensated by developing his other senses to an inordinate degree. He's able to hear conversations word-perfectly from hundreds of feet away, can assess what his environment looks like from minute changes in air pressure or temperature, and must have developed a pretty awesome workout regime since he can fall out of windows, get stabbed and bounce off cars without sustaining any lasting damage. Though if he does, nurse Claire Temple (Rosario Dawson, pictured above with Cox) is on hand to stitch him up.
Cox, who's blessed with one of the most seductive voices on Planet Thesp, switches smoothly between the dark and light sides of his character, the reassuring calmness he brings to lawyer Murdock modulating into a compressed steeliness when hurling villains across parking lots. There's some nice character interplay between Murdock, his law partner Foggy Nelson (Elden Henson) and their assistant/ potential love interest Karen Page (Deborah Ann Woll), but over all this looms the much darker dramatic arc of Daredevil's ongoing battle with Hell's Kitchen crime lord Wilson Fisk (Vincent D'Onofrio, pictured above), who seemingly draws from a well of unspeakable evil.
The extent of Fisk's monstrous ambition emerges gradually, like a kind of black iceberg, and the show gathers huge traction from the seeming mismatch between our solitary hero trying to take on Fisk's dark networks of vice and violence. In the superhero tradition, there's a crucial father-son relationship in Daredevil's back story. Murdock's father was a boxer, and the boy used to patch up his battered dad when he came home from fights, but all that ended when pop refused to take a dive in the ring. His underworld handlers took a dim view, and you can guess the rest. The sado-masochistic undertones in Daredevil's character are all too evident, and if there's a criticism of the show it's that the sequences of beatings and torture are drawn out at stomach-turning length. But if you watch one episode, you'll watch them all.