Downton Abbey Series 4, ITV / By Any Means, BBC One |

reviews, news & interviews
Downton Abbey Series 4, ITV / By Any Means, BBC One
Downton Abbey Series 4, ITV / By Any Means, BBC One
Looks like there's still plenty of mileage in Julian Fellowes's patented ratings elixir
Monday, 23 September 2013
The Downton ladies (left to right): Mary (Michelle Dockery), Cora (Elizabeth McGovern) and Edith (Laura Carmichael)
"The price of great love is great misery when one of you dies," intoned the Earl of Grantham lugubriously in this fourth-season opener [****], and the death of Matthew Crawley hovered heavily over the household. His widow Lady Mary haunted the corridors like the Woman in Black, speaking in an even more dolorous monotone than usual. The great Penelope Wilton imbued Matthew's mother Isobel with a piercingly real sense of grief.
However, writer Julian Fellowes ensures that events flash past at astounding speed in the beloved national institution that is Downton Abbey, whether it's a love affair or World War One, and within an hour or so Lady Mary was feeling much better. In the interim, the episode hurtled off on a variety of new tangents. The piece opened with news of the departure of O'Brien, Countess Cora's sinister lady's maid, and she has has been packed off to India, hopefully never to be seen again (pictured below, Lady Mary with baby George, the son and heir).
By the close of play, O'Brien's departure had been balanced by the comeback of MyAnna Buring as Edna the maid, who popped up in last year's Christmas special and set her cap in a fashion most inappropriate (as Hercule Poirot might say) at Tom Branson, Lady Sybil's relict, before being bundled off the premises. Cora, who is woefully dim, hadn't studied the back story and blithely re-employed her (egged on by Lily James's frivolous Lady Rose, who's currently billeted indefinitely at Downton), prompting pursed-lipped indignation from Mrs Hughes the housekeeper. Still, Cora did somehow find the nous to dismiss the monstrous Nanny West, having caught her casting aspersions over the parentage of Lady Sybil's baby.
In other Downton news, Mr Carson's former music hall partner Charlie Grigg has been rescued from workhouse penury by the combined good offices of Mrs Hughes and Mrs Crawley, even though the curmudgeonly Carson was doing his best to pretend Grigg had never existed. Fellowes also had much fun with the efforts of the Dowager Countess (Maggie Smith) to find a new job for Molesley the hangdog butler, but the Dowager's plan to persuade Lady Shackleton to hire him was sabotaged by her own butler, who deftly made Molesley look like a blundering imbecile (not difficult actually). Meanwhile, Lady Edith is increasingly embroiled with the drippy newspaper editor Gregson, and Fellowes seems to be angling towards sending them off to Weimar Germany (it's 1922, incidentally).
Overleaf: By Any Means, BBC One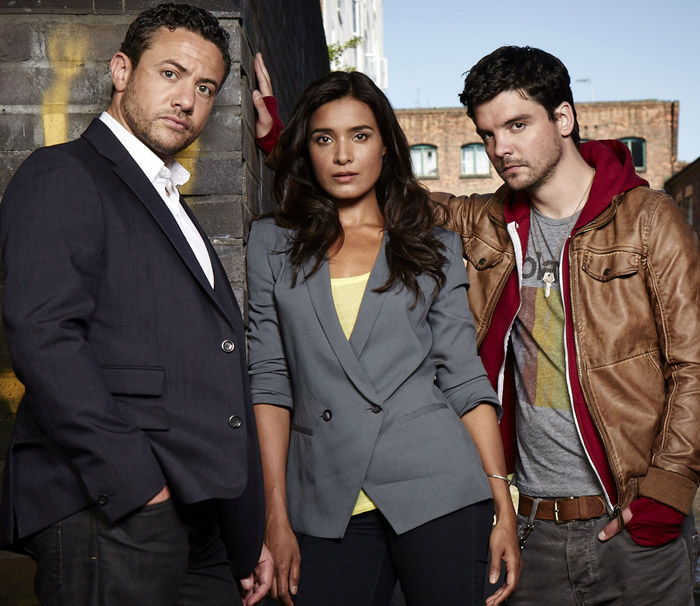 You don't come to Downton Abbey for profundity or Debrett's-style punctiliousness, but you are guaranteed a hugely enjoyable ride, some treasurable character acting and jokes, some of them intentional. None of which you'll find in Sunday's other new arrival, By Any Means [*], which would be a disaster even if it hadn't been sacrificed in the suicidal opposite-Downton slot. It's a crimebuster series starring Jack Quinn (Warren Brown) and his two accomplices - Andrew-Lee Potts as computer nerd "TomTom" Tomkins and Shelley Conn as Jessica Jones, whose function can only be described as "attractive female" (Quinn and team pictured above).
They hunt down villains, under the enigmatic auspices of somebody called Helen Barlow (Gina McKee). People keep asking Quinn if he's a policeman, to which he likes to reply "it's a grey area". Quinn helpfully laid it out for us in a little homily: "We're on the right side. It's all that matters. We go after the bad guys and take them off the street, by any means, whatever it takes."
To describe the individuals depicted here as caricatures would be to wildly exaggerate their qualities. This week's villain was Nicholas Mason, played as one giant sneer by the ever-loathsome Keith Allen. The plot consisted of him doing horrible murderous things, and then getting his come-uppance by falling obligingly into the trap set by Quinn's bunch. Officially sanctioned vigilantism never looked more lame or morally vacuous than in this moribund Mission: Insufferable. If you enjoyed Warren Brown's performances in Luther and Good Cop, you'll wonder what the hell he's doing here.