Downton Abbey, Series 2 Finale, ITV1 |

reviews, news & interviews
Downton Abbey, Series 2 Finale, ITV1
Downton Abbey, Series 2 Finale, ITV1
It doesn't always make much sense, but you can't help loving it
Something borrowed: Joanne Froggatt and Brendan Coyle steal time to become Mr and Mrs Bates
And so the eventful second series surged to a close with a bumper 90-minute edition - or at least it was in a 90-minute slot, generously padded with the commercials battling to scramble aboard the great ship Downton - and we were still left dangling in Mary and Matthew's will-they-won't-they neverland. The show's resemblance to a gargantuan soap which has been telescoped into a handful of Greatest Hits episodes was never greater.
Mary is supposed to be marrying the hard and cynical newspaper tycoon Sir Richard Carlisle (a dish served cold by Iain Glen, [pictured below]), who has charmingly threatened to go public with the "My Night of Lust with Dead Turk" scandal should Lady Mary attempt to bolt at the starting gate. But we also know that the Dowager Countess (Maggie Smith) remains a fervent believer in an eventual Matthew-Mary match, and she doesn't like to be contradicted. Even Matthew's fiancée Lavinia (Zoe Boyle) felt compelled to agree after catching Matt'n'Maz having a crafty snog while waltzing around the Downton foyer as cheap music floated from the gramophone. When the saintly Lavinia was carried off by the Spanish flu epidemic, it looked like a shoo-in.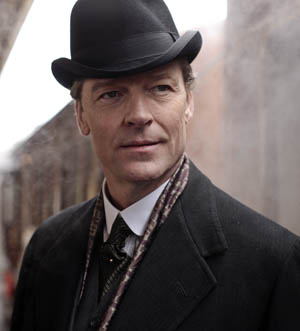 However, this didn't produce the anticipated result. Instead, a gaunt-looking Matthew (Dan Stevens) was overcome by guilt that he and Mary had killed poor Lavinia by breaking her heart. He gave Mary the bad news as they loitered beside Lavinia's grave. "We're cursed, you and I, and there's nothing to be done about it," he quavered, a caricature of gaslit Edwardian melodrama. "Let's be strong, Mary, and let's accept that this is the end." It looked bleak. Nonetheless, I chose to interpret this as meaning that Julian Fellowes has already written the episode from series three in which the pair finally tie the dynastic knot and seal the problematic Downton succession (Matthew and Mary in happier times, pictured below).
The sense that the outwardly stately Downton Abbey was being thrown together in a panic gathered pace as the series progressed, with bundles of new storylines being flung desperately into the boilers to keep the show on the road rather than continuing series one's more measured exploration of character and motivation. For instance, the potentially thermonuclear fallout from Matthew returning paralysed from the Front was never exploited, but simply erased by his miraculous recovery. Likewise the farcical introduction of the mutilated, amnesiac soldier purporting to be Patrick Crawley, Downton's missing heir, who barely lasted an episode before vanishing again.
There was oodles of scope in the black market shenanigans of Thomas the conniving footman, but yet again Fellowes started the hare but failed to shoot the fox, if I may scramble my gentrified metaphors. He tamely brought Thomas back under the Downton roof, despite the fact that his behaviour richly deserved not just the sack but a jail term. We even had Carson the butler telling Mrs Hughes that "it's no good thinking we'll get shot of him now". Because Fellowes needs his pantomime villain, in other words.
Even so, the Earl's mini-affair with Jane the housemaid nearly snatched the Golden Biscuit for silliest subplot. It advanced to the brink of bloomers-ripping scandalum magnatum when the Earl (Hugh Bonneville), in his dressing gown, bumped into Jane in the corridor and pulled her into his bedroom. It took a knock on the door from Mr Bates to bring His amorous Lordship to his senses. Jane has obligingly handed in her notice and resigned without consulting Max Clifford.
Carson, Mrs Hughes and Mrs Patmore the cook could easily form their own breakaway mini-saga, or aga-saga, or Saga-saga given their cumulative age
Not that it hasn't been tough for the Earl, who has been wallowing in a self-indulgent bout of post-war depression. He grew miserable when the Army told him he was too old to fight, his wife Cora barely escaped death by flu, and his daughter Sybil has swanned off to Ireland to marry Branson, the radical chauffeur. "I'm sure Branson has many virtues," the Dowager reassured him. "He's a good driver."
Despite everything, Downton has remained super-watchable through its near-lunatic pace and endearing mix of characters. Carson, Mrs Hughes and Mrs Patmore the cook could easily form their own breakaway mini-saga, or aga-saga, or Saga-saga given their cumulative age. Perhaps Joanne Froggatt's reliably excellent Anna could join them, along with Mr Bates, if he can escape being hanged for murdering his ex-wife. They might not want to invite the bossy Mrs Crawley, but plaudits to Penelope Wilton for being consistently convincing in an often thankless role.
Someone really has to have a quiet word with Michelle Dockery about her portrayal of Lady Mary, though, because you have to do more than just talk in a glassy monotone and stare at people to convey the idea of aristocratic haughtiness. Meanwhile, it's time to start laying in the brandy and mince pies for the Downton Christmas Special.
The sense that the outwardly stately Downton Abbey was being thrown together in a panic gathered pace as the series progressed
Explore topics
Share this article