Downton Abbey, Series 2, ITV1 |

reviews, news & interviews
Downton Abbey, Series 2, ITV1
Downton Abbey, Series 2, ITV1
It's back, and this time it's exactly the same, with added explosions
Monday, 19 September 2011
Heredity porn: Dan Stevens and Hugh Bonneville squeeze into full military fig
And now for that difficult second album. Downton Abbey's stately progress last autumn revived in television audiences a taste thought long dead: for populist drama offering a sepia-tinted vision of the English class system in which the well-to-do are dressed for dinner by bowing/curtsying feudal underlings. With social mobility back roughly where it was a century ago. it could almost have been a snapshot of modern UK plc.
That did not stop it from being hungrily consumed as pure escapism, both here and in America where overnight it won four Emmys. And here for our pleasure is another helping.
I've got to say, not before time. There were a whole bunch of loose ends left untied by Julian Fellowes' script in the final episode of the first series. Love matches went unmade, villains unpunished, antagonisms unaddressed and Lady Mary's tumultuous rumble with the Turkish diplomat was left a-dangle. It was a frustrated audience which bade farewell to the Abbey's inhabitants both upstairs and down. But hey, they've all reported back for duty, and unless Fellowes is holding out for series three set in the roaring Twenties, some questions may even be answered this time round.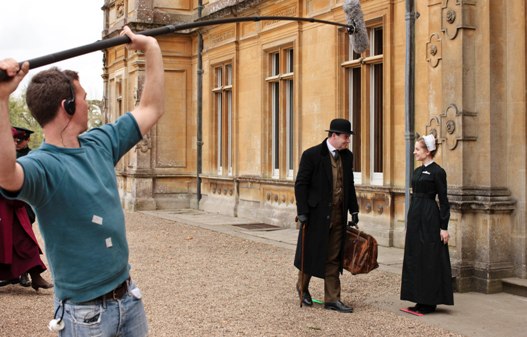 The first series began with a dynastic disaster – the sinking of the Titanic and the death of two heirs to the Grantham title. The second threatens another: this time the heir Matthew Crawley (Dan Stevens) is putting himself in the firing line among the sandbags and exploding ordnance of the Trenches. And who should he bump into, smeared in stage mud and as ever plotting his survival, but Thomas the dastardly footman (Rob-James Collier)? Meanwhile, back in Yorkshire (not sure why but I never knew it was Yorkshire till last night, Highclere Castle being in Berkshire) his Lordship was eager to join up, as was William the second footman, while the valet Molesley was for dodging the draft and flying German bullets.
Dull old Lord Grantham is still to have a meaningful dialogue with his perfectly vapid wife
Other than that. nothing much has changed. Bates, for one, doesn't seem to have unearthed a cure for deep emotional constipation. He and Anna, played by Brendan Coyle and Joanne Froggatt (pictured above), finally managed a mutual declaration, and even stole a blissful, long-delayed kiss, only to have the promise of happiness promptly whipped from under their noses by the blackmailing plots of Bates' shrewish wife. No doubt we'll all be strung along till the cash tills have rung on the final ad break in seven episodes' time. As for the rest, Lady Mary and the other sister (I always forget her name) are still scrapping like pointless ferrets. Dame Maggie, bless her, is doing valuable eyebrow work about flower arrangements and such. The maid O'Brien, who ended the last series with a sudden attack of conscience, has returned seamlessly to scheming. It all felt a bit like a kettle being put back on the boil. Meanwhile, dull old Lord Grantham is yet to enjoy a meaningful dialogue with his perfectly vapid wife.
There were hints that later in the series a ladder may see some movement between the classes. A perky new maid (Amy Nuttall, pictured right) dreams of escaping a life of drudgery. The chauffeur declared himself to Lady Sybil as he dropped her off at nursing college. And Matthew the heir is engaged to a girl who is not to be found in any volume of Burke's. Lady Mary (Michelle Dockery) is currently modelling a look of suppressed panic as she pretends at this point that his happiness is not exactly what she wants.
But don't expect Fellowes to let the social climbers have it their own way. He's a big fan of things staying precisely the same. Indeed that aristocratic belief in fundamental stasis extends to the inner lives of his characters. In his world ceilings (and floors) aren't made of glass, and even half the servants - led by Jim Carter's Carson, half rock, half ham - prefer it that way.
It's usually crude, often maddening, sometimes plain baffling. Also horribly addictive
Some of the bad habits from series one are still in situ too. Fellowes seems pathologically averse to having it out. The felonious Thomas could and should have been carpeted at the end of the first series, but Lord Grantham told Carson that he'd rather not have a scene and that's what happened (or, rather, didn't). Last night there was a bit of a confrontation brewing at the dinner table when Lady Sybil announced her ambitions to nurse, but her mother swiftly moved to put out the fire. "We don't have to talk about it now," simpered Elizabeth McGovern's Lady Cora. Why ever not? They're not called scenes for nothing.
It's usually crude, often maddening, sometimes plain baffling. Also horribly addictive. Fellowes, the consummate melodramatist, does plot, not character. But the Rolls Royce acting, as ever, gets the writing out of jail. And enough of Downton Abbey's moving parts work for another autumn success to be safely predicted. Who ends up with whom is such stuff as chatrooms are made on. My hunch is that Lady Cora will eventually blend entirely into the wallpaper, his Lordship will be sent to his rest after a fatal snoring accident, various characters wishing for various outcomes will be denied them by a sadistic Fellowes playing God. And the Dowager Dame Maggie will outlive them all. Finally, Anna and Bates will not only marry but get their own spin-off series. Which, given that the drama of their relationship thrives entirely on separation, Will Not Work.
Fellowes, the consummate melodramatist, does plot, not character. But the Rolls Royce acting, as ever, gets the writing out of jail
Explore topics
Share this article