42nd Street, Sadler's Wells review - musical extravaganza will knock your socks off |

reviews, news & interviews
42nd Street, Sadler's Wells review - musical extravaganza will knock your socks off
42nd Street, Sadler's Wells review - musical extravaganza will knock your socks off
Old show sparkles in astonishing new production that dazzles from first to last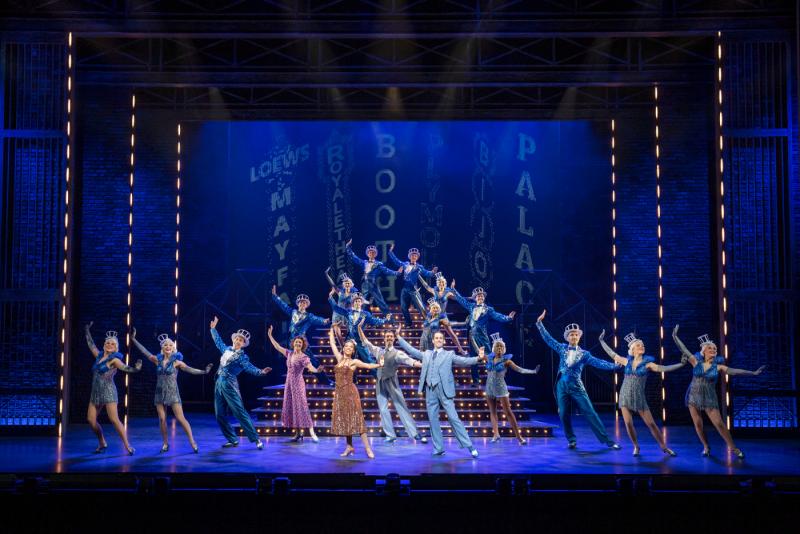 Living the dream. The Company of 42nd Street
There are better musicals in town, but can you find me a more spectacular show in a more comfortable theatre? I doubt it. Not that Jonathan Church's new production at Sadler's Wells is flawless.
It's a 90-year-old blockbuster so, for all its references to breadlines, insecure employment and heat-or-eat decisions, one wonders if so much effort might be better expended on something a little more recent, a little less bound by the cliches of musical theatre? And there's also Les Dennis neither dancing nor singing. Why?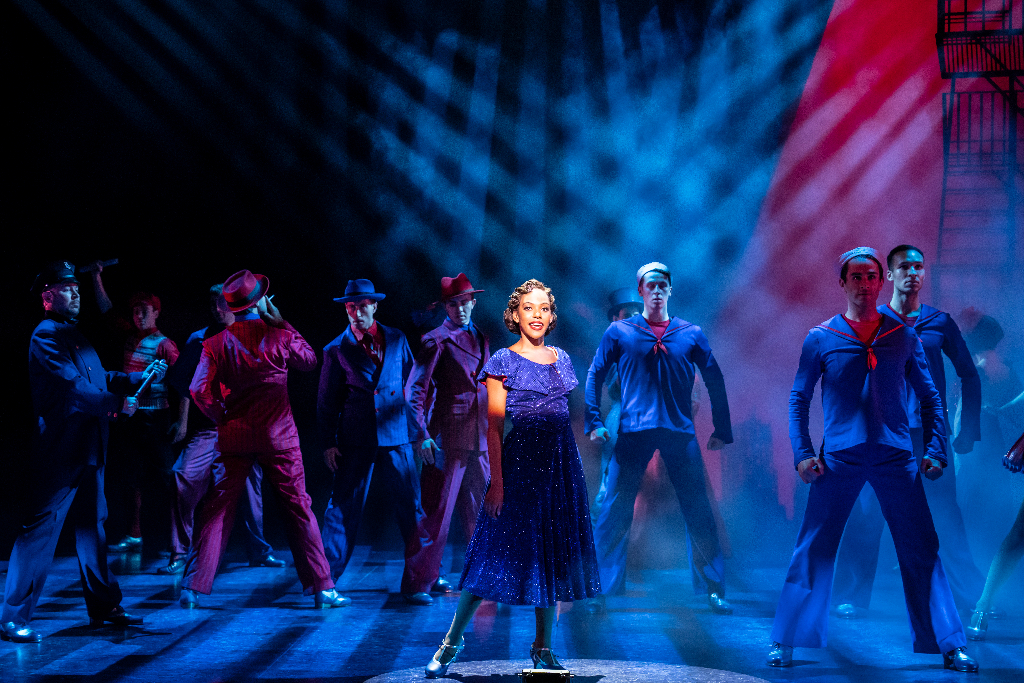 If you set aside such minor gripes, one can delight in a show that goes to 11 from its astonishing tap opener right through to its stunning finale. The seats aren't cheap (though not expensive either, by West End standards) but you can see where every penny has gone in the relentless commitment to entertain. The coach parties rolling up will return home with toes tapping, value for money secured in these straitened times.
Leading the charge with a performance overflowing with talent, charisma and (appropriately for the role of Peggy Sawyer, the chorus girl making it big) dazzling megawatt star quality, is Nicole-Lily Baisden (pictured above). She commands the cavernous stage whether dancing, singing or smiling with just the right measure of confidence leavened with uncertainty. It's impossible to overstate how critical her connection with the audience is to the success of the show – without our rooting for the out-of-towner from Pennsylvania, the revue element of the musical might overpower its thinnish plot. But we're pulling for Peggy because we're pulling for Baisden – a star is (dare I say) born.
She gets splendid support from Ruthie Henshall, bitchily bitter as the lead on the slide, Dorothy Brock, whom we kinda hope might have a heart of gold and, well, this is depression-era Broadway we're talking about – what do you think? Michael Praed doesn't have to do much except be handsome as her on-off lover, Pat Denning, and, let's be honest, few men can do that better than he can.
As a counterweight to Peggy's wide-eyed innocence, producer Julian Marsh needs to be cold and calculating but not monstrous, and Adam Garcia pitches his performance right into that sweet spot. You can see him wrestling with a paternal instinct to give Peggy the tough love she needs alongside a growing romantic attraction that is only ever inferred. Post #MeToo, that's probably the only way to play the showgirl-producer vibe, but you do get the feeling that they'd be good for each other. She, perhaps a little reluctantly, is more likely to succumb to the overtures of the tenor, Billy Lawlor, who may be a little obvious and a little dim, but Sam Lips gives him a voice that could charm the birds from Central Park's trees. Peggy doesn't need either though, just the kids in the line who saw one of their own with her name in lights and can bask in that reflection.
That's solid four star stuff, but what elevates this show to the full hand of five is the sheer chutzpah of the numbers. Bill Deamer's choreography, Robert Jones's costumes (never bettered in my 15 years reviewing) and Ben Cracknell's lighting make every song an event. I can't recall resisting the urge to stop the show with a personal standing ovation so often. The showmanship is so confident, so energetic and so unapologetic in its willingness to give the audience what it wants, that it can serve as a yardstick for other productions – yes, there are serious messages about the precarity of life then and now, but those seep into you through a filter of bravura song and dance.
And what songs they are, some of the greatest in the storied careers of Harry Warren and Al Dubin. "I Only Have Eyes For You" a torch song of a longing that leads to a romantic compromise; "There's A Sunny Side To Ev'ry Situation" a restatement of the can-do American spirit that conquered the Depression; and "Forty Second Street" itself, a paean to the Faustian deal New Yorkers make with their real-life Gotham. Witnessing such magic, one feels a pang of regret for those who condemn musical theatre for its absurdity without ever seeing its majesty.
The infamous Manhattan thoroughfare is on tour soon – you'd be a schmuck to miss it!
What elevates this show to the full hand of five stars is the sheer chutzpah of the numbers
rating
Share this article