42nd Street, Theatre Royal Drury Lane, review - 'sheer synchronised splendour' |

reviews, news & interviews
42nd Street, Theatre Royal Drury Lane, review - 'sheer synchronised splendour'
42nd Street, Theatre Royal Drury Lane, review - 'sheer synchronised splendour'
Lavish revival delivers dazzle aplenty if not much depth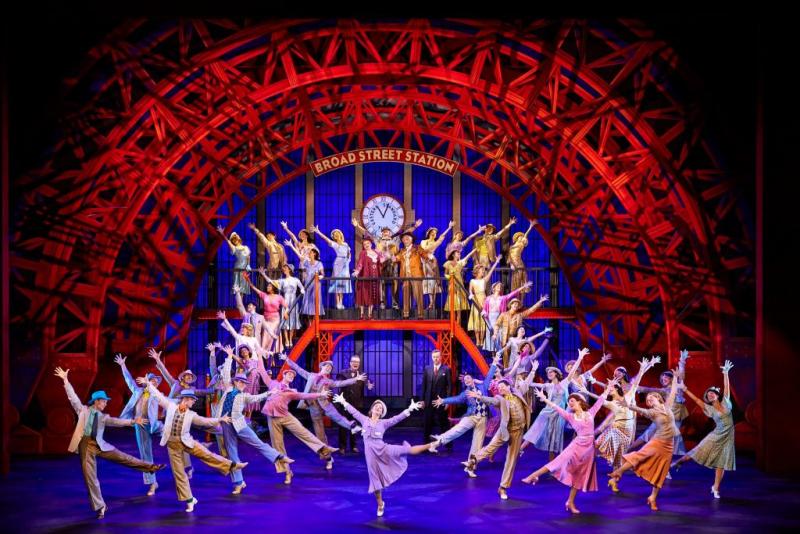 They're in the money: the company of '42nd Street'
Can London support two dance musicals, each one dazzling in a different way? We're about to find out, now that the mother of all toe-tappers, 42nd Street, has set up shop a jeté or two away from where An American in Paris is achieving balletic lift-off.
Similar generically but as different in content and approach as two major
Broadway
transplants to the
West End
can be,
42nd Street
proves decisively that sometimes bigger really is better. You can scale back Sondheim and the like to rending effect, but when it comes to the sheer synchronised splendour accompanying an army of hoofers in fully unbridled flow, this production is hard to beat.
Don't look for characterisation or depth, or even a book that makes much sense, even in a production directed by the show's co-author, Mark Bramble. The point here isn't individual revelation (or even consistency) but, instead, the rarely-encountered sight and sound of a mercilessly drilled ensemble all but knocking themselves out to deliver the goods. Add in the freshest pit orchestra I've heard in many a long year – kudos on that front to Jae Alexander's brass-intensive band – and it's no surprise that the audience lingers until the very last note to savour the goods. Or, at least, to revel in the thrill of perfectly arrived-at precision before we all make our way back into the random hurly-burly otherwise known as life.
Indeed, while memory can be a tricky thing, I'm tempted to think of this as the best 42nd Street in my experience since the fabled Broadway original that I saw as a theatre-mad teen in 1980. It's far more satisying than Bramble's own 2001 Broadway revival that was notable mostly for Christine Ebersole's easeful occupancy of the diva star part here taken with rather more effort by Grammy winner Sheena Easton, marking her West End debut. The diminutive performer boasts some impressive pipes and trills her way beautifully through her two first-act solos, one of which ("Boulevard of Broken Dreams") is new to the piece. She turns coarse, alas, in the book scenes, her unplaceable accent flitting between faux-British and Bronx squawk; a part defined more or less entirely by style could use a touch more of it.
The fact is, the role of Dorothy Brock may attract the name player, but the abiding glory of the piece resides in the row after row of nameless dancers who populate one eye-popping set piece and showstopper after another. Oh, and it helps in a show wherein a star is born to have a young ingenue in the part of that guileless Pennsylvanian, Peggy Sawyer, who truly suggests herself as a discovery: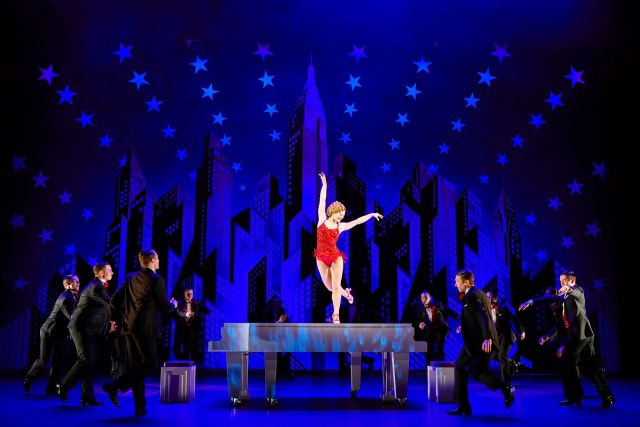 (pictured above, centre) in this production is that and more, anchoring the material with equal measures of sweetness and grit that never once turn metallic. (This is the role that back in the day launched a young unknown by the name of Catherine Zeta-Jones.)
The plot barely exists and is familiar to many in any case: a (fictional) 1933 musical called Pretty Lady is being fine-tooled for Broadway when leading lady Brock suffers an injury that in turn requires the newly promoted and perpetually wide-eyed Sawyer to slay them in the aisles, as of course she does. Along the way, our newly annointed theatrical saviour enjoys romantic approaches from both fellow performer Billy Lawlor (Stuart Neal, winningly indefatigable) and from Pretty Lady's hard-boiled producer, Julian Marsh. That part – indelibly associated for those of a certain vintage with the magnificent Jerry Orbach – is here taken to stirring results by Tom Lister (pictured above), a TV name who brings surprising gravitas to the thrilling closing sequence in which the backstage bustle clears so as to give pride of place to the questing title number and its paean to Times Square in all that area's pre-Disney tawdry glory.
Lister's ability to own an empty stage aside, the reason for being for any 42nd Street is size, size, and more size, tethered to a Technicolor bravura whereby amplitude is its own reward alongside those Harry Warren-Al Dubin songs. I noticed that I was one of many who sat smiling open-mouthed at the Busby Berkeley-style bravura of "Dames", the dancers' scissor formations reflected back at the chorines, not to mention elsewhere the outsized coins or staircases seemingly without end that make this Depression-era artefact as important an antidote to our troubled times as was defiantly the case back then. (Randy Skinner's choreography reprises but also reinvents Gower Champion's storied original.)
This revival doesn't push the period hard: too much ordinary life isn't allowed to cloud Douglas W Schmidt's fantasia-filled sets (some early spelling mistakes of star performers of the age now corrected) or the sequined extravagance of Roger Kirk's costumes. And when the stage all but threatens to buckle under the weight of that thunderous assemblage attacking the title number as if their very existence depended on it, well, this "lullaby of Broadway" more or less pummels its public into blissful submission.
42nd Street at the Theatre Royal Drury Lane until 22 July