Blues in the Night, Kiln Theatre review - hard times, hot tunes |

reviews, news & interviews
Blues in the Night, Kiln Theatre review - hard times, hot tunes
Blues in the Night, Kiln Theatre review - hard times, hot tunes
Sharon D Clarke leads a steamy, soulful musical revue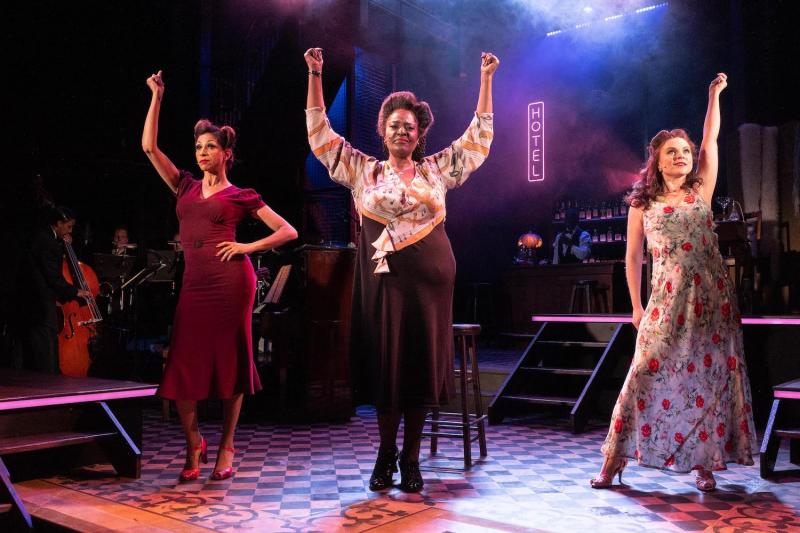 Ladies' night: Debbie Kurup, Sharon D Clarke and Gemma Sutton join forces
It's too darn hot, BoJo is in Downing Street, and we're all going to Brexit hell – so we might as well sing the blues.
Or at least take a night off from the apocalypse to enjoy a virtuoso company singing them for us in this rousing revival of Sheldon Epps' 1980
musical
revue, which showcases
jazz
greats like Bessie Smith, Duke Ellington, Benny Goodman, Johnny Mercer and Harold Arlen. It's also unfinished business for Susie McKenna, who directed a short run at Hackney Empire back in 2014.
Sharon D Clarke once again plays The Lady, whose concise narration sets the scene. We're in a rundown hotel in late 1930s Chicago, and the occupants are "on the edge": Gemma Sutton's recently disillusioned The Girl; Debbie Kurup's The Woman, a sophisticate fallen on hard times; and Clarke's former performer, who spends her nights with her scrapbook and memories, and sometimes succumbs to despair. Devilling them are Clive Rowe's outwardly amiable club singer The Man, representing all the evils of his sex; Rowe and Sutton are also reprising their roles. (The company pictured below)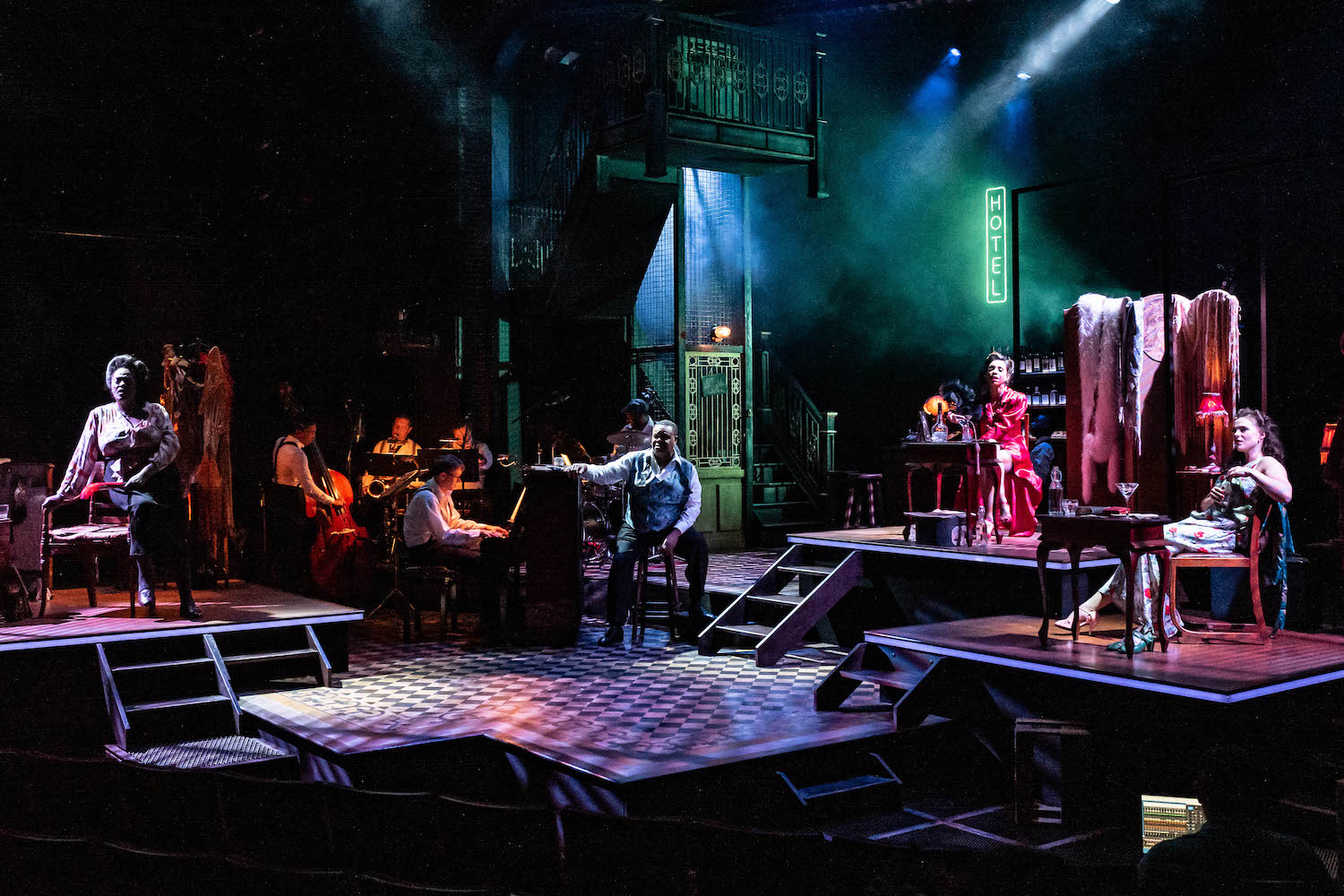 Though story is very much secondary to the music, there are some effective through-lines. We see Sutton's hopeful ingénue stood up by her lover and subsequently drowning her woes in booze, The Woman trading her remaining jewels for drugs, and The Lady buoying both of them up in a cheering example of female solidarity, even though she too has her dark times. There's also animosity between The Lady and The Man, with the former seeing through the latter's act, and even the two male backing dancers get a hint of a tale with their stolen kiss.
Some numbers are performed in the women's rooms, others in the disreputable gin joint; Robert Jones's evocative design includes a staircase showing we're in the bowels of the building and a seedy neon hotel sign. Programme essays add interesting context to this setting, including African-American migration and influence on culture, and the effects of the Great Depression. However, the show itself is more focussed on pleasure and pain on an individual level – though it's possible to read more into some numbers, particularly those elevated by Clarke.
Once again tackling the show while fresh off an Olivier Award win, she's just a wonder here, whether luxuriating in the carnal innuendo of "Kitchen Man", dismissing Rowe with majestic scorn, donning feathers and shimmying through "New Orleans Hop-Scop Blues", plunging her voice down the scale for the suggestive "It Makes My Love Come Down", berating men in the audience, or building to the mighty invocation of "Lover Man". But the literal showstopper is Bessie Smith's "Wasted Life Blues": a soulful wail that conveys a neverending struggle.
Kurup, too, is excellent, recalling her glamorous past in "Stompin' at the Savoy", which ends on a poignant note as she takes in her current surroundings; tearing up the stage in the raw, animalistic "Rough and Ready Man"; and unleashing her bitterness in "Nobody Knows You When You're Down and Out". She's a slinky, mesmerising mover, and adds textured flourishes and accomplished scatting.
Sutton's character is by design the less experienced of the trio, and thus has less to draw upon, but she puts over "Willow Weep for Me" with real feeling and sweet, clear vocals, and is great fun joining the other two women in their group numbers. Rowe is an irresistible cheeky charmer (though the show also gives him a darker side), particularly in "I'm Just a Lucky So-And-So". His joy is infectious, and his top notes are knockout.
MD Mark Dickman's orchestrations are superb, adding variety to this torrent of blues – for example, by opening a couple of numbers with just bass, drums and vocals, and including a cappella sections. The onstage band are dynamic performers: Dickman tearing it up on piano, plus Stuart Brooks (trumpet), Horace Cardew (sax, clarinet and flute), Shaney Forbes (drums) and the particularly funky Rachel Espeute (double bass).
Lotte Collett's covetable costumes include tasselled kimonos, figure-hugging gowns and immense furs, Neil Austin's lighting is crucial in setting the mood for each number, and choreographer Frank Thompson adds some nice touches, including a male duet for accomplished dancers Aston New and Joseph Poulton. This sultry revue might lack dramatic heft, but it's still two hours of musical bliss, led by the indomitable Clarke. "I ain't getting older, I'm getting better!" proclaims her Lady – and ain't that the truth?
Though story is very much secondary to the music, there are some effective through-lines
rating
Explore topics
Share this article