Caroline, or Change, Hampstead Theatre review - Sharon D Clarke conquers |

reviews, news & interviews
Caroline, or Change, Hampstead Theatre review - Sharon D Clarke conquers
Caroline, or Change, Hampstead Theatre review - Sharon D Clarke conquers
The award-winning musical returns in all its ferocity and glory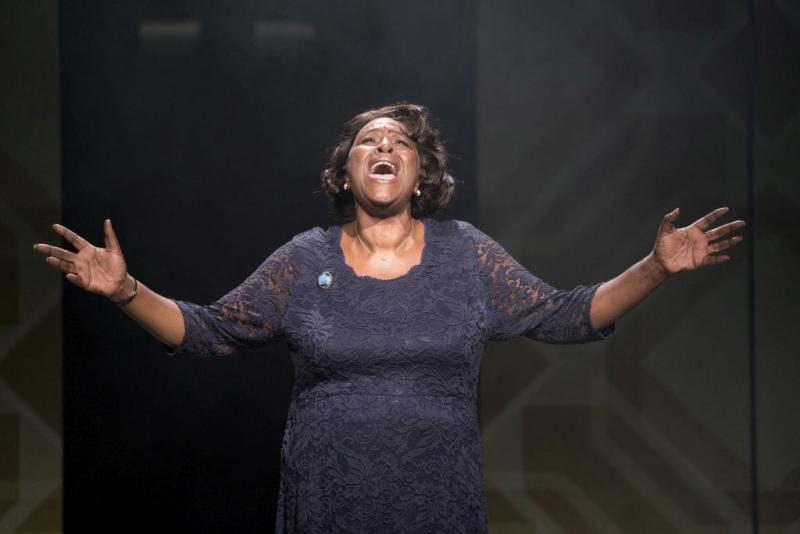 A force of nature: Sharon D Clarke as Caroline Thibodeaux
It's long been a theatrical given, especially in musicals, that characters need to be seen to change: a climactic duo in the eternally crowd-pulling Wicked makes that abundantly clear.
("Because I knew you," goes the lyric, "I have been changed for good.") But what happens when people can't or won't change, and are so ground down by circumstance and their own temperament that they retreat inwards until they implode?
That's the situation at the provocative and ever-stirring heart of the Tony Kushner/Jeanine Tesori musical Caroline, or Change, whose revival at Hampstead Theatre boasts a central performance from musical theatre stalwart Sharon D Clarke that is pretty damn near life-changing. I had thought this show's original New York and London lead, the formidable Tonya Pinkins, was unbeatable in the seismically demanding role of Caroline Thibodeaux, a maid in 1963 Louisiana locked into a cycle of rage and regret that strikes at her very core. (That previous iteration won the 2007 Olivier Award for Best Musical.)
But Clarke continues her conquest of the American repertoire (she was a mighty Ma Rainey in the National's definitive Ma Rainey's Black Bottom two years ago) with a performance so shrewdly calibrated and contained that its 11th-hour eruption in the tellingly titled "Lot's Wife" is something to behold – at once piteous and terrifying, yet also beautiful in the way of the most soul-searching art. A 39-year-old divorcee who has internalised life's abrasions and isn't beyond passing them hurtfully on, Caroline is remarkable for the granite force of her implacability. Clarke nobly honours the character's resolve while bringing a voice that can shade into quietude when needed but can also summon the furies.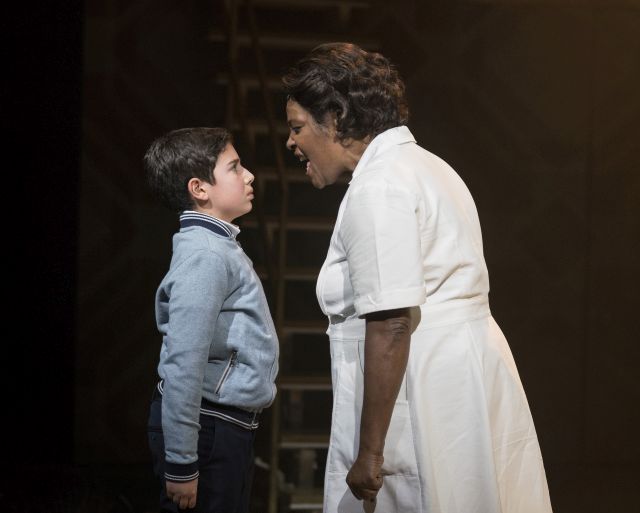 This is the fourth time I have seen this show over the years (beginning with its 2003 premiere at New York's Public Theater, better-known these days as the begetter of Hamilton), and I remain more than ever in awe. The piece has an ability to suggest all manner of connections (Gypsy one minute, Athol Fugard's 'Master Harold' ... and the Boys the next) while insisting on an individuality that is increasingly rare. Nor could the material, indelibly shaped by its original director George C Wolfe, be in better hands than those of Michael Longhurst, who furthers the fine command of the American canon he displayed with Bad Jews and Belleville, not forgetting last year's peerless Gloria at Hampstead.
The scenario, loosely inspired by Angels in America scribe Kushner's own childhood as a Jew growing up in the racially riven American south, brings together two troubled souls. Caroline faces the demands that go with trying to feed a family on 30 dollars a week as a single mum, while Noah, the eight-year-old boy who adoringly refers to his family's domestic as "president", is nursing the death of his bassoon-playing mum. In her place is a stepmother (American expat Lauren Ward, on peak form) who is a duck out of water as a displaced New Yorker in unfamiliar climes and a clarinettist father (Alastair Brookshaw), who seems none too sure how old his son is or what grade he's in at school. Two young actors share the role of Noah, and I caught the clarion-voiced Aaron Gelkoff, who is a genuine find.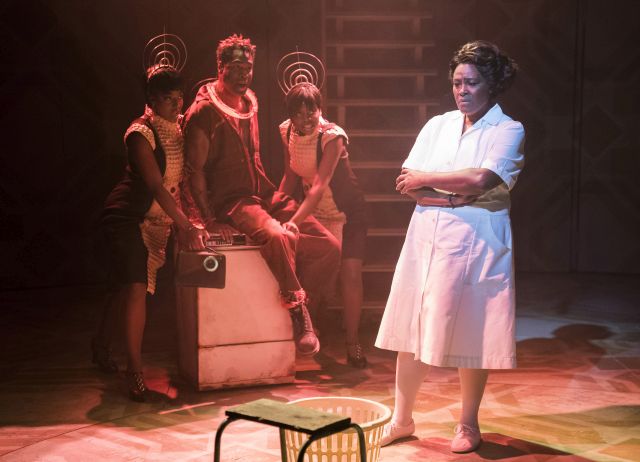 Lifting the style of the piece to a magical realist plane is the retinue of talking appliances (pictured right with Clarke) who share Caroline's underworld habitat in the Gellman household. Presided over by an airborne moon (Angela Caesar), the assemblage all contribute to an ever-shifting and sophisticated musical palette that is contrapuntal and complementary in turn. JFK is assassinated but the news gets communicated by a speaking bus (Ako Mitchell deftly juggles that role and also one as a dryer), and much is made of the absence of a TV in Caroline's own home. News comes slow in this community but the truths, upon arrival, sear the flesh, and it is left to the next generation – much as we are witnessing with regard to gun control in America today – to move society foward.
There are flaws: Fly Davis's set feels surprisingly generic, and diction takes a beating, not least at the outset. But Abiona Omunua is wonderful as Caroline's questing daughter Emmie, who gives full-throated voice to the very societal and personal evolution that Caroline can't find in herself. (As Kushner famously writes in Angels in America, "the world only spins forward" – even if the opposite sometimes seems to be the case.) And as Emmie takes up pride of place in the same spot on stage where once we saw a Confederate statue that has been toppled, change seems all but unstoppable. That much is true, it seems, except for the Carolines of the world who burrow ever-inward toward a dark place of the soul on which the wondrous Clarke shines (in the production's final moment, quite literally) a brilliant light.
Clarke's performance is so shrewdly calibrated and contained that its 11th-hour eruption is something to behold
rating
Explore topics
Share this article