Caroline, or Change, Playhouse Theatre review - Sharon D Clarke is superlative |

reviews, news & interviews
Caroline, or Change, Playhouse Theatre review - Sharon D Clarke is superlative
Caroline, or Change, Playhouse Theatre review - Sharon D Clarke is superlative
West End transfer for Tony Kushner's musical about race and poverty
Wednesday, 19 December 2018
Lauren Ward and Sharon D Clarke in Tony Kushner's musical, based in part on his childhood
With the politics of hate alive and well both sides of the Atlantic, this seems a good time to revive Tony Kushner and Jeanine Tesori's 2003 musical, which is set in Civil Rights-era Louisiana.
This production was first seen at Chichester Minerva Theatre last year and transfers to the
West End
via a run at Hampstead Theatre and has a stand-out central performance by Sharon D Clarke.
Inspired in part by Kushner's own Southern Jewish childhood, Caroline, or Change is almost entirely sung-through and Clarke (pictured below) is the titular black maid who is paid a pittance by the Gellman family to do their laundry in the basement of their home in the hellishly hot Lake Charles.
The change of the title refers to many things, social upheaval in 1963 one of them, and children growing up another, but more prosaically to the small change Caroline Thibodeaux is allowed to keep when the family's young son Noah (the superb Aaron Gelkoff at the performance I saw) leaves it in his pockets.
His stepmother Rose (Lauren Ward conveying the multiple anxieties of a woman who can't do right for doing wrong) believes it will teach him to be more careful with his money, but for Caroline, who desperately needs any extra cash that comes her way, it's a humiliation "taking pennies from a child".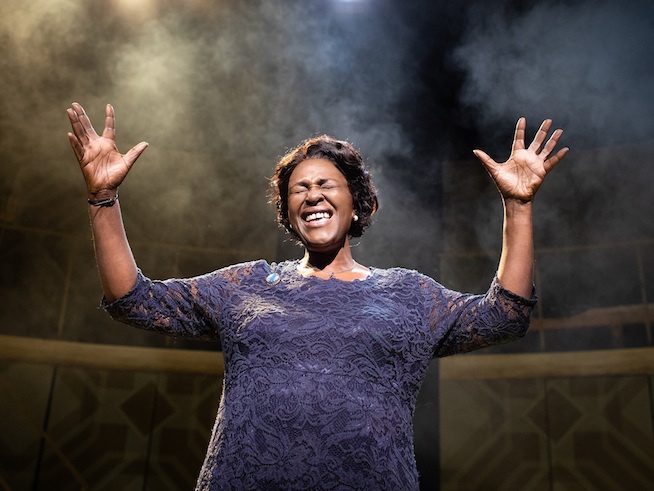 How this plays out in the relationship between the Gellmans and Caroline – what starts out as an innocent, if misguided, gesture eventually causes explosive harm – reflects the bonds that united American Jews and African Americans in the Civil Rights movement, but also the sometimes fractious relationship between two minority groups, brilliantly brought to a head as the Gellman clan gathers for a Hanukah celebration, when their food is cooked and served by Caroline, her ebulliant daughter (Abiona Omonua) and her friend.
As in Angels in America, Kushner creates a fantasy world – there's a singing washing machine and a singing radio involved – amid Caroline's grim reality. The righteous anger and dignity of black people and their continuing struggle percolates through this work and Kushner's lyrics provide a cogent analysis of US politics. Tesori's score, meanwhile, is a rich mixture of blues, Motown, gospel, opera and klezmer.
The first half could have more zip but the pace noticeably picks up in the second, and Michael Longhurst directs an innovative staging with flair – for instance, John F Kennedy's assassination is parlayed through the medium of a talking bus.
Amid a fantastic cast (including Me'Sha Bryan as the Washing Machine, Dujonna Gift-Simms, Tanisha Spring and Keisha Amponsa Banson as The Radio), Clarke gives a superlative performance that catches both Caroline's melancholy at being ground down by poverty and her anger at the realisation she is trapped in it for ever, while hoping desperately that her children will somehow rise out of it. It's a performance that will stay long in the memory.
Caroline, or Change at the Playhouse Theatre until 9 February