Aspects of Love, Southwark Playhouse review - discourse keeps passion at bay |

reviews, news & interviews
Aspects of Love, Southwark Playhouse review - discourse keeps passion at bay
Aspects of Love, Southwark Playhouse review - discourse keeps passion at bay
An intimate Andrew Lloyd Webber revival lays bare both strengths and weaknesses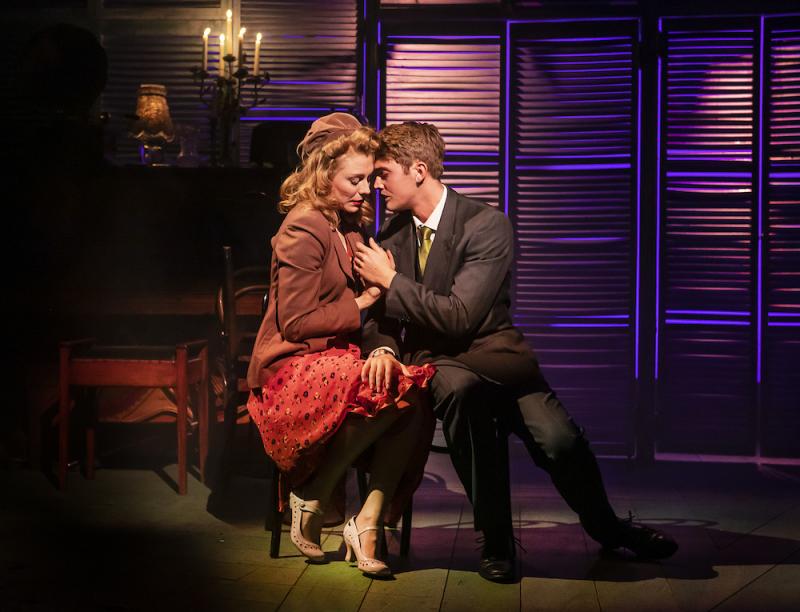 First love: actress Rose (Kelly Price) is wooed by young Alex (Felix Mosse)
"Love Changes Everything", as immortalised by Michael Ball, is the most enduring feature of Andrew Lloyd Webber, Don Black and Charles Hart's 1989 musical – a moderate West End success, and a Broadway flop.
Jonathan O'Boyle's production, seen last year at Manchester's Hope Mill Theatre, follows the trend for stripping back big shows to get at the heart of them; a good tactic on the whole, though challenged by a work that's ultimately more interested in dissecting
love
than sharing it.
An adaptation of Bloomsbury Group member David Garnett's 1955 novella, the convoluted story runs from 1947 to 1964, travelling between Paris, mountainous getaway Pau and Venice, and following a web of relationships knottier and at times more aggravating than fatally tangled Christmas tree lights. The tortured romances involve British soldier Alex (Felix Mosse), French actress Rose (Kelly Price), Alex's artist uncle George (Jerome Pradon), and his Italian lover and fellow artist Giulietta (Madalena Alberto) – plus various side players. (Pradon, Price and Mosse pictured below)
An addition to this love fest in the next generation is Jenny (Eleanor Walsh), whose parentage, uncomfortably young age and decidedly icky choice of paramour may be the point at which some audience members begin to struggle. It was perhaps a semi-autobiographical touch from Garnett, who was present at the birth of former lover Duncan Grant's child by Vanessa Bell, Angelica, wrote of the baby afterwards "I think of marrying it" – and later did. But in the show, it adds notes of incest and molestation that uncomfortably complicate this exploration of bohemian polyamory.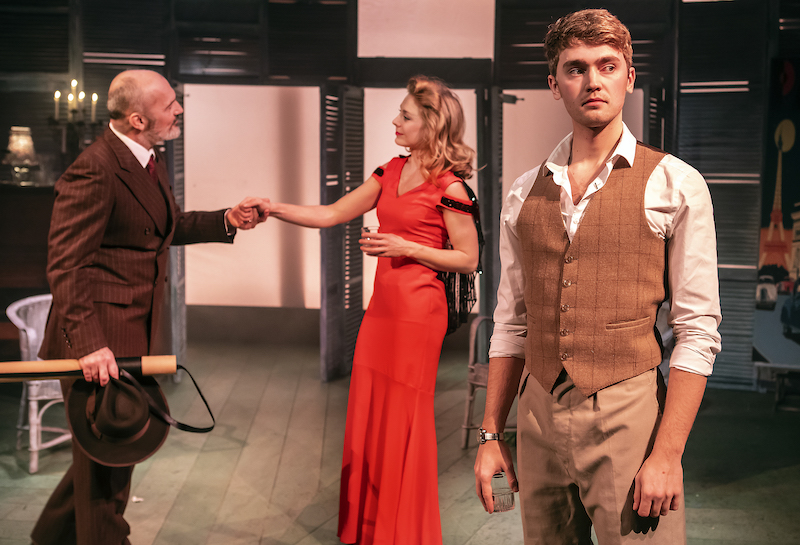 O'Boyle's revival allows for a more detailed reading of the musical – in particular, highlighting the wit (talking to her producer Marcel, struggling actress Rose bemoans an audience of "three nuns and your mother"), and the cultural differences, such as Rose and the French maid puzzling over the unnaturally civil behaviour of the rival Englishmen. We also get a powerful sense of the impetuous rush that is youthful ardour, the way your surroundings are imprinted with that emotion, and that time seems to bend.
However, it also shows up glaring weaknesses of the piece, like the baggy patches of recitative, and the reprises – the latter symbolic, yes, but also exceedingly abundant over a long evening. Earworm "Love Changes Everything", in particular, is drilled home still further by constant reference. Though O'Boyle's fluid production handles the sung-through score confidently, there are dips along the way, and even pirouetting stagehands can't disguise the sheer number of scene changes.
A sterling cast add meat to the fairly sketchy characters – with the female roles, quelle surprise, especially in need of help. The silver-voiced Price creates a charismatic but enjoyably flawed Rose, drama queen offstage as well as on-, and whose capriciousness feels rooted in real confusion about how her romantic choices might define her life: passionate and risk-taking with a younger lover, or sacrificing some part of her wildness for the security of the fully-formed older man.
Mosse is convincing as the single-minded Alex, so marked by first romance; his rendition of the well-known number is effectively simple, with "Pain is deeper than before" ringing out. Pradon likewise demonstrates the experience that has shaped George, devoted to live-for-the-moment pleasure since the loss of his adored wife, but once again redefined by paternal love; and a sincere Walsh does her best with the juvenile Jenny (introduced, regrettably, in pyjamas and pigtails). There's good work, too, from Minal Patel as the practical, ever-bewildered Marcel, and Julia J Nagle as George's worldly-wise housekeeper.
But the standout turn comes from new London addition Alberto (pictured above right), who is almost distractingly compelling – ably sidestepping the "sexy Italian artist" stereotype, and instead demonstrating, with nuance, both the liberation and isolation of her free love-advocating Giulietta. While the rest of the company occasionally struggle to pitch their performance to suit the new space, her vocals are impeccably delivered, making you wish Giulietta had a bigger role in the story.
Richard Bates leads a three-person band with lush, vigorous piano-playing, while Jason Denvir supplies versatile slatted doors and intelligent props (including Parisian café tables at which the front row of audience also sits), plus vivid period costumes. Choreographer Sam Spencer-Lane enlivens the second half with a superb tango-based number, and Aaron J Dootson's lighting matches the warm glow of candlelit flirtation or opens out into glorious sunsets.
The musical is doubtless an ambitious undertaking, exploring multiple variations on love via a talky, solipsistic group of people who are sometimes hard to like, let alone love. While the more complex versions don't quite receive enough attention (the notion of love beyond the grave; a love for art or vocation versus relationships), there are still plenty of enjoyable aspects to the show, brought to the fore in O'Boyle's production – not least some beautiful scoring and a candid portrait of messy human fumbling for something profound.
The relationships are knottier and at times more aggravating than fatally tangled Christmas tree lights
rating
Share this article