Ariadne auf Naxos, Opera Holland Park - stylish staging, world-class singing |

reviews, news & interviews
Ariadne auf Naxos, Opera Holland Park - stylish staging, world-class singing
Ariadne auf Naxos, Opera Holland Park - stylish staging, world-class singing
Strauss and Hofmannsthal's 'mystery of transformation' applied to two women in love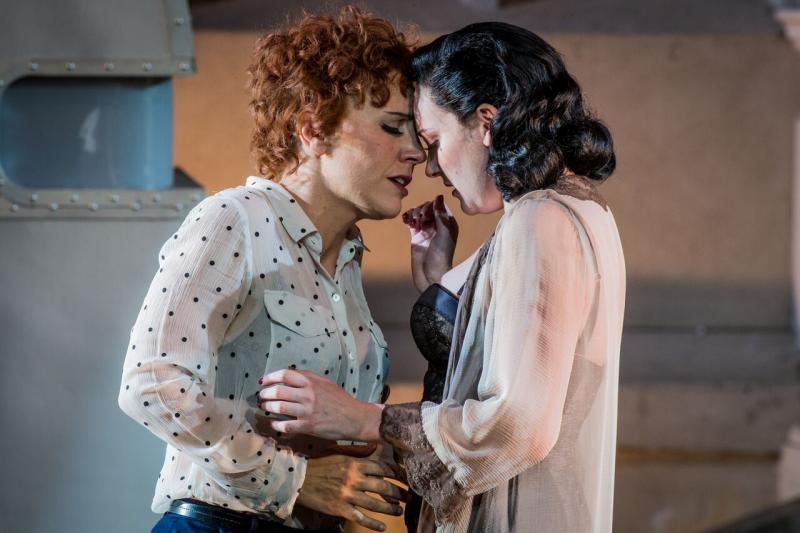 Julia Sporsén's Composer and Jennifer France's Zerbinetta fall in love
"When the new god approaches, we surrender, struck dumb". Especially if, for the singer of those words, popular entertainer Zerbinetta, the "new god" takes the shape of same-sex love.
Director and designer
Antony McDonald
locates the real "mystery of transformation" with which
Richard Strauss
's house-poet Hugo von Hofmannsthal was so infatuated in the
coup de foudre
between the not-so-fickle coloratura soprano and another woman as the (usually teenage and putatively male) Composer. That, along with everything else in this stylish, beautifully sung and finely acted production, has an irresistible logic, carrying even the most difficult aspects of a dramatically compromised but always ravishing-to-hear operatic hybrid. There's probably never going to be a perfectly-cast
Ariadne
in the opera house, but this comes closer than any I've ever seen live.
The backstage business, in which a cabaret troupe (pictured below: Alex Otterburn's Harlequin, Jennifer France's Zerbinetta, Elgan Llŷr Thomas's Brighella and Daniel Norman's Scaramuccio) and the singers of a newly-composed opera seria find themselves ordered to carry on simultaneously at the whim of their rich patron, was tailor-made for the production's original Scottish Opera incarnation. It was an attractive idea to have the preparations sung in Helen Cooper's English translation, with smatterings of Scottish vocab and a bit of filth thrown in for fun, before a spectacle sung in German. The executor of the unseen Maecenas's whims is not an uptight Major Domo but a Scottish Lady – was this an affectionate dig at a certain country-house event up near Aberdeen, I wonder? – played with eccentric panache by Eleanor Bron. Unfortunately she's the only one in the cast that needs miking: production notes would do best to make sure that happens for the remaining performances. Not that there's going to be competing action from a spat between dogs outside at a crucial moment on other evenings.
There's nimble repartee with her from Stephen Gadd's spot-on Professor of Composition (Music Master in the original, and probably not the kind of figure to be condescending about "Johnny Foreigner Eurotrash") and Jamie MacDougall's cabaret producer (Dancing Master). MacDougall could easily drop the effortful Cockney accent; he'd still be crisply funny without it. But the scene, and most hearts, I hope, are stolen from the first appearance of Julia Sporsén's adorable if volatile Composer, deeply simpatica. The role needs flaming soprano top notes – creator of the role, after all, was Lotte Lehmann – and Sporsén allies them to a plangent intensity I haven't seen to the same degree in the role since the young Maria Ewing took a Proms audience by storm on a Glyndebourne visit back in 1981.
There hasn't been a more meaningful Zerbinetta, either, than young Jennifer France's; her mistake has been to look for Mr, rather than Miss, Right until the Composer comes along. She gets away with a squeeze at the very stratospheric top of the register in her display aria since it's so well directed and executed – from Victor/Victoria start to burlesque, gloves pulled off finger by finger to cadenza trills, abetted by Alex Otterburn's excellent Harlequin. As the music declares, this Zerbinetta moves from truth to pretty artifice, and the costume change reflects that. The "Harlequinade" has genuinely funny gags, no doubt encouraged by that most original of choreographers Lucy Burge. To explain them would be a comedy spoiler, so let's just say the team – quirkily completed as a metro/pansexual group by Daniel Norman, Lancelot Nomura and Elgan Llŷr Thomas – have taken the hint of "Greek," "sea" and "island" for a curious melee, "improvising" brilliantly with dinner-table and other props.
Thanks to the vivacity of Brad Cohen's always singer-friendly conducting, the mythological stretches don't drag, even if a fault of the 1916 opera-with-prologue is to let them get too protracted an upper hand. Wolfgang Göbbel's chameleonic lighting immediately transports us to a different world (pictured above). McDonald seems to take a leaf out of Christof Loy's long-serving Royal Opera production by making Ariadne a betrayed contemporary woman, with a twist that she's a kind of Miss Havisham deserted on her wedding day, saved from decay by the arrival of a new love she takes to be death. Kor-Jan Dusseljee's Bacchus isn't love's young dream – which tenor with the lungs for this insanely ungrateful part is? – but once past the difficulty of Ariadne's acceptance, the tenderness between the middle-aged pair is convincing.
Mardi Byers (pictured below with Dusseljee) is a dramatic soprano with a core of gold, taking the full weight up to the top with slightly hit-and-miss results. Yet it's a quality voice, like all the rest, right for this taxing Prima Donna role. Believably stricken, Byers' Ariadne mirrors her Composer's suicidal tendencies with an equal potential for self-harm; both are "half in love with easeful death" until their "new gods" transfigure them.
McDonald the designer moves from the three caravans parked outside the back of Holland House – wry shades, perhaps, of Richard Jones's mobile homes for three sets of Glaswegian "witches" in his brilliant Verdi Macbeth, though these are representative of their performer inhabitants – to three exquisite costumes to match the tonal loveliness of the nymphs on Naxos (Elizabeth Cragg, Laura Zigmantaite and Lucy Hall). Their dresses are suggestive of their nature-magic, much needed as they spread batty white wings for the arrival of the god, in itself destined to be visually prosaic in this "real" depiction. Dusseljee's slightly stiff silver fox, buttoned up in white suit, doesn't need to be supernatural other than in voice (which he uses to sing softly, unlike most Bacchuses); the nymphs and the most sensuous of orchestras do the work of moving us.
What a joy it is to hear top instrumentalists in the City of London Sinfonia like clarinettist Katherine Spencer work so closely with the singers; the 36-piece orchestra sounds absolutely incandescent in these surroundings. Add to that the fact that there's a luminous aura of smiling confidence about the whole venture – it's had time to bed in, after all, since its Glasgow launch – and any earthly failings pale into insignificance. Everyone seems to know they're participating in something special. Satisfied with a very happy ending that even manages to evoke, stage-wise, the final love-triangle of Der Rosenkavalier, you can only float out into what last night was a sky with a touch of Titian blue behind a crescent moon, feeling that all is briefly right with the world.
A luminous aura of smiling confidence makes any earthly failings pale into insignificance
rating
Explore topics
Share this article