Ariadne auf Naxos, Glyndebourne Festival Opera |

reviews, news & interviews
Ariadne auf Naxos, Glyndebourne Festival Opera
Ariadne auf Naxos, Glyndebourne Festival Opera
Strauss's opera reluctantly enters the Battle of Britain courtesy of a young German director
Kate Lindsey (Composer): 'wiry, intense and thoroughly excellent'
The Major-Domo promises fireworks during the Prologue of Strauss and Hofmannsthal's Ariadne auf Naxos. Katharina Thoma, the director of Glyndebourne's new staging, drops a bombshell - actually several bombshells. Glyndebourne's wartime history (as a refuge for evacuees) would seem to have chimed with the darker implications of the opera within - namely, the Composer's opera seria of the title.
So here we are, in these darkest of days, occupying the house of a wealthy nobleman for sure but not in Vienna or even Germany but in deepest Sussex. So why, one wonders, is everyone speaking German when all the bunting and RAF propaganda screams England? And why is the enemy bombing country estates anyway? An offload of surplus munitions on the way back to Germany?
It's unlike me to be so literal, even pedantic, about this free and fanciful world of opera but when a director imposes such a specific layer of subtext onto what is essentially a delicious confection about two theatrical worlds colliding, and how the one informs and enriches the other, then such anomalies can rankle and irritate. But then again Julia Müer's rather unprepossessing set hardly suggests realism and once the Vaudevillians (the commedia dell'arte element) arrive, led with showbizzy vivacity by Laura Claycomb's Zerbinetta (pictured below right), all bets are off as to where we might be headed.
Jurowski and his trimmed-down LPO work wonders with Strauss's luminescent scoring
There is a key moment in this Prologue where Strauss and Hofmannsthal absolutely nail the essence of their conceit - and to her credit Thoma does too. This is the interlude where Zerbinetta and the Composer (the wiry and intense and thoroughly excellent Kate Lindsey) are alone and he begins to see the real woman behind the hoofer/comedienne facade while she in turn glimpses that elusive Mr Right. Her unexpected kiss, full on the lips, is a huge moment and one that Thoma intriguingly carries forward into the opera proper.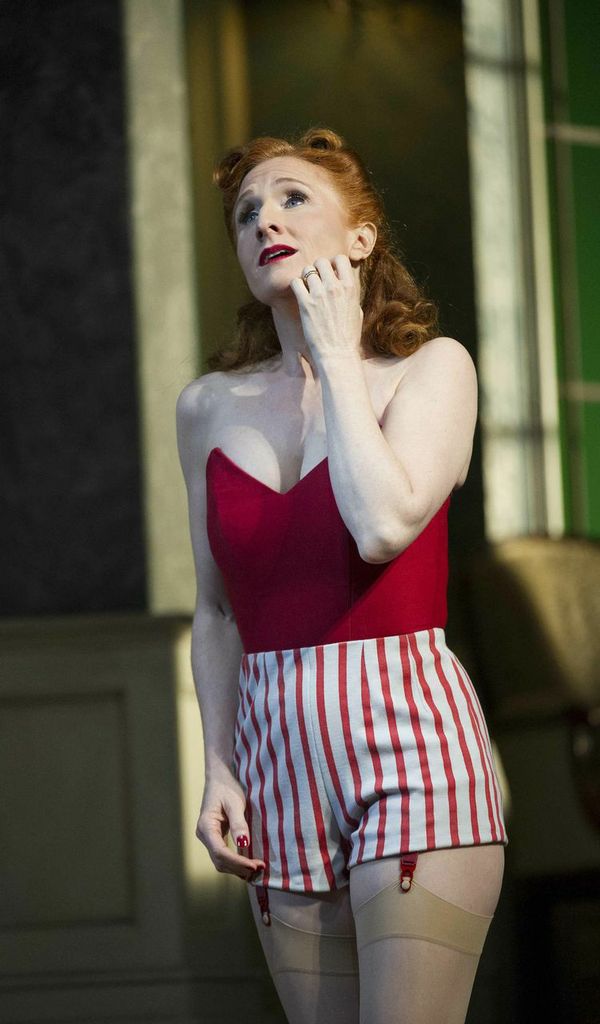 So gone - wiped out in the pre-dinner raid - is the makeshift set and drooping palm of Ariadne's desert island (the palm, acting as a kind of barometer of the Composer's wilting prowess, is but one instance of Thoma's decidedly German humour). In the wake of catastrophe in this little corner of England the stately home is now a hospital where Ariadne (Soile Isokoski) pines away for her one true love in the valley of the shadow of death dutifully attended by her trio of nymphs turned nurses (Ana Maria Labin, Adriana Di Paola and Gabriela Istoc), while the composer, shell-shocked, traumatised, ponders the outcome of his score. The mournful nature of the unfolding opera sits well with the pall of the sick room and once we identify the Vaudevillians as members of ENSA there is point and purpose in their wholehearted attempts to raise everyone's spirits.
The problem, I think, is that Thoma simply overworks her premise so that when Zerbinetta attempts to relate to Ariadne, woman to woman, in the ear-popping coloratura of her lecture on the joys of sexual promiscuity, for instance, the rudeness of Laura Claycomb's teasingly-voiced multiple orgasms is so explicitly physical that Thoma seems to think it necessary not just to sedate but to straightjacket her, too. That's a bit of business too far, and for all that it is intricately tailored to the music there is overkill in her point-making - a young director flexing her creative muscle. I miss, too, the mythical element, so that Ariadne's transfiguration in the arms of her one true love is almost mundane in its understatement.
Vladimir Jurowski and his trimmed-down London Philharmonic Orchestra work wonders with Strauss's luminescent scoring, always maintaining that very telling balance between intimacy and grandiosity, the world of musical theatre versus opera, the pit band that would be symphonic. Experience pays, too, in the casting of Thomas Allen as the Music Master and, most notably, his leading lady - the Prima Donna/Ariadne of Soile Isokoski. She may not now epitomise the glamour and vocal bloom we have come to expect of the role, but in a house this size her wholeheartedness and musicality shine through.
And who'd have imagined that her Bacchus (the brave but challenged Sergey Skorokhodov) would turn out to be the First of the Few? Not Strauss, not Hofmannsthal. But that's why we love opera, isn't it?
MORE RICHARD STRAUSS ON THEARTSDESK

Der Rosenkavalier, Royal Opera (2009). Uneven revival of John Schlesinger's 25-year-old production
Capriccio, Grange Park Opera (2010). Lively staging, stylish singing and a welcome intrusion of wartime reality
Salome, Royal Opera (2010). Angela Denoke's mercurial Salome (pictured below by Clive Barda) shimmers in Strauss's monstrously beautiful opera
Ariadne auf Naxos, Welsh National Opera (2010). Hoffmansthal's libretto is all about fidelity. This updating is faithful, up to a point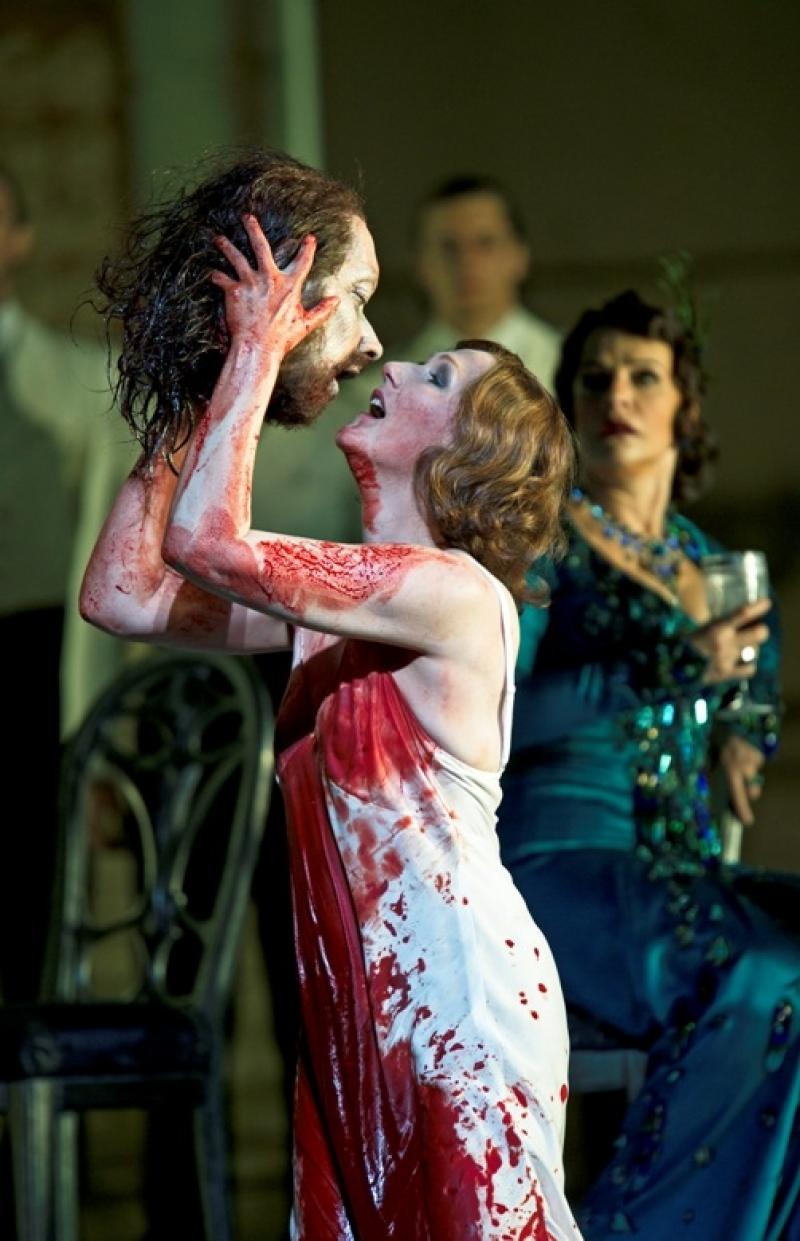 Intermezzo, Scottish Opera (2011). Soprano Anita Bader graces a Klimtian take on Richard Strauss's domestic comedy
Die Frau ohne Schatten, Mariinsky Opera (2011). Strauss's massive fairy tale makes a rare outing in Gergiev's musically strong venture at the Edinburgh Festival
Der Rosenkavalier, English National Opera (2012). David McVicar and Edward Gardner deliver a riveting account of Strauss's popular opera with Amanda Roocroft as the Marschallin
Intermezzo, Buxton Festival (2012). Fine style in Strauss's comedy-with-feeling
Capriccio, Royal Opera (2013). Renée Fleming leads superlative cast in concert performance of Strauss's operatic debate

Elektra, Royal Opera (2013). Revival with Christine Goerke in the title role hits the horrid heart of the matter in Strauss's poleaxing masterpiece
Die Frau ohne Schatten, Royal Opera (2014). Compelling dream-interpretation of Strauss's myth graced by fine singing and Semyon Bychkov's conducting
Der Rosenkavalier, Glyndebourne (2014). Richard Jones finds new order in rococo comedy for music, with Kate Royal as the Marschallin

Salome, BBC Proms (2014). Nina Stemme stuns with Donald Runnicles and the Deutsche Oper Berlin in a giddying account of Strauss's incredible score at the Proms
Ariadne auf Naxos, Royal Opera (2014). Two nymphs are the real revelation in this revival of evergreen hybrid
Salome, Symphony Hall, Birmingham (2015). Lise Lindstrom steals the show from Karabits and Bournemouth SO as a sensual Strauss anti-heroine in concert
Der Rosenkavalier, Royal Opera (2016). Robert Carsen's handsome production with Renée Fleming is elevated by superb orchestral playing
There is overkill in the director's point-making
rating
Explore topics
Share this article