Mahler 8, LPO, Jurowski, RFH |

reviews, news & interviews
Mahler 8, LPO, Jurowski, RFH
Mahler 8, LPO, Jurowski, RFH
Sex, God and music: the symphony of a thousand ideas
Channelling Mahler, composer and conductor: Vladimir Jurowski with the London Philharmonic Orchestra
For the first performances of his Eighth Symphony in Munich, Mahler conducted 11 rehearsals. He arranged for the bells of the city's trams to be silenced during the concerts. He left nothing to chance. On Saturday night, for once, one felt that all concerned had done likewise.
In Munich the piece was billed as the Symphony of a Thousand. Symphony of 250, often as not, is what we get, including instrumentalists, unless you turn up to one of those get-your-uncle-in-to-sing affairs at the Royal Albert Hall. So the sight of 350 choristers filling up the choir and side stalls of the Royal Festival Hall was one to gladden the heart.
With 120 of them, principally the London Philharmonic Choir, Vladimir Jurowski led the 40-part motet of Thomas Tallis, Spem in alium. This Renaissance blockbuster was an inspired (if not original) choice of preface, serving to sharpen one's palate for the feast of intricate counterpoint served up by Mahler. The shifting clouds of harmony were never given quite enough space in time to coalesce and disperse, but the LPC struck a fair imitation of a supersized Tallis Scholars, before turning on a sixpence to answer the Festival Hall organ's opening blast with singing at full thrust and unfaltering composure throughout the 20-minute Part 1 of the symphony.
Here I want my orchestra to be nothing but a large guitar
Crammed into every inch of the main stage, the LPO and extras (three harps, two mandolins, harmonium and all) were laid out on the flat, against standard practice. Doubts that the brass would register when playing across the rest of the orchestra soon vanished. The idea – Jurowski's, surely the composer's too – was soon clear: having written for a nine-part choir, Mahler would have wanted us to hear his, and their, exacting work. The orchestra was there to decorate, embroider, illuminate. Anyone sitting within the main body of the stalls was engulfed by waves of focused choral sound from the London Philharmonic Choir, London Symphony Chorus and Choir of Clare College Cambridge. "My children's choir must enter here like a knife through butter," Mahler insisted in rehearsals, and the Tiffin Boys Choir – as experienced a Mahler ensemble as any other on stage – did him proud.
Nor did the pace slacken or the intensity drop at the entry of the seven soloists: sopranos Judith Howarth and Anne Schwanewilms (pictured below), altos Michaela Selinger and Patricia Bardon, tenor Barry Banks, bass-baritone Stephen Gadd and bass Matthew Rose. No mere lyrical interludes, their contributions carried forward the argument, which in this case is Mahler's paean of praise to creativity itself, his Meistersinger no less than his Beethoven 9.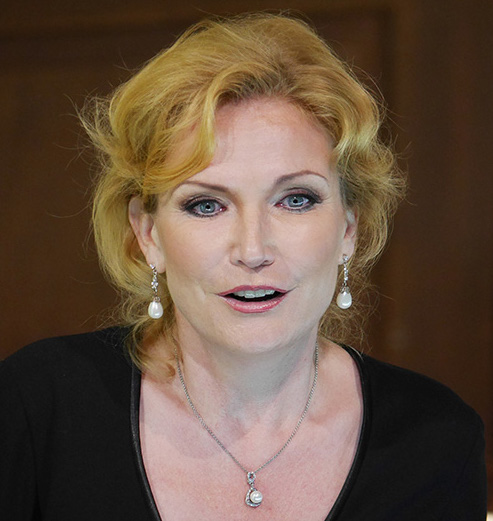 Indeed, for all that the noise was fun, the execution estimable, the most novel of the performance's many merits was its complete understanding and unapologetic projection of a work so weird and so expansive that baffled exhilaration and intellectual scepticism are perfectly understandable reactions. With the aid of the lighting designer Chahine Yavroyan, Jurowski cleared away decades of category error. Is it a symphony? Is it a concert opera? A cantata, an oratorio, a saccharine circus from a self-obsessed part-time composer who'd finally jumped the shark? The Eighth is all of those things and none of them.
If the vaulting momentum of Part 1 had raised expectations that Jurowski would craft the piece as a disguised four-movement symphony, he confounded them at the opening of Part 2, the genre-bending setting of Goethe. The pulse if not the pace was kept up, the heterogeneous origins of the music laid bare: from plainsong, polyphony and Parsifal through to the composer's previous symphonies – even the tragic Sixth – in the latest, playful but irony-free chapter of a career-long roman-à-clef, a dance to the music of time whose hero is (as if you didn't know) Mahler himself.
Often seated in darkness, the choir ceded the limelight to soloists and to some of Mahler's more outlandish orchestration. "Here I want my orchestra to be nothing but a large guitar" – another diligently recorded gem from the premiere rehearsals – and at one point half the wind section conspired to imitate a gigantic saxophone. Gadd as Pater Ecstaticus and Rose as Pater Profundus combined to present a swift sketch of Wotan, the hopeless optimist and rational pessimist. Liberated from the platform, stationed in an upper box, Schwanewilms was a glorious Gretchen who underlined to these Anglo-Saxon ears the correspondence between the composer's very personal interpretation of Goethe, and Elgar's Angel ushering Gerontius past angelic choruses. Faust himself was an invisible presence.
The Eighth, like Gerontius, has its purple patches, where ambition over-reaches achievement – an overripe trio for soprano and altos is no match for Strauss – but even such moments swung by, fired with a conviction that the piece is no bizarre Christian excursus from the agnostic travails of Mahler's later music. Rather, in the final Chorus Mysticus there arose a tremendous sense of arrival at a point of pantheistic union. Assembled year by year, Jurowski's Mahler cycle has steadily grown in stature, and this was perhaps its most revelatory instalment yet.
Jurowski cleared away decades of category error
rating
Explore topics
Share this article
Subscribe to theartsdesk.com
Thank you for continuing to read our work on theartsdesk.com. For unlimited access to every article in its entirety, including our archive of more than 10,000 pieces, we're asking for £3.95 per month or £30 per year. We feel it's a very good deal, and hope you do too.
To take an annual subscription now simply click here.
And if you're looking for that extra gift for a friend or family member, why not treat them to a theartsdesk.com gift subscription?