Power, London Philharmonic Orchestra, Jurowski, Royal Festival Hall |

reviews, news & interviews
Power, London Philharmonic Orchestra, Jurowski, Royal Festival Hall
Power, London Philharmonic Orchestra, Jurowski, Royal Festival Hall
The power of an electrifying new viola concerto is defused in low-wattage Mahler
Thursday, 16 January 2014
James MacMillan: communicating as boldly as ever in his new Viola Concerto
Baleful prophecies were rife before the concert. Was Vladimir Jurowski right to let Mahler's only total tragedy among his symphonies, the Sixth, share the programme with anything else, least of all a new viola concerto in which the solo instrument's naturally pale cast of thought seemed likely to be indulged by James MacMillan – another composer not afraid of rhetorical angst?
As it turned out, the concerto had as much of the healthily extrovert about it as MacMillan's immediate predecessors in the form for oboe and violin, while Jurowski's Mahler wasn't, it seemed, out to blitz us after all. In fact what it was supposed to do to us remained unclear, unlike the brilliant orchestral playing. Entertainment, that heretical word in the concert world, rather than soul-searching turned out to be the order of the evening.
Like Britten, MacMillan writes for the great instrumentalists of his time: percussionist Evelyn Glennie, oboist Nicholas Daniel, violinist Vadim Repin and now viola-player Lawrence Power (pictured right). So he was clearly out to challenge Power with a touch of the seemingly impossible, not least in a late frenetic battle with an unusually loud orchestra and, in the outer movements, rapid fire of combative or humorous semiquavers.
Yet as befits the viola, which can be soft-grained but which Power projected, at least from where I was sitting, as if it were an instrument electric – in more than one sense - or amplified, the more introspective passages proved haunting in a very MacMillanesque way. They were coloured by two orchestral violas and two cellos marked "like a quartet of viols – stile antico, poco vibrato" and later, once the finale's raucous marching band and garish glitter have temporarily imploded, by an impassioned duet with a shakuhachi-impersonating recitative from standing first flautist (Maria José Ortuño Benito) and harp.
This jury's still out on the ambiguous effect of the slow movement, a sentimental song for viola and strings bent by the soloist's eerie glissandi and punctuated by three brass-dominated blasts which send the virtuoso xylophonist toppling and finally put an end to melody. Three hammer-blows to parallel the ultimately fatal strokes of fate in Mahler's apocalyptic finale? If so, MacMillan wasn't saying in a surprisingly austere non-programmatic programme note there, I fancy, to tease the geese.
By the time of the parallel poleaxing in Mahler's tragic universe, I'd ceased to be engaged. It's very hard to put a finger on what was lacking in Jurowski's iron-grip interpretation, but he's so often an elegant rather than a visibly fired-up conductor, and without a supercharged atmosphere Mahler's more overwrought counterpoint can sound simply obscene or alienating.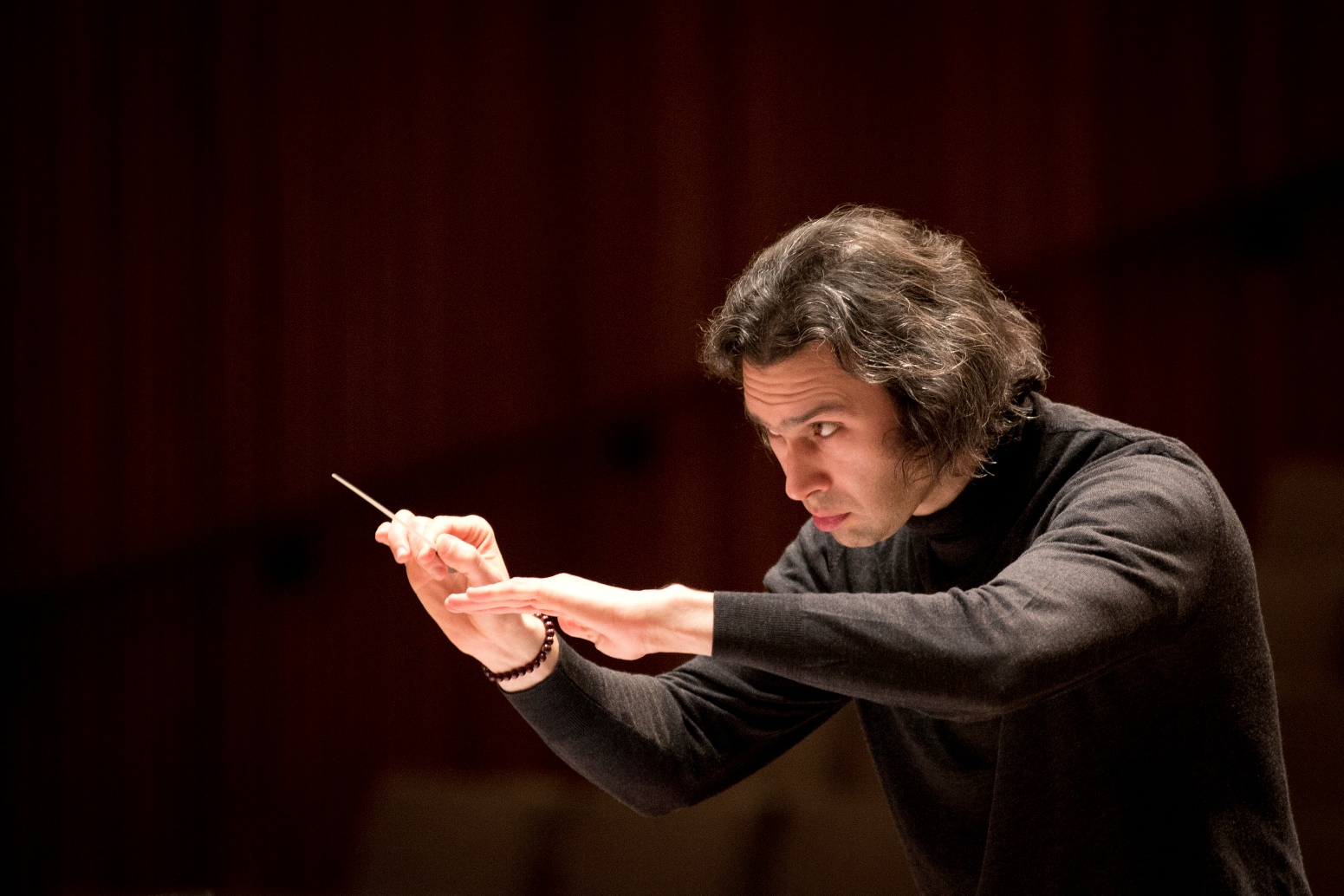 I'm sure the issue of the middle movements' order played its part in wearying us disproportionately. The more I think about it, Mahler's decision to place the scherzo third rather than second must have been a fear, unusual for this seemingly dauntless composer, of frightening the more conventional audiences of his time with a second-movement reworking, in a different metre, of the opening Allegro energico's high drama (if you look at it programmatically, the wife comes to the rescue in the big sweeping melody, while the sand-zigzagging children of the bogeyman scherzo's trio, superbly articulated by the quaint peckings of oboist Ian Hardwick, are obliterated).
At any rate there was no need for the higher pastures of the Andante after an opening movement where Jurowski (pictured above by Benjamin Ealovega) and his orchestra maneouvred all the right gear-changes but without an intense inner light. And though it always works best at an unindulgent, flowing metre, the bittersweet melody of the slow movement felt over-pressed and unfeeling, jabbing details like an odd clarinet chorus unduly spotlit.
The London Philharmonic's playing throughout was high-profile if ultimately less meaningful than it should be; though I was grateful for insights like the pizzicato to-ing and fro-ing behind the first movement chorale, the incisive violas, the ever-present tuba lines from the peerless Lee Tsarmaklis – somehow, like contrabassoonist Simon Estell, managing to co-ordinate with the double basses right over on the far left of the platform. But as Jimmy Mahoney puts it in Brecht/Weill's Mahagonny, "etwas fehlt" – "something's missing". And when it is, the massive forces Mahler has at his disposal feel sorely abused. Jurowski has wrought wonders in other instalments of his LPO Mahler series so far; not, alas, here.
Entertainment, that heretical word in the concert world, rather than soul-searching turned out to be the order of the evening
rating
Share this article