Reissue CDs Weekly: Ride, Juliette Gréco, Krzysztof Komeda, Priscilla Paris |

reviews, news & interviews
Reissue CDs Weekly: Ride, Juliette Gréco, Krzysztof Komeda, Priscilla Paris
Reissue CDs Weekly: Ride, Juliette Gréco, Krzysztof Komeda, Priscilla Paris
Creation Records' highlight, skimpily packaged chanson, early Polish jazz and rescued recordings from a Sixties great
Ride: their 'Going Blank Again' left the competition behind
When Oxfordshire's Ride arrived in the shops via Creation Records, they were the sonic little brothers to label-mates My Bloody Valentine. But their second album, 1992's Going Blank Again, ploughed its own path, leaving the competition behind. Twenty years on, this smart, book-bound reissue adds most of the tracks from contemporary EPs and teams the album with a DVD of a March 1992 Brixton Academy live show.
In the liner notes, guitarist – and future Oasis bassist, and current Beady Eye member - Andy Bell admits Ride were initially an "an amalgamation of the Jesus & Mary Chain, My Bloody Valentine and the House of Love" – all of whom had been on or were on Creation. The label was Ride's natural home. Going Blank Again found Ride stretching out, exerting a growing confidence and musical prowess to complete one of the year's most striking and satisfying albums. It went Top Five. An EP with the still-stunning "Leave Them all Behind" as the lead track trailed Going Blank Again. Its soaring, surging beauty married Who dynamics to shoegazing.
When the album came, it revealed a band at home with to-the-point Sixties-style psychedelic pop ("Twisterella") and dramatic guitar interplay ("Not Fazed"). "OX4" was an out-and-out psychedelic reverie. There were missteps – the archly pop "Making Judy Smile" – but this was their confident peak. The Brixton show on the DVD has exemplary sound, and shows Ride matching the studio ambition live. On stage, everything springs from Loz Colbert's explosive, Keith Moon drums. A great band on a high, on a great album.
Kieron Tyler
The quintessential Left Bank muse, Juliette Gréco has always managed the enviable trick of being cool and distanced, yet popular and engaged with the lyrics she delivered. This un-annotated compilation – no sources or dates are given for any tracks – won't replace last year's La Belle Vie box set, but it is a fine, atmospheric starting point. The 22 songs seem to be drawn from soundtrack appearances, rather than studio sessions. So classics like the Léo Ferré-written "Jolie Môme" and George Brassens' "Chanson pour L'Auverngnat" don't sound quite as you remember them. As the muse of stellar writers – adaptations of the lyrics by Charles Aznavour, Jacques Prévert and Françoise Sagan are also here – Gréco has always risen to the challenge, and is never less than dramatic and engrossing. Pity about the poor packaging.
Krzysztof Komeda: Knife in the Water
Kieron Tyler
Writing the music for Roman Polanski's first film in 1962 made Komeda and the director's names inseparable. So it's little surprise that the five Knife in the Water tracks give this compilation its title, despite the 13 other performances collected here. Also included are cuts from the soundtrack to Andrej Wajda's Innocent Sorcerers (1960) and live performances from 1956, 1960 and 1961. The other thing Komeda is always going to stand out for is being a jazz musician/composer in Fifties Poland. At this early stage, Komeda's context suggests he's slightly more interesting than he actually is. Musically, his small-combo jazz is terrific, but it conforms to the American templates it looked to. Indeed, the live cuts include versions of standards by Victor Young ("Stella By Starlight" – heard twice) and Harry Ruby (the also Doris Day-covered "Three Little Words"). As a pianist though, Komeda shines, his playing rolling, supple and energised. Soon, he found his own voice with the landmark 1965 album Astigmatic and the music he composed for Polanski's Cul-de-sac and Rosemary's Baby.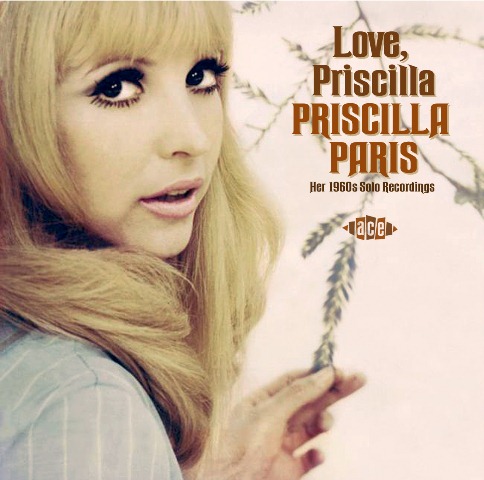 Priscilla Paris: Love Priscilla
Kieron Tyler
The voice is unique, instantly recognisable. The breathy, intimate tone which took the Paris Sisters' Phil Spector-produced "I Love How You Love Me" into the US Top 10 in 1961. It echoes through time, still colouring Saint Etienne's Sarah Cracknell. Priscilla Paris died in 2004, after a fall at her Paris apartment. She was living there running a business teaching English to the local tourist industry. Back in 1967, she had released what would become the first of her two Sixties solo albums, both obscure and collected here alongside a quartet of essential unreleased tracks form the period. The first album, Priscilla Sings Herself, is remarkable - mostly self-penned (there's a bets-hedging cover of "By the Time I Get to Phoenix"). Her lyrics explore who she is, the melodies and arrangements bring what she was associated with up to date. The second album, Priscilla Loves Billy (sic) was based around interpretations of songs Billie Holiday had sung and is less successful. Her solo career didn't take off and we're left with the first-ever reissue of these albums, a superbly packaged tribute to a significant singer.
Watch the video for "Leave Them all Behind", from Ride's Going Blank Again

'Going Blank Again' was Ride's confident peak
Share this article