Music Reissues Weekly: Ride - 4 EPs |

reviews, news & interviews
Music Reissues Weekly: Ride - 4 EPs
Music Reissues Weekly: Ride - 4 EPs
Welcome celebration of the early years of Oxford's psychedelic pop-rockers
Growing up in public: the early Ride
"When we started out we were really just an amalgamation of three bands – the Jesus and Mary Chain, My Bloody Valentine and the House of Love," said Ride's Andy Bell in 2012. The arrival of the literally-named double album 4 EPs – collecting their first four EPs in one place – brings a chance to ponder this.
Oxford's Ride formed in 1988. "Like a Daydream" the kick-off track from Play, their 1990 second EP, confirmed they'd transcended their inspirations. A pacey raver with wild drumming, it featured an outstanding guitar solo which was a double-speed transmutation of what had originally cropped up in The Byrds's "Eight Miles High". Raga-rock recontextualised. Psychedelicised too. An afterlife was acknowledged by the title of the 2006 various artists compilation Like A Daydream – A Shoegazing Guide.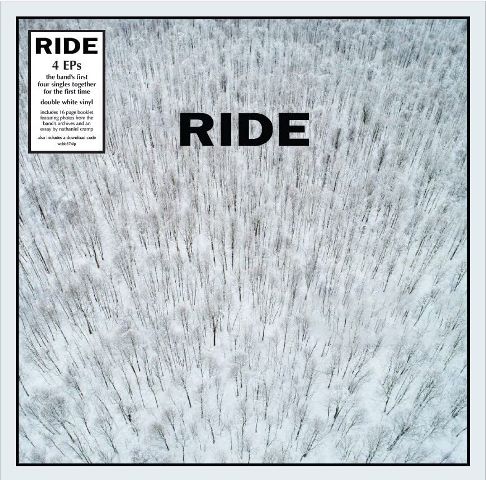 All three of the Jesus and Mary Chain, My Bloody Valentine and the House of Love were or had been on Creation Records, and Ride ended up on the label. Ride's first four four-track EPs were Ride (released January 1990), Play (April 1990), Fall (September 1990), and Today Forever (March 1991). Nowhere, their debut album, had been issued in October 1990. Each of the EPs occupies one side of 4 EPs.
As each Ride record was released over those 15 months, the context changed. Fellow Thames Valley band Slowdive fetched-up at Creation a little later than Ride. The analogous Telescopes signed with Creation in 1992. A raft of bands – including Ride – would be lumped together under the shoegazing umbrella, and not just ones on Creation. And lo, categorised thus: The Catherine Wheel, Chapterhouse, Lush, Pale Saints and more. A review of Moose provided the label.
My Bloody Valentine, one of prime inspirations, issued their benchmark Creation album Loveless in November 1991 – close to two years on from Ride's debut for the label. Ride can be seen as integral to what surrounded MBV, and a precursor for like-minded bands or ones on parallel paths. They realised this. Their 1992 second album's first track was titled "Leave Them All Behind". In 2012, Ride's Mark Gardener said it was "a bit of a metaphor for leaving all those other shoegaze bands behind; it was statement of intent". Inescapably, Ride had an aesthetic context.
A wider context, in terms of the indie-band ecosphere, is gone into by Nathaniel Cramp's essay for 4 EPs's booklet. He also writes with candour of the band's personal impact.
Obviously, Ride were growing up in public. The Ride EP was fairly scrappy sounding, with a tinny production. But it did include the kinetic "Chelsea Girl" and the grinding "Drive Blind". Both winners. It was a great debut. Play was more focussed. Their first release with regular studio collaborator Alan Moulder caught the sound of a band which had coalesced, one which had musically worked out who they were – their records' graphics showed they had done so image-wise from the off. Fall and Today Forever were also terrific and moved towards incorporating a poppiness alongside more diffuse material. Psychedelic pop-rock sums it up. (pictured left, Ride's 1990 Play EP)
Together, original pressings of all four EPs would cost £250 to £300 if in decent shape. At around £36, 4 EPs plugs a gap – especially so as after their 2014 reunion (they had split in 1996) they remain active. Disappointingly, the package lacks credits for and information on the mastering or audio sources. It is likely that in the period these 16 tracks were recorded, the contemporaneous master source was digital Betamax tape – a music industry standard. The sound here is great yet different to the original records. It's been opened out without losing the core sonic cohesion or any of the power. It would be interesting to know the background on this.
As well as the EPs, Nowhere and their second album Going Blank Again are reissued concurrently. The latter pair were not submitted for review. However, 4 EPs does just fine as making the case for Ride.
Next week: Goin' Round In My Mind – box set dedicated to US cult hero Merrell Fankhauser
Ride's 'Like a Daydream' recontextualised raga-rock
Explore topics
Share this article