Reissue CDs Weekly: Gil Scott-Heron, K T Oslin, Motorpsycho, Feeling High |

reviews, news & interviews
Reissue CDs Weekly: Gil Scott-Heron, K.T. Oslin, Motorpsycho, Feeling High
Reissue CDs Weekly: Gil Scott-Heron, K.T. Oslin, Motorpsycho, Feeling High
The early days of a polymathic pioneer, country from the Nineties, influential Norwegians and the psychedelic sound of Memphis
This fine box set has a cuckoo in its nest which has to be dealt with instantly. Like Eric Clapton's 1976 declaration of support for Enoch Powell, Scott-Heron's "The Subject Was Faggots" is a blot that's hard to erase from a career otherwise marked by inclusivity. "Giggling and grinning and prancing and shit… faggots who were balling because they couldn't get their balls inside the faggot hall," is how it goes, with Scott-Heron plumping for "he, she or it" as his favoured signifier. Yeah, times were different, the mores of the past a foreign country and the now-deceased Heron a contrarian commentator meeting things head on. It's still puerile, offensive and undermines his stance on racism.
So full marks to BGP in not rewriting this part of Scott-Heron's history by excising this particular performance from this three-CD set of the complete recordings from 1970 to 1971, a defining era in his career. The released material was originally spread across three albums and is supplemented here by a full, previously unheard alternate version of Free Will and a stack of tracks recorded as collaborations. The material has been resequenced, rather than following the original releases. The first disc is titled "songs", the second "poetry, jazz and blues". The third contains the unreleased material. It makes for a cohesive listen, highlighting consistencies and strengths that weren't previously readily evident. Of course, the compilers could be accused of spoon feeding, but that misses the point when this set is designed to show Heron in the strongest possible light.
"The Revolution Will Not be Televised" is now familiar, as are the arguments for Scott-Heron the polymath as an originator of rap, alongside The Last Poets. That overshadows what this set draws out. When he wanted to be, Scott-Heron could be a soul stylist on the Marvin Gaye level. The lyrics on the first disc are acerbic and pointed, but his singing and the music are terrifically elegant. At its wildest reaches, the jazz-poetry of the second disc places Scott-Heron as the angry, racial-tension-aware offspring of Lord Buckley. The Beat Generation isn't far. With the unreleased tracks as the icing, this challenging, well-packaged set - with its erudite book and pin-sharp mastering – is to be prized.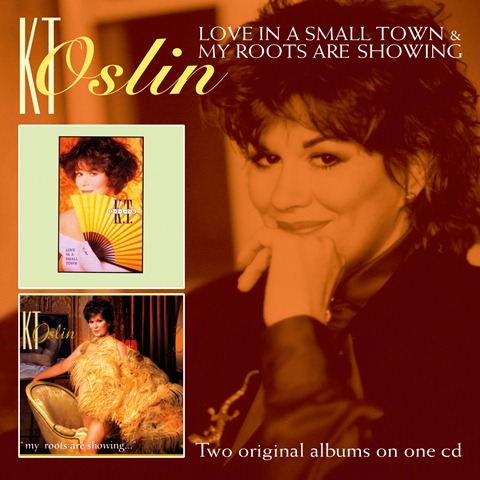 K.T. Oslin: Love in a Small Town & My Roots Are Showing
Kieron Tyler
K.T. Oslin's 1987 hit "80's Ladies" was an important benchmark in American country. Although working as both a singer and songwriter from the mid Sixties, it was her first mainstream success. Significantly, she was in her 40s and singing of a life – and to an audience – that was largely ignored by the music business: women with experience of life who were getting older. This perfunctory two-on-one CD collects 1990's Love in a Small Town, the set which followed the success of "80's Ladies" namesake parent album, and 1996's My Roots Are Showing, made after she had heart surgery in 1995. Song-wise Love in a Small Town has nothing at all wrong with it. Thematically it tackles its set topic head on, and the vocals are direct and heartfelt. A cover of "Love is Strange" is passion filled. But the Eighties hangover production – gloss and synths - is hard to get past. Even so, it is country as country, not the pop country has become. My Roots Are Showing is a collection of covers designed to show where Oslin was coming from. Investigate, but beware the smoothness cloaking Love in a Small Town.
Kieron Tyler
Motorpsycho's 1994 album Timothy's Monster is amongst the most influential of the era, for their native Norway and beyond. It mapped a band drawing from free jazz, indie rock, the blackest of metal and psychedelia. Its follow up, 1996's Blissard, had a difficult birth, amply revealed by this four-CD, clam-shell box version. Multi-disc reissues of a single album are usually stuffed with extra tracks that are either irrelevant or distract from what was good in the first place. This, though, is illuminating and stimulating. Motorpsycho set out to make a radio-friendly album. But on completing it, they weren't satisfied and re-recorded and reconfigured what they'd gotten down to create the released version – their most linear and melodic album, with nods towards Goo-era Sonic Youth, the poppier end of grunge and sudden swoops into free-form ambience. Before that, they'd already made and shelved a follow up to Timothy's Monster, When the World Sleeps. The different albums occupy the first three discs. Disc four is demos, rehearsals and stray tracks. The unissued When the World Sleeps includes two 10-minute-plus wig-outs that put Crazy Horse in the shade and are amongst the band's best. The prototypical Blissard has much the same songs but is totally different experience to what was released and – despite the band's intentions – more wired and jagged. A fine tribute to a special band.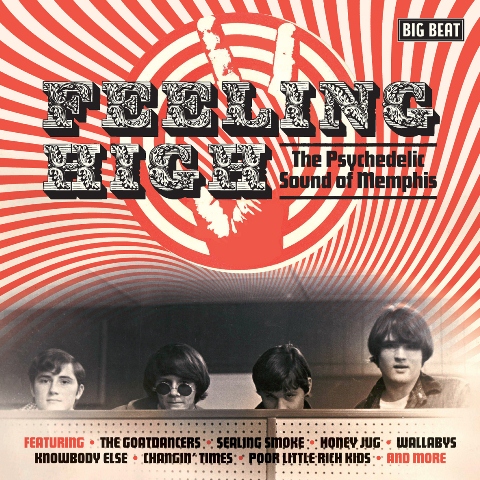 Various Artists: Feeling High – The Psychedelic Sound of Memphis
Kieron Tyler
With its foundations in rock 'n' roll and soul Memphis wasn't an obviously psychedelic city but, as this comp reveals, there were more than a few freaks, heads and mavericks ready to meet the challenges set by San Francisco and Austin. Unlucky then that of the 23 tracks heard here (a 24th is an ad), only three were issued in the Sixties. As archive scours go, Feeling High... really resets the dial. The prime movers here are producers Jim Dickinson and James Parks. Dickinson first surfaced in the mid Sixties and later became known for his eccentric solo releases and work with Big Star, while Parks came on the scene a bit later, in 1968. Dickinson was associated with Ardent Studios, while Parks was inspired by Sam Phillips. All the bands are unknowns, but the 1st Century feature ex Sam The Sham guitarist Ray Stinnett. What's collected ranges from the weird and subterranean (a mind-melting take on The Yardbirds' "For Your Love" by The Honey Jug), fuzz-filled stompers with raga solos (Changin' Tymes' "Blue Music Box") to sitar-filled swirlers (The Wallabys' "Holy Days"). On "Hark the Child", Changin' Tymes gloriously regurgitate The Doors' "The End". God bless them.
Watch Gil Scott-Heron discuss "The Revolution Will Not be Televised"