Q&A Special: Dave Brubeck, a Life in Music |

reviews, news & interviews
Q&A Special: Dave Brubeck, a Life in Music
Q&A Special: Dave Brubeck, a Life in Music
To mark the passing of one of jazz's all-time greats, we revisit theartsdesk's Brubeck interview from 2010
Thursday, 06 December 2012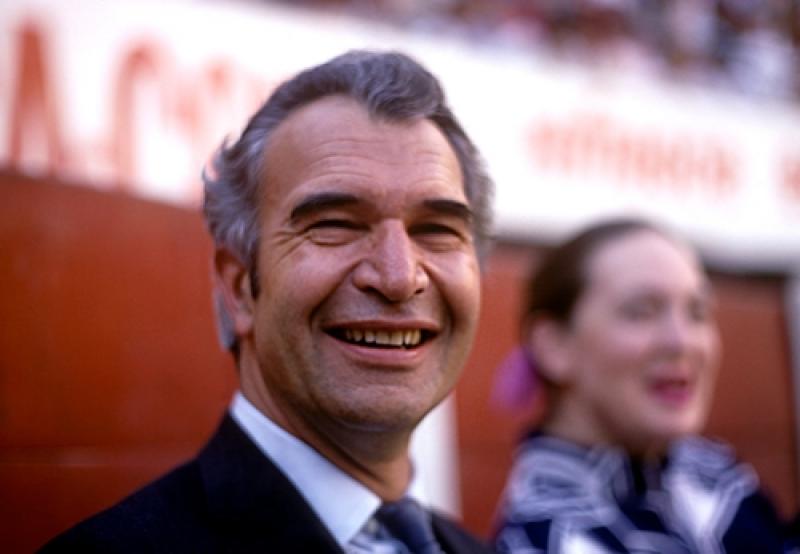 Dave Brubeck at the Newport Jazz Festival
Two years ago, I spoke to Dave Brubeck just before his 90th birthday. The occasion was being commemorated by a film executive-produced by Clint Eastwood, Dave Brubeck - In His Own Sweet Way, which was aired on BBC Four as one of several broadcast tributes to Brubeck's unflagging creativity over more than six decades. Brubeck himself, a trouper to his toes, was about to celebrate Thanksgiving with a string of performances at the Blue Note jazz club in New York, despite having had a pacemaker fitted a few weeks earlier. Although his tenth decade loomed, his recollections were sharp, his opinions robust and his musical ambitions undimmed.
Brubeck was the son of a northern California cattle rancher and a piano teacher who studied under Myra Hess in England, and his life has encompassed virtually the entire history of jazz. He started to become a significant contributor to the developing shape of modern jazz in the late Forties, after studying fugue and orchestration at Mill College, California with French composer Darius Milhaud. Following this, he formed an ensemble in 1946 with some fellow music students, which made a number of experimental recordings as the Dave Brubeck Octet.
Brubeck formed his first quartet in 1951, though it wasn't until the mid-Fifties that the classic Dave Brubeck Quartet comprising alto saxophonist Paul Desmond, bassist Eugene Wright and drummer Joe Morello alongside the leader took shape. This line-up lasted until 1967, and recorded many of the works which have cemented Brubeck into the fabric of jazz history. The 1959 album Time Out, including the indestructible "Take Five" and the challenging "Blue Rondo à la Turk" with its 9/8 time signature, is the kind of record they ought to award automatically to guests on Desert Island Discs. Other Quartet milestones included Jazz Impressions of Eurasia, Time Further Out, and the live album At Carnegie Hall.
Brubeck then worked regularly with saxophonist Gerry Mulligan and later formed a group with his musical sons Dan, Darius and Chris, while also branching out as a composer of orchestral and choral pieces such as The Light in the Wilderness or his 1971 cantata The Truth is Fallen, written in protest against the Vietnam War. His touring and recording schedule continued to defy his advancing age, though he had conceded it might be prudent to give up travelling overseas.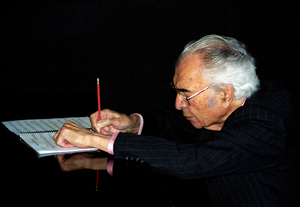 ADAM SWEETING: Have you seen Clint Eastwood's film about you, In His Own Sweet Way?
DAVE BRUBECK: I just got a copy of it. I thought it was a lot of fun. It covered a lot of territory and there's such a lot going on that you don't just watch it once. I've tried to watch it three times now on the road and I always get interrupted. You miss something, then you lose the train of thought that ties it all together. It's remarkable the way they've pulled together what's important in my life and my wife Iola's life, and it's wonderful how they've featured each of the guys from my quartet - Paul Desmond, Joe Morello and Eugene Wright.
How did the film come together?
Clint is the executive producer, and then there's [director/producer] Bruce Ricker who often does Clint's documentaries. We were down on Clint's ranch in Carmel, California and he was just asking me questions and we played some piano together and there were other people there. We were having a pretty good time.
Is Clint a good piano player?
I would say he really is a listener that loves jazz, and he composes his own scores and themes for his movies. So he's a fairly good creative guy.
The historical footage and black-and-white stills are very evocative of all the history you've lived through.
Oh yeah. And a lot of them go back to programmes I did with the BBC and an interview with Walter Cronkite, which surprised me. There are quite a few English people in it. Sting is on there and Keith Emerson and the late critic and musician Steve Race, you remember Steve? He was important in my life and I got to know him well, but at first he really thought I was not a good musician. Then he did a complete turnaround and went the other way, that I was a great musician, so I'll never forget Steve because he really put me down, and usually when some critic puts you down they don't say, "I was wrong, I really didn't understand what Dave was trying to do." You've got to have a lot going for you before you want to criticise some other musician, and Steve did a complete turnaround. He was an important guy in England, an important critic and an important musician, so to have him not like me was really bad news. And then for him to say how much he had to understand before he started understanding me… it takes some generosity of spirit.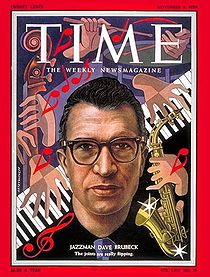 Some critics have thought they heard too much classical music in your jazz playing. Has that caused you problems?
It's traditional. It goes back to New Orleans, to the French quarter. Jelly Roll Morton was listening to French opera, and they say "Tiger Rag" was a Belgian march. When you consider that the early New Orleans music was just like march music, the clarinet playing the obbligato, the trumpet playing the melody, the tuba or trombone playing the bassline, you're right in Europe before you can blink your eye. The first blues ever written was W C Handy's "St Louis Blues", and guess how it starts – it starts as a rhumba. So where'd that come from?
South America?
Yes, so right from the beginning the first things had a South American tinge, right from the earliest blues. So how can you say I was using classical music? Listen to Art Tatum. He was playing Dvorak's Humoresque and other themes and making them just sound wonderful, so how more authentic than Art Tatum do you want to get? Do you think Ellington didn't listen to Debussy? You name a jazz musician you think wasn't influenced by European music, especially opera. They all loved it. Even Louis Armstrong loved opera – did you know that? Well he did, and a lot of the other great players, so don't think I'm the guy (Brubeck on the cover of Time magazine, 1954, pictured above).
And pianist Bill Evans owed a lot to Debussy, for instance.
Bill Evans? Sure. He's full of wonderful French harmonic devices. Name me a jazz pianist that you don't think was influenced by European music. Name me one! You can't, that's right. It was fun to say I was doing all this, but I always say it goes right back to the beginning.
Darius Milhaud [French composer who taught Brubeck at Mills College, California after World War Two] encouraged you to keep playing jazz, didn't he?
Milhaud loved jazz. At the time when he first started using jazz in the ballet The Creation of the World, he was the first European composer to do it, but other European composers were starting to use it too. Milhaud thought it was a liberating force for European art. You'd had strict ballet from Russia where you didn't dare to do one thing that wasn't in the Russian understanding of ballet, and then here comes jazz and African ballet. It changed ballet, it changed European classical music, it changed European poetry. Milhaud said in many ways, European music was at a dead end, and jazz liberated it. I think that's probably very true.
Do you think Ellington didn't listen to Debussy? Can you name me a jazz pianist who wasn't influenced by European classical music?
Explore topics
Share this article
Subscribe to theartsdesk.com
Thank you for continuing to read our work on theartsdesk.com. For unlimited access to every article in its entirety, including our archive of more than 10,000 pieces, we're asking for £2.95 per month or £25 per year. We feel it's a very good deal, and hope you do too.
To take an annual subscription now simply click here.
And if you're looking for that extra gift for a friend or family member, why not treat them to a theartsdesk.com gift subscription?