Anastasia, Royal Ballet |

reviews, news & interviews
Anastasia, Royal Ballet
Anastasia, Royal Ballet
Ballet about identity and memory is flawed but fascinating
Thursday, 27 October 2016
Patient or princess? Natalia Osipova as Anna Anderson, the woman who believes she is Anastasia
The reception of Kenneth MacMillan's ballet Anastasia has some similarities with that accorded the Berlin asylum patient who some believed to be the lost Romanov Grand Duchess. For supporters who wanted to believe in the fairytale, Anna Anderson's awkwardness, her lack of Russian, her facial dissimilarity to the Tsar's youngest daughter, could all be turned to postive account; her unlikeness became evidence of likeness.
In the case of the ballet, its supporters cite its flaws as evidence of its nobility; MacMillan should not be accused of failing, but lauded for having tried at all. The ballet's detractors may feel its faulty DNA has been tested and proven beyond doubt, rendering all further revivals pointless, but well-wishers keep wanting to rescue it and place it alongside its noble relations in the Royal Ballet's repertory. Last night's revival was the first since 2004: with new set designs and a new set of principals – including the luminous Natalia Osipova – tackling the title role, the Royal Ballet and the MacMillan estate are trying again to prove Anastasia's claims.
Never forget that high art is usually in bed with power, seems to be the moral
Osipova is a huge boon to this revival. Her pale, dark-eyed intensity of look is just right for the memory-fractured asylum inmate; her gamine liveliness a perfect fit for a teenage princess on the cusp of maturity. MacMillan's classical choreography for Anastasia in the first two acts is pretty quotidian, but who can fail to marvel at the speed of Osipova's running on pointe when she is the child Anastasia playing on the decks of the Imperial yacht, or to be captivated by her contained excitement when she shows us a royal adolescent at her first ball? That Osipova is equally master of the far more expressionist, contemporary choreography of the last scene – convulsive jitters, turned-in feet, violence, grief, and fear – is no surprise, either; terrible as her last foray into contemporary dance was, she has always done a good line in mad scenes, and intensity is her forte just as much as it was MacMillan's.
Support in the intensity department comes from Edward Watson (pictured below right with Osipova) as her husband-rescuer, though his incredible dancing talent barely manages to show through in choreography which is mostly running and emoting. Most of the other men are equally hampered, either by choreography or costumes: the sailors whose Act I leaping is the ballet's concession to male classical show-offery are played by three Principals and a First Soloist, but only recently-promoted Alexander Campbell manages to fight the restrictive double-breasted jacket and stretch-less trousers enough to look his rank. The women do better, with Christina Arestis a charismatically dignified Tsarina and Olivia Cowley, Beatriz Stix-Brunell and Yasmine Naghdi quick and pretty as Anastasia's three interchangeable sisters. Marianela Nuñez gets to play the Imperial Russian ballerina Mathilde Kschessinska in a grand pas with Federico Bonelli that is really not a bad imitation of Petipa. Nuñez, for whom Kschessinska's regal demeanour is no challenge at all, commendably keeps her flexibility in check for a more authentically vintage line.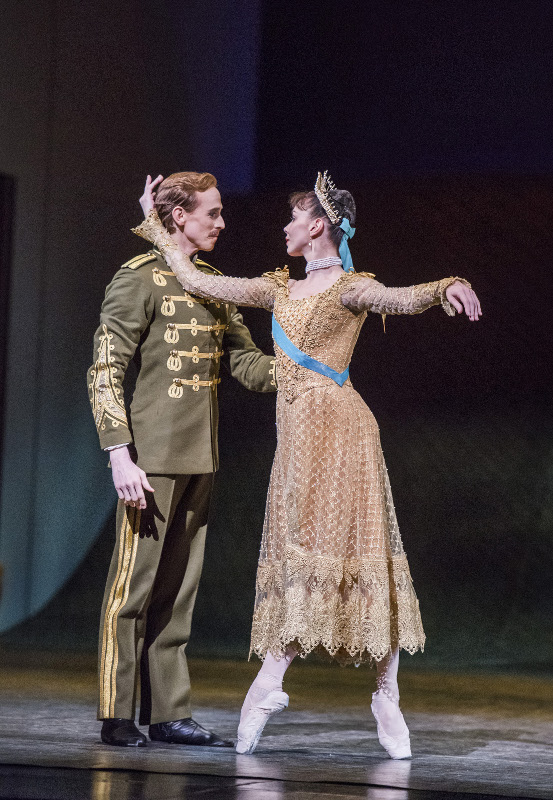 Her ex-husband, Thiago Soares (pictured below left), has drawn a short straw by being cast as Rasputin. Lurking at the back of the stage in a greasy wig and beard, staring with gimlet intensity at everyone, and dogged by a blue-tinged spotlight, he looks like a member of the undead. MacMillan choreographs him like a pantomime villain, especially in the last act, where he appears in Anna Anderson's disordered "memory" as a child-snatching demon.
Some of Rasputin's prominence comes from revisions made for this production (how much I cannot say: I never saw the old one). Part of the impetus for the changes was a need to clarify the story: it was after MacMillan's death that DNA testing revealed Anna Anderson could not have been Anastasia, and though MacMillan's widow Deborah says he would have wanted to continue believing in the fairytale, she and the ROH production team have been more pragmatic. The designs by Bob Crowley have touches of the surreal about them – the chandeliers in Act II seem to have been frozen mid-swing – which suggest they are false memories, rather than a real picture of the Romanov family; the photoshopping of a ghostly Rasputin into the Imperial photo which serves as a front cloth likewise frames the ballet explicitly as an exploration of mistaken identity and historical (mis)imagination.
For me, it called Alexei Ratmansky's The Flames of Paris to mind more than once, and not just because of the structural similarities, though it is striking that both ballets feature a ballerina character performing a grand pas de deux in a court ballroom subsequently invaded by a revolutionary mob. Never forget that high art is usually in bed with power, seems to be the moral – something MacMillan drives home by having a fantasy firing squad point their guns directly at the audience for a moment in Act III. Ratmansky's ballet is more explicitly interested in the relationship of art, ideology, and historical narrative; MacMillan's is driven by his interest in the individual Anna-Anastasia, which is perhaps why his two historical acts seem tame, even dream-like, by comparison with Ratmansky's. When the Tsar (Christopher Saunders) is told of the outbreak of war in 1914, his reaction seems more commensurate to the death of a second-favourite horse than the beginning of a continental war; and the invasion of the palace at the end of Act II is eerily soundless, as if seen on a silent film – something picked up, of course, by the Act III sequence that has Anna Anderson being shown film footage of the imperial family in an effort to jog her "memory".
The Tchaikovsky symphonies which score those first two acts are partly responsible for the slowness; though both dramatically varied, and well-chosen for their aptness to the material at hand, they force MacMillan into longueurs that would have been avoided in a purpose-made narrative ballet score. The Martinů Fantaisies symphoniques which score Act III perhaps have a similar issue (the act feels slightly too long to me), though again their structural and tonal difference to the Tchaikovsky is exactly apt for the change in subject matter.
In the end, I find myself oddly taken with Anastasia, notwithstanding its problems of choreography, construction and pacing. Osipova's magnetic performance is clearly a factor in that, but there is also something intrinsically compelling about MacMillan's attempt to marry classical ballet narrative and psychodrama. If not an unqualified success, it is at least a noble failure.
MacMillan choreographs Rasputin like a pantomime villain
rating
Explore topics
Share this article