theartsdesk in Moscow: Sergei Polunin triumphs in Mayerling |

reviews, news & interviews
theartsdesk in Moscow: Sergei Polunin triumphs in Mayerling
theartsdesk in Moscow: Sergei Polunin triumphs in Mayerling
Royal Ballet rebel leaves Russians numb as MacMillan finally reaches them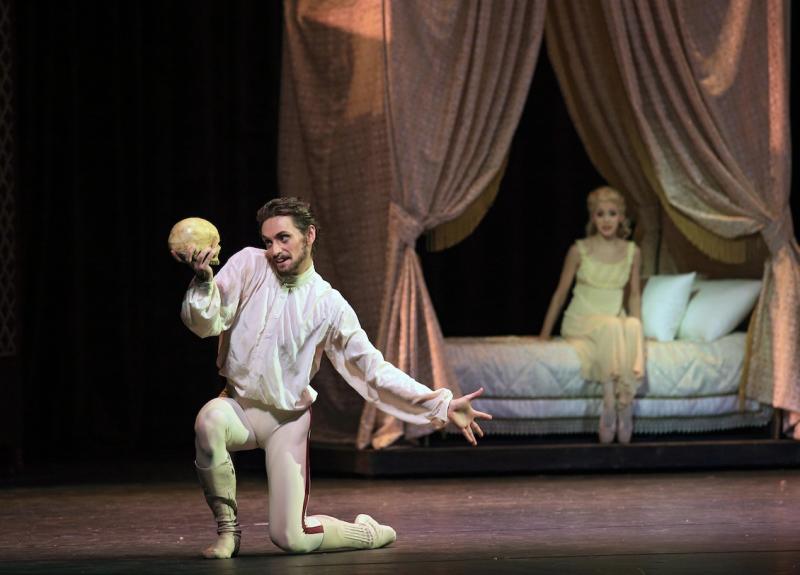 Never a skull moment: Sergei Polunin's Rudolf terrorises his wife Stephanie (Anastasia Limenko)
Quite simply, the performance was one of those rarest of events in the theatre that will be talked about for generations - the Russian premiere of Kenneth MacMillan's Mayerling, with the former Royal Ballet star Sergei Polunin making his debut as Crown Prince Rudolf.
This has been a "must-see" evening since the minute it was announced by Moscow's Stanislavsky Ballet not only with Polunin now having rock-star status in Russia, but also for MacMillan's choreography which is not found in any other Russian theatre. Extra chairs were put in, people were even sitting in the aisles. The full run of performances has long been sold out.
So I'll begin with Polunin: though it will be impossible to do justice to what he showed us on stage. He started his journey as a troubled young man from the very beginning: after the arrogance of the wedding proceedings, his Rudolf emerged from the crowd and started his first solo with such fluidity that the change was imperceptible. In and out of the balletic gestures as he moved around the crowd, gradually revealing the reality of his circumstances: contempt for the courtiers, chilly distance from his father, his expectation still to have the pick of the women (married or not) and his terrible ache for his unresponsive mother.
These days, one expects a dancer to have the physique and technique to cope with Rudolf, one of the toughest roles for a male dancer; but merely doing the pyrotechnics simply isn't good enough. Polunin is one of the most stunning technical dancers you could ask for, prodigiously talented with an innate physical beauty and all the proportions that classical ballet could lust after - but with his Rudolf, we discovered he's also a highly intelligent, sensitive and dramatic performer. (Polunin pictured below by M Logvinov)
Moreover, he brought his inner soul to the performance, finely judging the disintegration of this Prince of the Hapsburg Empire, understanding that he had to take us with him through his journey on stage, to develop the tragedy organically, not give it away too soon – and never to wreck the nuances with grand guignol. And Polunin is only 23.
With good casting with MacMillan you will never see the same ballet twice; individual interpretation is paramount, and every dancer is required to find their inner reason for being the character they play. MacMillan himself wanted the audience to forget they were watching dancers and to be enveloped in the drama. The Stanislavsky company is absolutely tailor-made for his work, with its roots in the legendary Moscow Arts Theatre, created way back in 1887 by theatre revolutionaries Konstantin Stanislavsky and his colleague Vladimir Nemirovich-Danchenko, for a new kind of work which abandoned the hackneyed classical traditions to explore new ways with drama. The Stanislavsky has "dancing drama actors" – "method" acting translated into the ballet so the dancers live their roles and are the foremost contributors to create the drama.
So Polunin's Rudolf evolves in a series of relationships and encounters: each of Rudolf's ladies in turn firing on some pretty spectacular voltage as they relate to him. Anastasia Pershenkova's Countess Larisch emerged as a really complex part of the Rudolf story: from a sizzling sexy seductress in Act 1, she became more than his ex-mistress and his procuress; we also saw her as the only one who has come to care for him as the person he is under all the bravado. (Polunin and Pershenkova pictured left, by M Logvinov)
As the Empress, Natalia Krapivina seriously changed the temperature from sunny dancing with her ladies to produce an arctic imperial distance from Rudolf in the scene in her closet. From which he could go on to his cruel and violent encounter with his new wife Stephanie, danced by Anastasia Limenko (only 18 months out of ballet school), both of them taking the pas de deux to a breathtaking edge of physicality. People looked pretty stunned going into the first interval.
The one problematic element of Mayerling for me has always been John Lanchbery's orchestration of Liszt, which all too often I've heard blasting over the top into the seriously vulgar. But I heard a quite different score with Anton Grishanin's conducting. Nuances were shaded, climaxes tailored to what was happening on stage in the drama – and the tempi were fabulously alive.
Above: the Act 1 ensemble in Moscow's remake of the Georgiadis designs (photo by M Logvinov/Stanislavsky Theatre)
Two other points on ensemble: the Stanislavsky Theatre presents both opera and ballet, but the orchestra doesn't think it's slumming for the ballet – it too is signed up to the Stanislavsky ethos. I saw players watching as much as they could of the stage, where in other places they might only be reading car magazines while counting the rests before their next entry.
In the crowd scenes - particularly the Tavern scene at the start of Act 2 - a great deal of the electricity on stage emanated from stunning dancing from senior dancers in the company, principals and soloists, who were eager to be part of the MacMillan experience, even down to playing whores and potboys. Apparently among the four Hungarian officers there were three Siegfrieds and two Albrechts, matching Polunin's technical physicality. Never has the Mephisto Waltz in the tavern scene in Act 2 fizzed so joyously.
Then, after Maria Vetsera's arrival in Rudolf's bedroom, Polunin found ever more to show us of Rudolf's deepest anguish, his physical and mental disintegration in those series of extreme pas de deux. Anna Ol matching him all the way, obviously so well supported by and confident in his partnering that we were completely sucked into the vortex. (Ol and Polunin pictured right, by M Logvinov)
At his final solo, Polunin gave us a terrible, futile, emptiness. How could it be possible to dance a nothingness?
A member of the audience told me that after Act 1, she was in a state of high tension and couldn't believe that it could rack up more in Act 2. And yet again in Act 3 so that by the end she was choked by the experience. At the Royal Opera we're used to wild bravoing erupting before the final drumbeat: the Russian audience, more considered, went into their slow and measured handclap for 15 minutes.
Is this report way over the top? Polunin, by every standard, produced a performance that was superlative, even though Friday night was his first stab at dancing Rudolf and he is still only 23. Part of the back story is that since his sad departure from the Royal Ballet a year ago, he's been mentored by Igor Zelensky, the Stanislavsky's artistic director and one of the greatest dancers of recent times. With this kind of backing Polunin should continue to astonish us in the future.
Polunin however, is only one of the Rudolfs in the company. Igor Zelensky himself makes his debut in the role, and on the second night the theatre was again packed for the Stanislavsky's star dancer Georgi Smilevski, with Natalia Somova as Stephanie, Erica Mirkitcheva as Larisch and Ksenia Shertsova as Maria Vetsera.
Smilevski's was perhaps a slower descent to hell, his relationship with his mother reading as bitter, but his anger colder, his depravity more ruthless. Ksenia Shertsova's Maria Vetsera was also chilling; we saw she knew exactly what he liked to do with skulls and guns and played him at his own game. From there on the two were on an unstoppable descent, the particularly Russian timbre of the brass section screaming an accompaniment.
Rudolf's tragedy is played in the context of a vast canvas: the decadence of the Hapsburg Court, intrigue, infidelity, betrayals, jockeying for advancement. Courtiers spying, denouncing, women available sexually, two-faced politicians: those who worked with MacMillan know he required everyone on stage to contribute, everyone to know their own back story, to inhabit their character. (Natalia Krapivina's Empress Elizabeth with Mikhail Pukhov as her lover Bay Middleton, pictured by M Logvinov)
For Julie Lincoln, and her colleagues from the MacMillan team who teach and stage the works, the task is not only to teach the choreography from the notation, but to help everyone to understand the importance of the characterisation, encourage them to develop beyond the steps. By night two, Lincoln's encouragement was obviously working: dancers were already growing their characters: courtiers more nosey, tarts saucier.
You also get all the detail because the Stanislavsky is an intimate theatre even though it seats 1,500. No-one can get away with marking their performance and it also allows subtle details to register which might otherwise be lost in bigger theatres. For the first time I saw how Baroness Vetsera, a stately performance from Natalie Trubnikova, is horrified when she understands just what a terrible liaison Larisch is cooking up for her daughter. With this clarity of detail possible, the audience doesn't need to struggle through the complexities of plotting they print in the programme book.
Zelensky's artistic direction also bodes well for the Stanislavsky company: this is his second season with them, the first of his own full planning with Mayerling his first big import. (Zelensky pictured right with Ksenia Shevtsova as Vetsera, by M Logvinov)
He is also the catalyst for the Stanislavsky acquiring the rights to perform MacMillan: at the Royal Ballet, he was in Manon and Romeo and Juliet and has the trust of the MacMillan estate which fiercely protects the integrity of the choreography. Bringing it in to Moscow is a major commitment for the company, which has built its own sets and costumes from the original Nicholas Georgiadis designs with financial support from BP, who have chosen the Stanislavsky as one of their major partners in Russian culture. Last year they helped with a new production of Prokofiev's opera War and Peace which has contributed to the company being nominated this year as one of Europe's best opera companies. Other BP cultural partners are the Moscow Conservatoire, the Tretyakov Gallery in Moscow and the Mariinsky in St Petersburg.
Talk of classic Russian ballet and many would think only of Bolshoi and Mariinsky as the exemplars of the best of it: huge houses, huge companies with long traditions – and highly political profiles, closely related to federal government. The Stanislavsky companies actually belong to the City of Moscow, which funds them, and they're proud to be part of that city's strong and living theatrical tradition. The ballet side has regular festivals showcasing new talent, and they work in partnership with other companies abroad. Dance Inversions this autumn will bring in companies from Brazil, Australia and New Zealand and they have a tradition of building relationships with the creative talents who come to work with them, as they've shown notably with the likes of John Neumeier, Jiri Kylian and Nacho Duato. Their general director Vladimir Urin told me that it's interesting for the development of the dancers to work with a variety of different styles all the time.
And now they have the challenges of MacMillan, which is a considerable coup for the company and its national profile. Until now, Muscovites have only seen MacMillan live on stage from visits by the Royal. Mayerling is in rep till July; Manon will join it next year – again with a new build in Moscow of the Georgiadis sets and costumes – and more thereafter no doubt. Will it be said that MacMillan has found a new home?
Watch an extract from the conclusion with Sergei Polunin and Anna Ol (uploaded by fiordililia):
Polunin, by every standard, produced a performance that was superlative, even though it was his first stab
rating
Explore topics
Share this article