Kenneth MacMillan, Royal Opera House review - a sprite proves merciless |

reviews, news & interviews
Kenneth MacMillan, Royal Opera House review - a sprite proves merciless
Kenneth MacMillan, Royal Opera House review - a sprite proves merciless
Celebration opener recovers MacMillan's uneasy 1960 Stravinsky collaboration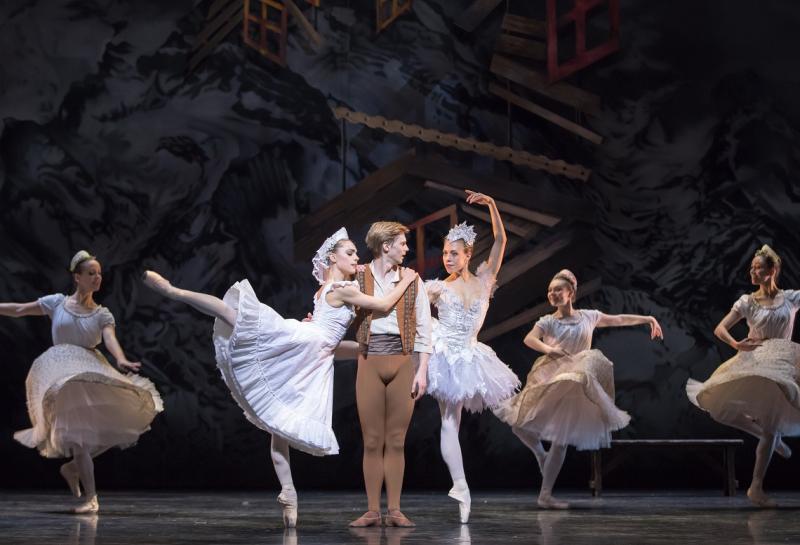 Bethany Kingsley-Garner, Andrew Peasgood and Constance Devernay in 'Le Baiser de la Fée'
There are different ways of celebrating a great artist's legacy, and I suppose they have to coexist. One approach is raptly to admire his or her acknowledged masterpieces, the equivalent of making straight for Guernica or the Mona Lisa. The other approach is to delve in the archives and pull out the fragments and sketches, the early cartoons and the late pastels, and scrutinise them for evidence of the genius at work. The decision to try and recover a lost MacMillan ballet, Le Baiser de la Fée, for this Royal Opera House season marking the 25th anniversary of the choreographer's death smacks of the latter approach.
The herculean effort of ballet notator and répétiteur Diana Curry to reconstruct the full 45 minutes of Baiser from a film and a few incomplete annotated scores is impressive, and the end result has its intriguing elements. MacMillan's homage to Ashton resembles Stravinsky's own homage to Tchaikovsky: the familiar, in this case innocent young love (see The Two Pigeons, Fille etc) and fey interference (The Dream), but spikily refracted as if viewed through frosted glass. The Fairy here is no mischievous Puck or naughty Titania but a fatal interferer who marks down a baby as hers by separating him from his dying mother, and then returns to claim him when the young man is on the brink of marrying. It's uncomfortable to watch as the mooncalf boy is seduced by the merciless sprite, and just as uncomfortable when read allegorically (the Fairy is the Muse who pulls the artist away from normal life).
Discomfort is no bad thing, and it certainly puts a MacMillan stamp on the ballet, but Baiser's potential is marred by structural problems. It was made in 1960 when its composer, Stravinsky, was still alive and able to kybosh MacMillan's attempt to change the story. As a result not just of that but also of the score's own rather tenuous relationship with the scenario, some sections are too long, others too short, and the moods of the music do not sit with the action they accompany. It is like watching a well-constructed ballet through a fragmenting prism.
Scottish Ballet, who have produced this reconstruction, unfortunately lack the star power that might have animated the solo parts: Constance Devernay and Andrew Peasgood are bland as the Fairy and Young Man. Bethany Kingsley-Garner does better with the lush choreography for the fiancée (Lynn Seymour's part). No-one is helped, in my opinion, by Simon Bennison's lighting, which is deliberately unnatural against the photo-realistic Alpine backcloth. For the latter, and the extremely clever impression of a village he conjures from an assortment of roofs and windows, designer Gary Harris deserves plaudits, but not for the decision to picture the Fairy in ragged tutu and large sparkly headdress, which is a nod no doubt to Baiser's roots in 19th century ballet but serves only to make the character even harder to comprehend. (Main picture, Bethany Kingsley-Garner, Andrew Peasgood, Constance Devernay)
While the reconstruction of Baiser is laudable, one wonders whether a better testament might have been take the Guernica approach and mount Mayerling or Romeo and Juliet with a stunning cast. The closing ballet of Wednesday's triple bill goes more in this direction, being the choreographer's light-hearted ragtime piece Elite Syncopations with a mixed cast of soloists from all five ballet companies taking part in this celebratory season. Elite Syncopations is a joyful romp, but it is also a delicious pastiche of pretension and social posturing, particularly juicy to watch from the cocoon of privilege that is the Royal Opera House.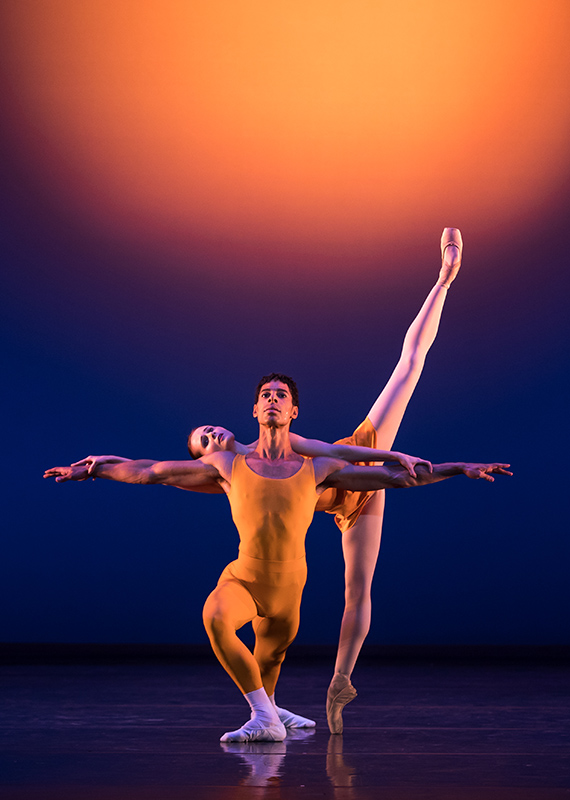 The standout performer was English National Ballet's Precious Adams who danced the Calliope Rag (Monica Mason's part) with splendidly lascivious épaulement and a natural command of the stage. The home team of Royal Ballet dancers were strong though not much to the fore: I could have stood to see much more of James Hay's elastic jumping or Itziar Mendizabal's witty swagger (pictured above, Itziar Mendizabal). Yasmine Naghdi, recently promoted to Principal, was up front with Ryoichi Hirano in the Bethena Concert Waltz but both could have been more relaxed. Scottish Ballet's Constant Vigier danced the diminutive Wayne Sleep character with aplomb.
The first piece in the programme was Concerto, the tough, neo-classical showpiece MacMillan created in 1966 to improve the skills of the Deutsche Oper Ballet in Berlin. Birmingham Royal Ballet, in the Jürgen Rose designs, gave a better account of this challenging number than Northern Ballet managed last week. Particular credit does to Jenna Roberts and Tyrone Singleton (pictured above left by Andy Ross), who made magic in the adagio pas de deux, and to Paul Murphy (conductor) and Jonathan Higgins (soloist) who between them gave a spirited and engaging account of Shostakovich's Second Piano Concerto. The rest of the dancing was marked by unimpeachable commitment, even if that was not always matched by attainment.
The concept of this national celebration, with Britain's five ballet companies sharing the Royal Opera House stage, is impossible not to like and admire. The actual degree of enjoyment depends rather on which companies and which pieces one happens to see. This opening bill was rather a mixed bag: audiences seeing later programmes, including ENB in Song of the Earth, may have a better time of it. And if you'd rather see a straightforward crowd-pleaser, the Royal Ballet is dancing Manon in May
Discomfort is no bad thing, and it certainly puts a MacMillan stamp on the ballet
rating
Explore topics
Share this article
Subscribe to theartsdesk.com
Thank you for continuing to read our work on theartsdesk.com. For unlimited access to every article in its entirety, including our archive of more than 10,000 pieces, we're asking for £3.95 per month or £30 per year. We feel it's a very good deal, and hope you do too.
To take an annual subscription now simply click here.
And if you're looking for that extra gift for a friend or family member, why not treat them to a theartsdesk.com gift subscription?