The Turn of the Screw, ENO, Regent's Park Open Air Theatre review - one dimension, not four |

reviews, news & interviews
The Turn of the Screw, ENO, Regent's Park Open Air Theatre review - one dimension, not four
The Turn of the Screw, ENO, Regent's Park Open Air Theatre review - one dimension, not four
Atmospheric setting, solid singing but no flesh creep
Elgan Llŷr Thomas's Peter Quint 'produces' the piano-playing of Miles (Daniel Alexander Sidhom) while Anita Watson's Governess, Janis Kelly's Mrs Grose and Elen Willmer's Flora in the background
Opera and music theatre have set the birds shrilling in Regent's Park before in the shape of Gershwin's Porgy and Bess – a very forgettable production – and Sondheim's Into the Woods – much better, and a score which can give any 20th century opera a run for its money in terms of thematic interconnection. Britten's A Midsummer Night's Dream would have been the obvious candidate; its earlier, tauter, smaller-scale companion-piece in terms of a very English haunting, The Turn of the Screw, was the more problematic choice for the Open Air Theatre's first collaboration with English National Opera in summer exile from the London Coliseum.
It could have been a lot spookier if the ghosts of Bly – possibly a figment of the overwrought Governess's imagination in Henry James's ever-fascinating novella, given voices in Myfanwy Piper's occasionally infelicitous libretto for Britten – had kept their distance. How eerie they looked across the reed beds behind the decayed greenhouse-manor of Soutra Gilmour's splendid designs, but they never got to sing from there; how all too corporeal they were, complete with whiteface make-up, moving behind (craned necks from the spectators) and between the audience. No doubt their former selves, the valet Peter Quint and the previous governess Miss Jessel, had been up to no good with the children (Elen Willmer and Daniel Alexander Sidhom, pictured below) – very bad, in fact, though what exactly is never made explicit by James – but there still needs to be a layer of ambiguity about how they enter into the inexperienced new Governess's mind, hungry as she seems to be for Gothick romance.
A subtle production can still just about keep this element in play, but Timothy Sheader's one-dimensional rendering wasn't it. The often unsatisfactory amplification would have allowed the ghosts to be heard from the distance they rarely kept. Could the opera have done without it had the excellent 13-piece ENO ensemble under company-trained conductor Toby Purser been in a kind of pit in front of the action rather than tucked away in the house behind it, like ghost inhabitants themselves in the first half, but again all too visible beneath ceiling lamps once it got darker, as if they were giving a country-house concert? With players as good as these, and the incredible solos Britten gives to each and every one of them, a flattening of timbre in the miking was inexcusable. Some, like the horn, could sound too boomy; others – the crucial piano – were barely audible at times. Still, the co-ordination was better than it had a right to be under the circumstances.
Two casts are alternating, so you may have, or have had (press night was the fourth performance of nine), a very different experience from yesterday evening's. I somehow doubt that Sheader's approach would allow much more dramatic range than Anita Watson's Governess provided. Hers is a gorgeous, liquid lyric soprano, with or without amplification, and the early stages showed so much promise, Purser giving Watson plenty of space to float her doubts and raptures. But though her over-reactions to the narrative of housekeeper Mrs Grose (Janis Kelly, focused and perfect as far as the role allows) over past events and to the children's behaviour flashed warning signals, the sense of her being possessed in the drive for possession never quite emerged in the second act. Put that down to unhelpfully diffuse staging of the scenes where she pushed young Miles to the brink of confession. Even the final gesture was puzzling: why evade the obvious fade-out on the stricken women cradling – spoiler alert – the body of the dead boy with nothing better than her move down the walkway to crumple right in front of the audience?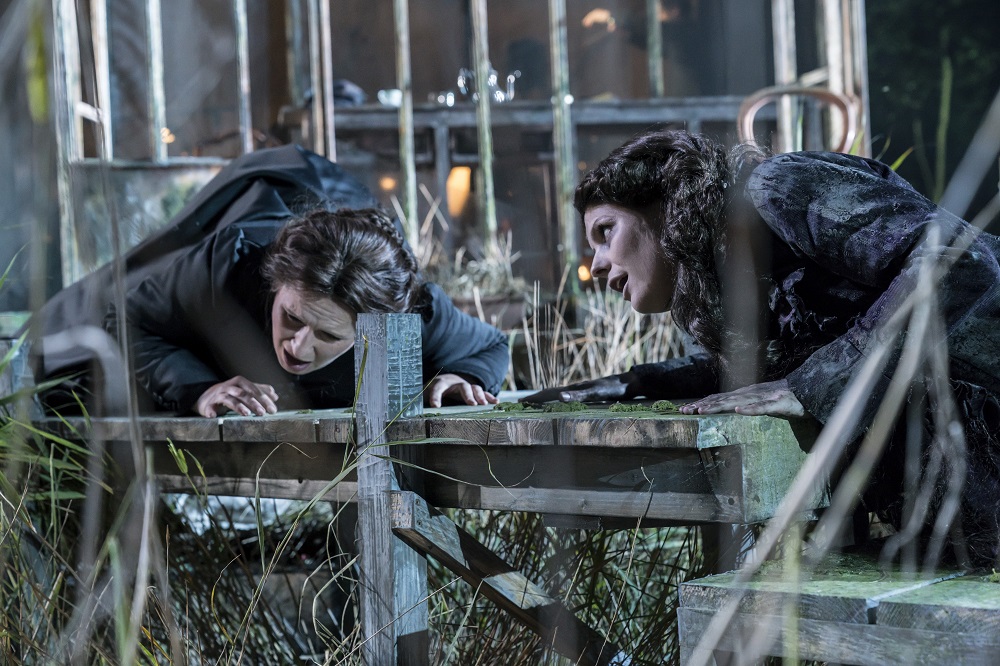 The tenors alternate roles. Last night William Morgan delivered the Prologue crisply, starting in the stalls, but without the close fusion needed with the distant piano, and Elgan Llŷr Thomas sang elegantly, but without the other-worldliness needed for the "depraved" Quint (the make-up and a bad red beard didn't help). More charismatic, Elin Pritchard's Miss Jessel set up the grand-opera duel with the present Governess in the schoolroom superbly (pictured above), but was again hampered by closeness to the audience. Sterling work from the two children, here Daniel Alexander Sidhom and Elen Wilmer, left some room for doubt over what they knew and saw, but it seemed as if Sheader couldn't quite make up his mind over that one, with a bit of overplaying the hand in what should be the night scene that ends Act One.
On the plus side in the space's mixed blessings were fabulous improvised avian obbligatos throughout Act One: parakeets squawking warnings, the cawing of a crow, a blackbird striking up to Quint's arabesques – I assume not a pre-recorded one, though it was right next to a microphone. And when the Governess sang, in the most concordant scene of the opera to our setting, how "the birds fly home to those great trees," they duly obliged. Drawbacks were havoc with the atmosphere of night and day scenes, for all the excellence of Jon Clark's lighting, and too great an awareness of one's fellow audience members. A perfect midsummer evening's pleasure, then, but no flesh creep.
Subscribe to theartsdesk.com
Thank you for continuing to read our work on theartsdesk.com. For unlimited access to every article in its entirety, including our archive of more than 10,000 pieces, we're asking for £3.95 per month or £30 per year. We feel it's a very good deal, and hope you do too.
To take an annual subscription now simply click here.
And if you're looking for that extra gift for a friend or family member, why not treat them to a theartsdesk.com gift subscription?