The Turn of the Screw, Opera Holland Park |

reviews, news & interviews
The Turn of the Screw, Opera Holland Park
The Turn of the Screw, Opera Holland Park
The evenings are warm but this ghost story casts a real chill
"Things have been done here": The Governess (Laugharne) confronts Mrs Grose (Montague)
"Is this sheltered place the wicked world where things unspoken of have been?" The Governess's question echoes through the careful suggestions and delicate temporal interweavings of Annilese Miskimmon's The Turn of the Screw, twisting smiles into sordid suggestions, schoolrooms into places not of care but corruption.
It takes a bold director to look at the evocative façade of Holland House – all crenellations and architectural ghosts – and then cover it up. Henry James's Bly couldn't find a more natural backdrop in any theatre in London, but Miskimmon turns resolutely away from this obvious solution and opts for something a little more layered for Opera Holland Park's first ever production of a Britten opera.
Steuart Bedford ensures each essential sonic gesture is heard
Drawing on the true postwar history of houses like the fictional Bly, Miskimmon and designer Leslie Travers turn to the institutions that gave them new life. In her vision, the Edwardian home of Flora and Miles is glimpsed only in its human echoes. The action of the past plays out in a more contemporary schoolroom, complete with blackboard, an obedient class of blazer-clad boys, and display cabinets that are not all they appear. It's a natural duality and a juxtaposition that emerges directly from a score that establishes its own two musical worlds in the instrumental variations and the sung scenes.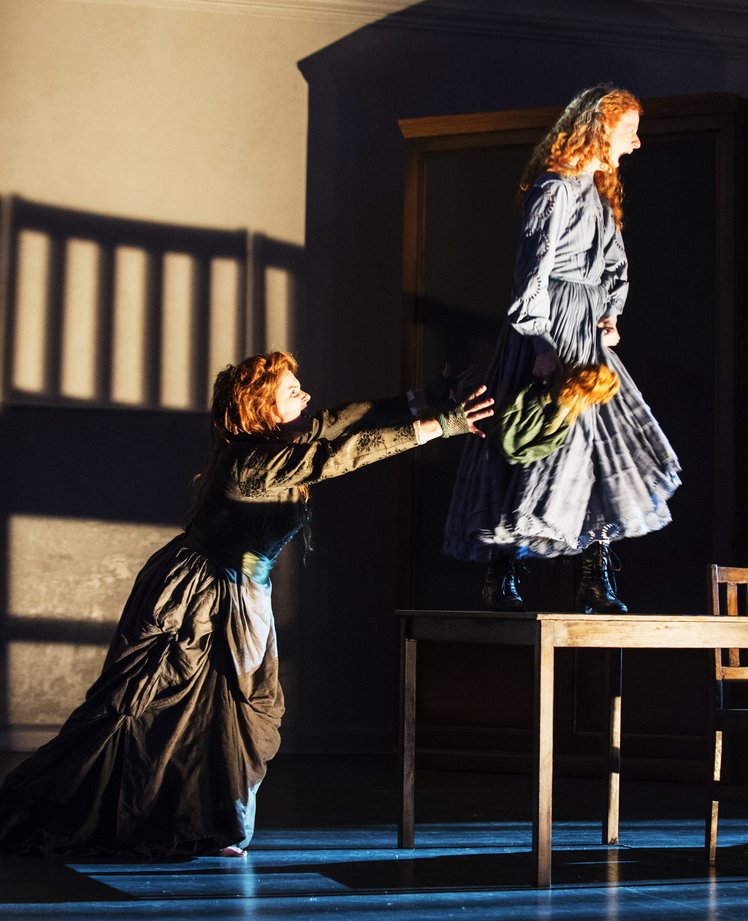 Having set her scene, Miskimmon lets it work itself out without interference. We've seen plenty of schoolroom Britten (most recently the astonishing Christopher Alden A Midsummer Night's Dream at English National Opera), and working this conceit too hard would have robbed it of its quiet and undeveloped menace. Is the science teacher really staring inappropriately at that boy? We just don't know.
Things get rather more direct with Peter Quint (Brenden Gunnell) and Miss Jessel (Elin Pitchard), who leave little doubt of their designs on the children. Travers' flexible set allows them to materialise with discomfiting suddenness, turning the screw just that little tighter on this operatic ghost story. Here, Quint's red hair and that of both children proclaims final allegiances before we begin, setting them apart, marking them.
It helps that in Rosie Lomas (playing Flora, pictured right with Laugharne) and Dominic Lynch (Miles) Opera Holland Park have a superb pair of singing actors. Though in her mid-twenties, Lomas is every lanky inch Flora, plausibly precocious in her singing (beautifully shaped and controlled) and winsome in her manner. Dominic Lynch's Miles is strikingly natural, not overworking the sibling chemistry between himself and Lomas, and underplaying the tendency to knowingness that can load the dice too heavily in this opera.
The adult cast are led by Ellie Laugharne's Governess –all warm manner and silvery vocals – whose innocent intentions are beyond question. Her exquisite performance is balanced by Diana Montague's more earthbound Mrs Grose, and the vocal richness and heft of Pritchard's Miss Jessel. Only Gunnell's Quint (pictured above) lacks the eeriness to complete the picture as James and Britten paint it.
Competing with cricket matches and peacocks for aural supremacy, Opera Holland Park's more usual repertoire of 19th-century works do occasionally lose the battle. But there's a wiry intensity to Britten's remarkably spare scoring here that refuses to fight, simply establishing itself as another –and more urgent – world. Steuart Bedford ensures each essential sonic gesture is heard (underlined by Miskimmon's thoughtful direction), and the balance with voices is spot on.
The Turn of the Screw is something of an experiment for Opera Holland Park, a move away from a familiar and successful operatic formula. But it's one that has generated the finest show yet this season, and revealed a company that can not only tackle the cast-of-thousands blood and thunder of verismo, but also the miniature delicacy of Britten. I hope that both Miskimmon and this newly extended repertoire make a repeat visit in the future.
Dominic Lynch's Miles is strikingly natural, underplaying the knowingness that can load the dice too heavily in this opera
rating
Explore topics
Share this article