Porgy and Bess, Regent's Park Open Air Theatre |

reviews, news & interviews
Porgy and Bess, Regent's Park Open Air Theatre
Porgy and Bess, Regent's Park Open Air Theatre
Production obstacles stop Gershwin's great score and a valiant cast from shining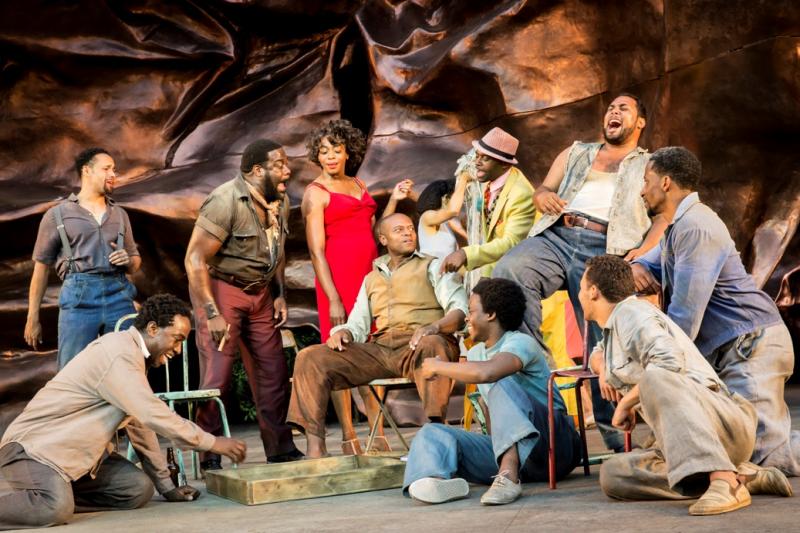 Bess (Nicola Hughes), Porgy (Rufus Bonds Jr) and Sporting Life (Cedric Neal), centre, with ensemble
It should work as pure musical theatre. Yet what precisely is Gershwin's - or rather "The Gershwins'", as this title frames it, though Ira wasn't quite Gilbert or Brecht - Porgy and Bess? An opera? Trevor Nunn made the three-hour-plus score, much cut here, dazzle at Glyndebourne and Covent Garden.
Michael Tilson Thomas's Barbican espousal of bleeding chunks alongside Berg's
Lulu
, left as a torso in the year of
Porgy
's premiere, 1935, even put me in mind of the sheer generous optimism of Wagner's
Die Meistersinger.
A musical? This threepenny version made me think rather of
Carousel,
a similarly tearjerking drama of a poor white rather than a poor black fishing community.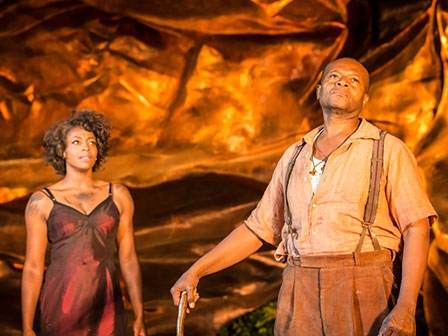 There, though, the comparison with the Arcola Theatre's astounding pocket version of Rodgers and Hammerstein's masterpiece did Regent's Park artistic director Timothy Sheader's production no favours. True, there are actors and voices in this cast every inch as good as were those in the Morphic Graffiti troupe at the Arcola. But they, a strong ensemble and a generous, hidden-away 15-piece orchestra well conducted by Simon Lee, if stripped of some of its finest utterances from the introduction onwards - imagine Meistersinger without the Prelude - are stymied by the atrocious amplification. The recent Carousel, deep joy, had none. From my seat centre left everything came compressed and flat out of one speaker (as those on the right would have had a similar experience, that means about half the audience gets a poor deal). They might as well have used a recorded backing, and when more than one voice is in competition, you can't hear the words or the vocal quality (Bess's spats with Crown are among the worst casualties).
The other obstacle is apparent as you walk into the amphitheatre. What the heck is that crumpled, bronzed monstrosity, looking like a Gehry design gone wrong? Whatever Katrina Lindsay, a designer with a good track record, intended, it's a million miles from Catfish Row, South Carolina. So it's going to prevent any evocation of realistic atmosphere. You hope the stylised movement and dancing will make amends. Beyond one early women-versus-men scene and a promising start for the picnic on Kittiwah Island, they don't. And the musical adaptation, fragmenting the score's continuity, just falls apart in an interminable last hour.
Is it the weird sound that flattens the expected energy of the half-American, half-British cast? Hard to say, but I met a drama student on the tube home who'd been looking forward to her first Gershwin and found it "weirdly soporific". Not that the principals lack chutzpah. Nicola Hughes' Bess has the right body language for the part of the outsider addicted to her violent man Crown's sexual charisma along with Sporting Life's "happy dus'" and acts it well until excessive histrionics overtake everyone in the later stages. But her show voice doesn't cope so well with the operatic opulence of the two great love duets. Rufus Bond Jr's Porgy and Cedric Neal's true light-tenor Sporting Life offer more accomplished vocal modulations, but both, along with Phillip Boykin's big but somehow unthreatening Crown, lack the last degree of charisma.
Which you could never say of Sharon D Clarke's Maria (pictured above with Neal). It's an odd evening when her speech-song disapproval of Sporting Life, "I hates yo' struttin' style" – original vernacular, smoothed out here in the texts – is the highlight. Would that other musical numbers felt as well contextualised in the current, unoperatic mix of song and diaogue; Serena's colossal lament, "My man's gone now", shouldn't come across as a cheap, isolated show-stopper. The blocking seems awkward, and though we well know how a few props, in this case tables and chairs, can bring a production to imaginative life, that doesn't happen here. It just looks like am-dram on a shoestring. Which isn't the case, given the huge credits list for the creative team. "The Gershwins' Porgy and Bess" deserves better.
What the heck is that crumpled, bronzed monstrosity, looking like a Gehry design gone wrong?
rating
Share this article