Gomorrah, Series 3, Sky Atlantic review - there will be blood |

reviews, news & interviews
Gomorrah, Series 3, Sky Atlantic review - there will be blood
Gomorrah, Series 3, Sky Atlantic review - there will be blood
Godfathers and wiseguys, Neapolitan style
You can't trust family: Gennaro Savastano (Salvatore Esposito) with his late father Don Pietro (Fortunato Cerlino)
No doubt McMafia has its strengths, but it's like a mug of Horlicks compared to the grappa-with-aviation-fuel blast of Gomorrah (Sky Atlantic). The Naples-set organised crime drama takes no prisoners. It gives no quarter, and expects none.
As a latecomer to Gomorrah, I needed to do a bit of homework before I began to get the hang of what's going in series three. However, if you're au fait with the first two seasons, you'll know that the piece hinges on the tumultuous history of the Savastano dynasty, a powerful Camorra family accustomed to lording it over the unlovely streets of Naples's Secondigliano district. However, the family split into two warring factions, one headed by the Godfather-esque Don Pietro and the younger division under his son Gennaro, or Genny (Salvatore Esposito, a man built like a coastal gun emplacement). More petrol was sprayed on the fire by the rival drug empire created by Ciro Di Marzio (Marco D'Amore, pictured below) and Salvatore Conte.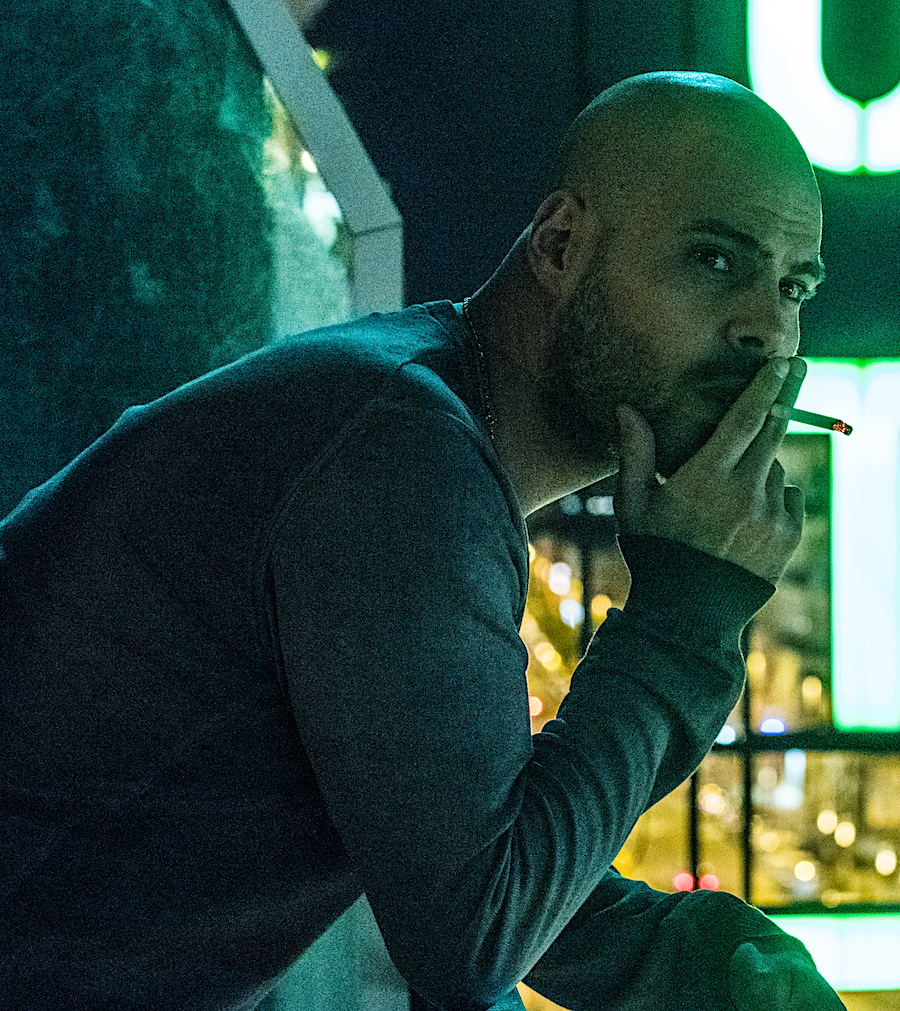 Season three opens, in tragic-operatic style, with the corpse of Don Pietro lying on the steps of the Savastano family tomb in a pool of blood from a head wound. Ciro did the deed at the end of the second series, at the behest of Genny, who realised that his father would always have kept him in his shadow as number two in the hierarchy. Not good enough for Genny, who has been systematically plotting his way to the Savastano throne. His alliance with former arch-enemy Ciro – who also killed Genny's mother Imma, to which Don Pietro responded by murdering Ciro's young daughter Maria Rita – marks a shift in the Neapolitan tectonic plates.
Ciro gets episode three to himself, depicting his temporary exile in Sofia as he tries to come to terms with the horrors he has waded through. His job as enforcer for a gang of Bulgarian people-traffickers couldn't last, and ends in a cathartic welter of blood-letting, but at least it offered a brief window of opportunity for Ciro to show a humane, even emotional side. Maybe he really is feeling remorse for murdering his own wife in season two.
Meanwhile, Genny's bid for total control was never going to be straightforward. As the series develops, various pieces assume different positions on the chessboard. Old faces pop up in new places, like old-school crime boss and sworn enemy of the Savastanos Lady Scianel (Cristina Donadio, pictured below with Esposito), wearing a scary Donatella Versace face. New alliances are forged, like Ciro and Genny's liaison with Enzo "Sangue Blu" (Arturo Muselli) and his young, reckless bunch of guys (hipster beards a-go-go) from the Forcella district. Enzo is descended from legendary Neapolitan criminal The Saint, and believes he's been robbed of his birthright. "We created The System," he claims, referring to Naples's teeming, unfathomable network of gangs which endlessly form, split, fight turf wars and destroy each other.
Genny only needs Enzo's help because he suffers a major reversal of fortune at the hands of his father-in-law, Giuseppe Avitabile ("if there's one thing I've learned, it's that you can't trust family," Genny comments). It all seemed to be ticking over nicely for him, with his new baby son by adoring wife Azzurra (Ivana Lotito), their resplendent Grand Designs-style new home, and boat-loads of cocaine arriving on schedule from a friendly Honduran source. Oh well… shit happens.
But he not busy being born is busy dying, so Genny and Ciro are soon stitching together a new network of rackets, striking a deal with Mayor Casillo to hoover up city-funded jobs in return for making him regional President. Anyone wanting to be buried in Naples, which is likely to be an ever-increasing number, will now have to use an undertaker approved by Gennaro.
What drives Gomorrah so powerfully is its aura of complete command of narrative and character, coupled with an authentic sense of place, as the camera sniffs its way around the Naples housing estates and tower blocks, old street markets, factories and docks like a wily old dog that has spent a lifetime scavenging the city. Many of the cast are locals too, and are all too familiar with the city's monstrous criminal underworld. The lens often seems to hover reflectively over some placid wide-angle landscape of sea or city or distant Vesuvius, as minimalist electronic music drips limpidly in the background. It looks so calm and peaceful, it seems to be saying, so how the hell did it all come to this?
Gomorrah Series 3 is available on Now TV