Semiramide, Royal Opera review - Rossini's Queen is back |

reviews, news & interviews
Semiramide, Royal Opera review - Rossini's Queen is back
Semiramide, Royal Opera review - Rossini's Queen is back
Joyce DiDonato and Antonio Pappano resuscitate the uxoricidal Assyrian ruler
Queen Semiramide (Joyce DiDonato) assailed by the ghost of her dead husband Nino (John O'Toole)
It has long been a mystery why no new production of Semiramide should have been staged at Covent Garden since 1887: un offesa terribile considering that this splendid melodramma tragico should have been the inaugural production of the Royal Italian Opera House (our current theatre's predecessor) in 1847.
In fact much of Rossini's repertoire, both comic and tragic, fell out of favour worldwide from about the time of Queen Victoria's Golden Jubilee, partly as a disappearance of such star lead sopranos such as Adelina Patti and Nellie Melba. So with the exception of a couple of propaganda-driven revivals in Nazi Germany (1932) and Fascist Italy (1940), there was almost no interest shown in this tragic melodrama, the finest and most complete flowering of Rossini's highly creative Neapolitan period, until the postwar period, when it became the perfect vehicle for the florid, powerhouse singing machines of Callas and Sutherland – and much later Monserrat Caballé.
The huge contemporary revival in Rossini's fortunes, driven above all by the massive success of the Rossini Opera Festival in his home town of Pesaro, has been an important vector for the careers of Ruggero Raimondi, Samuel Ramey, Marilyn Horne, Juan Diego Flórez as well as Caballé for whom Semiramide in particular became a signature role.
However, Covent Garden has corrected this historical oversight with a staging which from a musical and directional perspective is little short of impeccable. But then how could it fail with the world's currently favourite lyric-coloratura mezzo, Joyce DiDonato, in the title role, channeling both the intensely interiorised melodramatic contours of the eponymous Assyrian regal villain, referencing Freudian anguish in her incestuous amorous dilemma, and the ballsy showstopping proto-romantic diva of the grand Italian tradition?
DiDonato inhabits the role of the doomed Queen Semiramide with an ease and a generosity towards her fellow performers that looks likely to set a benchmark for future productions. Antonio Pappano's Rossini conducting with its attention to detail, his tendency to highlight the empathic effect of the wind instruments (so present in Rossini's scores) in dialogue with the exact texture of each singing voice, made for perfect synergy between stage and pit.
If the deliberate and gallant complicity between DiDonato and Pappano underpins the whole performance, it was noticeable by its absence in the performance of the acclaimed Rossini specialist Daniela Barcellona in the mezzo trouser role of Arsace (pictured above with DiDonato), a dashing general in the Assyrian army, Semiramide's love interest, and incidentally her long-lost son. Barcellona's technique is faultess (although perhaps a little soggy at the lower end), her ranging athletic physique du rôle ideal. But there is no hint in her performance to indicate that fatal intimacy with her (his) prospective lover (or mother), upon which the psychological crux of the opera should surely rest. And she has had time to get this right: she and DiDonato are reprising their roles from the Munich cast of this same production, from February this year.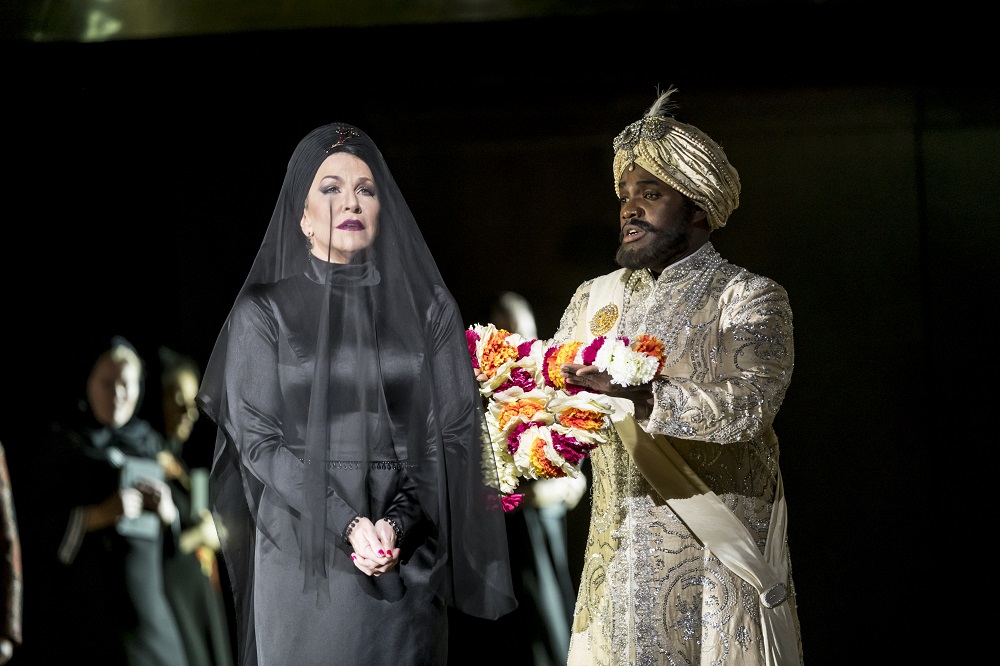 An evident favourite of Covent Garden audiences, American tenor Lawrence Brownlee (pictured above with DiDonato) made for an effective, impassioned Indian prince Idreno. His love interest Azema was creditably sung by the young American soprano Jacquelyn Stucker in a rather odd floor-length golden Azzedine Alaia-inspired sheath dress cum straightjacket. Hungarian bass Bálint Szabó interpreted the almost narrator-like role of Oroe as a Rasputin-like high priest. A special mention also to both Michele Pertusi (pictured below) and Mirco Palazzi as the Iago-like scheming but thwarted general Assur: both excellent performers, whose differing vocal styles and stage presences we were able to compare between the two acts when Pertusi was replaced by Palazzi due to illness.
The strategic advantage of packing Italian-trained rossiniani like Barcellona, Pertusi and Palazzi into a brand new British production like this is not only about their perfect skills in elocuting Gaetano Rossi's 1823 libretto (based on Voltaire's 1749 novel Semiramis), but in their instinctive understanding of how Rossini's broad musical theory actually works. Without benefit of the deep and pioneering ricerca critica of the last half-century or so, driven largely by the Pesaro Festival and the critical editions sponsored by the legendary Milanese music publishers Casa Ricordi, it is hard for North European/American ears fully to appreciate the refinement and complexities in the work of this missing link between the Baroque and the Romantic operatic traditions. Wonderfully, both Pappano and DiDonato totally get it.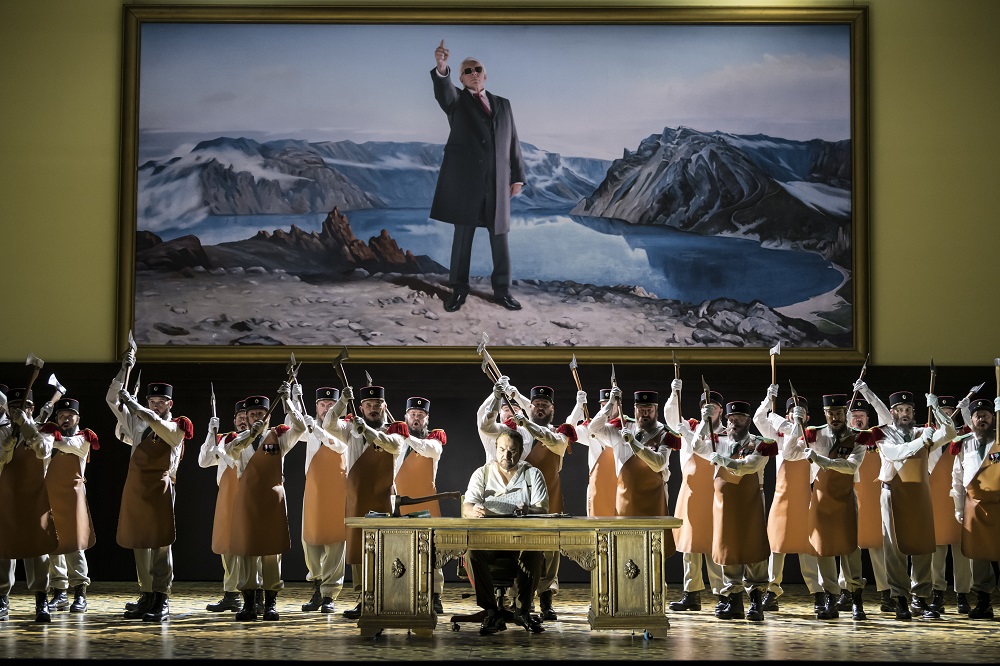 David Alden's production is reliably efficient and functional, fully exploiting the resources of the Covent Garden stage both vertically and horizontally. Tiresomely predictable however, the sets and costumes by Paul Steinberg and Buki Shiff respectively: the same old same old mishmash of eras and cultures evoked with that sort of post-post modern legerdemain that is so long past its sell-by date. A gigantic statue of the Assyrian god Baal resembling a contemporary Central Asian dictator, lurid gigantographs of the now dead King Nino resembling Donald Trump with blond comb-over and dark glasses. Absolute Baal-oney.
A dressing-up box assortment of culturally misappropriated costumes and uniforms that 20 or 30 years ago might have seemed cutting-edge, but now look oh-so-so last century. Only floor-length black leather coats (a ROH/ENO staple, along with edgy-looking Raybans) seemed to have been left out. Rossini always played to the gallery, but he was never a fool for cheap pantomime pastiche.
The staging from a musical and directional perspective is little short of impeccable
rating
Explore topics
Share this article