Opera Italia, BBC Four |

reviews, news & interviews
Opera Italia, BBC Four
Opera Italia, BBC Four
Royal Opera music director Antonio Pappano communicates the full magic of opera
Pappano in Venice: the man born to communicate the full magic of opera
The backlash begins here with the first of Flavia Rittner's three documentaries: not an operatic wannabe or a gushing celebrity outsider to present, only a conductor who knows and loves his job inside out and a parade of gorgeous, energetic singers all at the very top of their hard-working game in state-of-the-art productions.
It was a tall order for irresistible Royal Opera music director Antonio Pappano to whizz his way through Monteverdi, Handel, Mozart and Rossini in one hour, but by going straight to the heart of each matter, choosing a scene from a key opera and working on it in the most engaging way possible, he has delighted even us know-alls.
Only a man who commands so much respect in the profession would be allowed to introduce so many of those foreign words which usually scare media supremos (even on Radio Three at one stage we were forbidden to use Italian musical terms). Recitativo, da capo, coloratura, opera seria, opera buffa: Pappano defines them all on the hoof, usually as he sits at the piano or the harpsichord playing and singing with immense elan. So let's add another not too alien word to the vocabulary: vivacità. It informs the way he romps through Rossini set pieces with the Figaro of Pietro Spagnoli and the no less exuberant Joyce DiDonato's Rosina, his strolls through Italian cities where BBC cameramen let the light work its magic and an especially delightful lunch the day after a show in Pesaro with the Rossini tenor ne plus ultra Juan Diego Florez. These singers aren't faking a luvviness with Pappano: they know how hard he works, and they genuinely adore him.

Setting up the origins of Italian opera as an intellectual revival of sung Greek tragedy when the punters are wanting their Verdi and Puccini - to follow in two more programmes - was never going to be easy, but it's done with the same brio. It was clever to focus on a period performance of Monteverdi's L'Orfeo before setting before the viewer, and without comment, a sequence of updated productions to ravish the eye as well as the ear. They're all excerpted from unmissable DVDs of the complete operas in question, but this isn't lazy TV: Pappano gets sexy communicator Danielle de Niese into the rehearsal room with peerless mezzo Sarah Connolly to sing and talk about Roman courtesan Poppea's boobs as they go through two scenes from Monteverdi's last masterpiece.

Only connect: De Niese and Connolly star in David McVicar's award-winning production of Handel's Giulio Cesare, so here's the perfect opportunity for Pappano to take us through the three sections of the da capo aria, with Connolly's ferocious Caesar unleashing extra venom in an even more florid repeat. Handel? Mozart? Italian opera? Of course. Pappano confirms Mozart's impeccable sense of the melodies inherent in the language as we zoom on to McVicar's Covent Garden Marriage of Figaro, which Pappano directed so unforgettably from the harpsichord. Here are more good-lookers, Erwin Schrott and Miah Persson, to put across the naturalness of a feisty love match (our conductor-pianist begins to take us through the three main orchestral lines of the opening duet and again, amazingly, TV lets him go on). Then we learn most of what we need to know about the art of the ensemble in a whistlestop tour of the Act Two finale.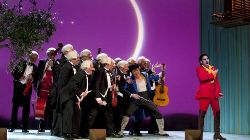 The Barber of Seville grand finale is irresistible, too - stemming from an evening of pure delight streamed live across the UK (Royal Opera production pictured right). What better introduction to comic opera than Patrice Caurier and Moshe Leiser's Day-Glo production? Could anyone charm the pants off a first-timer better than Florez and DiDonato? And that's without more than a glimpse here of Alessandro Corbelli's consummate Bartolo and Ferrucio Furlanetto's Don Basilio. Pappano doesn't need the handful of experts - and "experts" - wheeled out to tell him what he already knows and add supposed gravitas to the proceedings. It's quite enough to have the contributions of the directors, the singers and their energetic renaissance man, largo al factotum, call him what you will. Don't miss the second and third instalments.