Prom 68: Semiramide, OAE, Elder |

reviews, news & interviews
Prom 68: Semiramide, OAE, Elder
Prom 68: Semiramide, OAE, Elder
A barnstorming evening of bel canto
Monday, 05 September 2016
Rossini's rarely performed Semiramide here gets an outing worthy of this bel canto masterpiece
Between the Berlin Philharmonic, Leipzig Gewandhaus Orchestra and Simón Bolivar Symphony Orchestra it has been a big week at the Proms, in every sense. Scope and scale have been the watchwords for the orchestral tectonics that have taken place, the sonic landscapes that have been formed and reformed.
But concert-goers on Sunday night were hit with an operatic aftershock of overwhelming force, bringing this penultimate Proms week to a close next weekend's patriotic spectacular will struggle to match.
Rarely staged in the UK, Rossini's Semiramide, like Verdi's Il Trovatore, is an opera you only put on if you have the singers. The demanding central roles have been synonymous over the years with the likes of Joan Sutherland and Marilyn Horne, and it takes a bold company to take those memories on. Step forward record label Opera Rara, who might just have done it again, taking a neglected 19th-century opera and restoring it lovingly to new colour and life. The recording won't be out till next year, but if this sneak preview performance is anything to go by it's going to be another winner.
In Shagimuratova bel canto has a potential new queen
The cast has been something of a moveable feast over past weeks, with various singers (notably bass-baritone Ildebrando D'Arcangelo) pulling out, but the final line-up – led by soprano Albina Shagimuratova as Semiramide, mezzo Daniela Barcellona as Arsace and young bass Mirco Palazzi as Assur – was an outstanding one.
Based on Voltaire's play Semiramis, the plot is at the extreme end even of bel canto excess. Semiramide rules Assyria, but only because she and her erstwhile lover Assur have murdered her husband Nino and seemingly also her son. Forced to name an heir, Semiramide chooses the warrior Arsace, claiming him as her husband. Unfortunately not only does Arsace love the princess Azema instead, but is also Semiramide's lost son, as priestly advisor Idreno reveals. A climactic encounter between the wicked Assur and noble Arsace ensues, but it's Semiramide who ends up dead, accidentally killed by her own son.
Conductor Mark Elder (pictured right) makes a strong case in his programme notes for performing this work to length, surrendering to the inherent structural scope of an opera that runs to well over four and a half hours without cuts. Even here, however, some trims were necessary, with Barry Banks's Idreno and Susana Gaspar's Azema the big losers. The effect was to throw the focus all the more unremittingly on the central trio, whose lives are so devastatingly intertwined in a scheming triangle that has more than an echo of the Macbeths's relationship about it. Strip away staging too, and the dramatic intensity was stifling, a rare opportunity to see what Rossini's music can achieve without directorial intervention.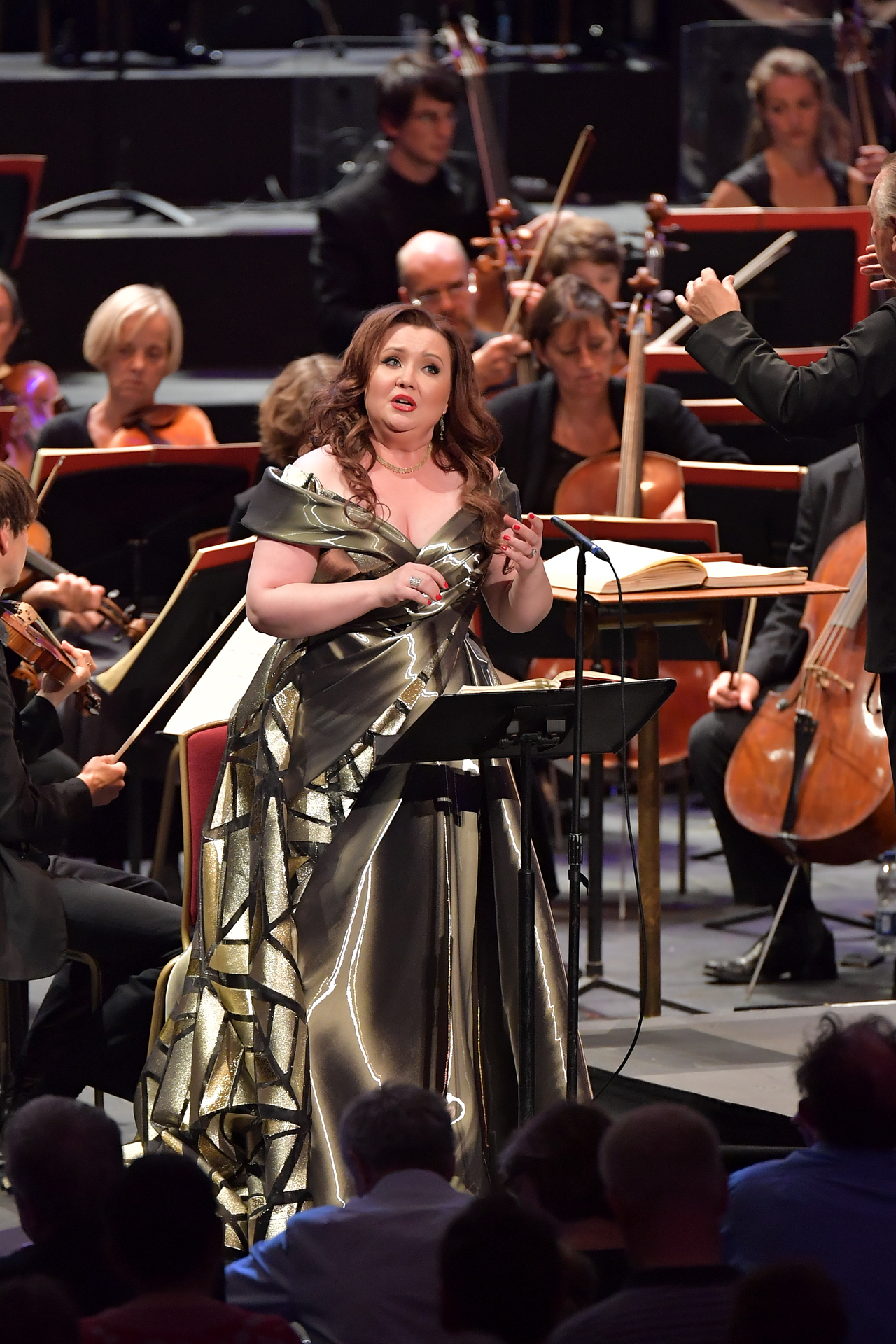 In Shagimuratova (pictured left) bel canto has a potential new queen. The soprano's first outing in the genre displayed all the necessary tools for success. An easy power, coupled with striking agility, set the hall ringing, whether at pianissimo (for her glorious reconciliation with Arsace) or fortissimo, and her trill is beyond reproach. Extensive embellishment allowed her to reimagine this low-lying role as something altogether more suited to her soprano strengths, providing a gilded foil to Barcellona's deliciously dusky mezzo. Unaffected in her delivery, even throughout her impressive range, Barcellona really is the business. Especially impressive is her work at the very bottom of the register, finding tone and warmth even in the awkward "Ah" Quel giorno ognor".
If Mirco Palazzi's light Assur couldn't quite banish thoughts of D'Arcangelo, then this young bass nevertheless put it a creditable showing, rallying his audibly depleted forces for a vivid mad scene. But more exciting (and much more powerful) was Gianluca Buratto's sonorous Oroe, a distinctive vocal presence that promises much for the future. Served well by the lighter, clearer textures of the period Orchestra of the Age of Enlightenment, Barry Banks' Idreno carried beautifully through the hall, his music shaped with a striking range of colours, and his one surviving aria – "La speranza piu soave" – was a love-song of tremendous poignancy.
Elder's brisk tempi and contributions from both a swollen OAE and the tight Opera Rara Chorus kept the drama moving, making a strong case for this bel canto behemoth. If it translates even half as well on disc this will be still be a performance well worth buying.
If it translates even half as well on disc this will be still be a performance well worth buying
rating
Explore topics
Share this article