The Last Kingdom, Series Finale, BBC Two |

reviews, news & interviews
The Last Kingdom, Series Finale, BBC Two
The Last Kingdom, Series Finale, BBC Two
Saxon saga reaches bloodthirsty but satisfying climax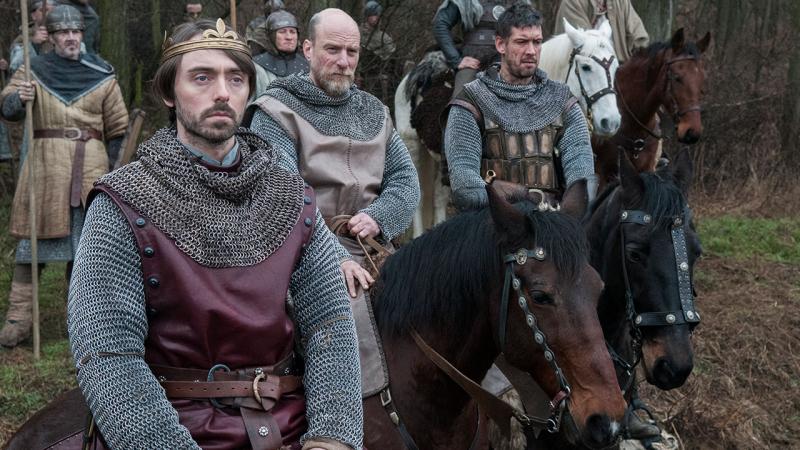 David Dawson as King Alfred, with his Saxon entourage
Though Alfred the Great was renowned for educational and social reforms as much as for whupping the Danes on the battlefield, I'd never pictured him the way David Dawson has been playing him in The Last Kingdom. Pallid and sickly-looking, and plagued by all-too-human frailties, this Alfred looked more like a weedy consumptive poet than the midfield dynamo of embattled Ninth Century England.
Yet it paid off in the end, as Alfred summoned all the strength he could find to drag himself and his entourage out of the soggy Somerset marshes (where, last week, he burnt the cakes in finest 1066 and All That fashion) to raise a Saxon army and thwart the Danish menace. Alfred's rallying speech to his troops on the eve of battle found him a changed man, no longer whispering wanly and making effete hand gestures, but suddenly a born leader with fire in his blood.
In about seven minutes of screen time, Uhtred destroyed an entire fleet of Viking longships
"We shall make the ground red with their blood!" he roared. "No mercy!" The troops took up the "no mercy" refrain like a trainload of away supporters awash in Special Brew, sending it rolling out across the green English meadows to where the Danes waited, cold-eyed, body-painted and very, very hairy, like devotees of some death-metal biker cult.
Of course Alfred couldn't have roused himself and his men for the "one defining battle" he craved to settle matters once and for all without the superhuman efforts of Uhtred (Alexander Dreymon, quite reminiscent of the younger Brad Pitt). Uhtred's story has been the backbone of the series, the fictional hook for author Bernard Cornwell's richly-spun historical backdrop (chapeau, while we're at it, to TV dramatiser Stephen Butchard for a fine sustained effort). Last week, in about seven minutes of screen time, Uhtred skilfully destroyed an entire fleet of Viking longships, then slaughtered their crews by luring them into the depths of the marshy wilderness (Alexander Dreymon as Uhtred, below).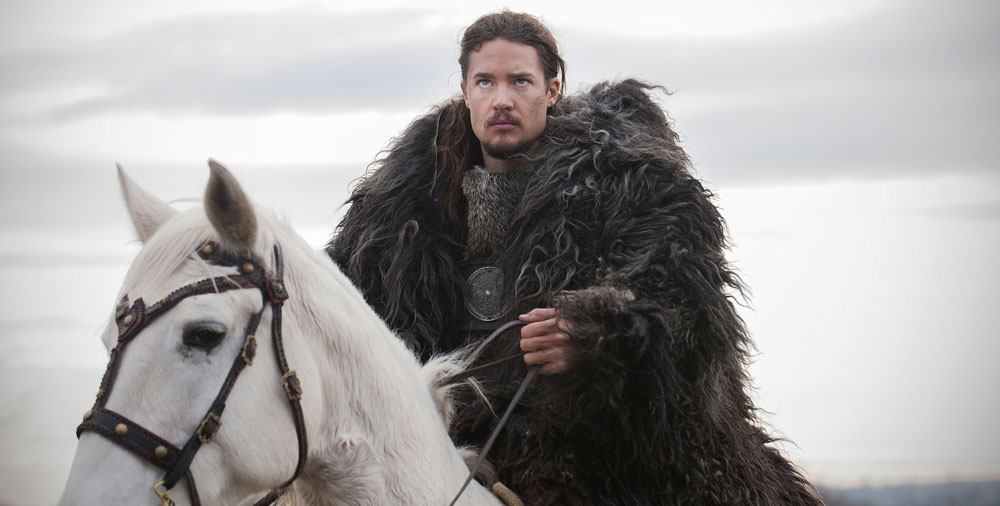 But they've put poor Uhtred through the emotional wringer. Not only has he had to put up with the slaughter of his Saxon family followed by the massacre of his adoptive Danish family, but in this final episode he was crushed with grief by the discovery of the dead body of his baby son, pitifully wrapped and buried by his estranged wife. Worse still, though his mystical new lover Iseult (Charlie Murphy) – equipped with gifts of healing and prophecy – saved Alfred's sick child and thus immeasurably aided the Saxon cause, she became haunted by the notion that the death of Uhtred's son was the price of saving Alfred's, as ordained by some great cosmic pendulum. And finally, for Uhtred, the triumph of the Saxons in battle was curdled by Iseult's horrible fate.
How can a poor boy stand such times and live? Well he has, and there are seven more Cornwell novels in the queue, so it's a good bet that we'll be seeing a lot more of this decisive and gleefully bloodthirsty warrior and his hazardous milieu. This is right and proper, because The Last Kingdom has been consistently pacy and absorbing, and has illuminated a period of British history which probably needs all the attention it can get. Good job, people.