The Last Kingdom, BBC Two |

reviews, news & interviews
The Last Kingdom, BBC Two
The Last Kingdom, BBC Two
War, treachery, ambition and vengeance in muddy ninth century Northumbria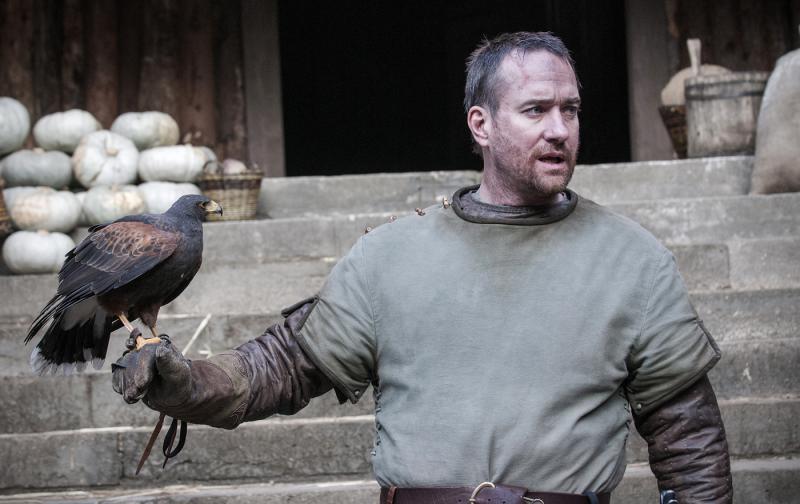 Matthew Macfadyen as Lord Uhtred, sadly lacking in battlefield knowhow
I always like watching Matthew Macfadyen, so I was appalled to see him horribly slain barely 20 minutes into this gutsy new adaptation of Bernard Cornwell's Saxon Stories. Not just slain, but then nailed to a post by the Vikings, who put a flipping great bolt in his mouth and hammered it through the back of his head.
Despite this brutal display of bloodthirsty triumphalism, it was the Vikings, or some of them, who emerged as the slightly preferable faction in this tale of 9th century Saxon Britain, a murky, muddy country terrorised by the murderous Norse invaders. Unrecognisable from the touchy-feely Third Way liberals who inhabit Borgen, these Danes were rampant colonialists, keen to leave their own even more inhospitable Nordic terrain and hack out an empire in the tantalisingly arable turf of eastern England. For the moment, they have their sights set on Eoforwic (pronounced "Eyovorwich"), which is York.
It must be said that Lord Uhtred (Macfadyen) and his bedraggled-looking Saxon army didn't really distinguish themselves in combat. A childish tactical blunder led them straight into a none-too-subtle Viking trap, and after they'd obligingly hurled themselves onto the locked shields of the leering Norsemen, they were briskly surrounded and cut to pieces.
But this was merely the preamble, since the focus of the story was Uhtred's son, Uhtred (Tom Taylor, pictured above). He was not to be confused with his elder brother Uhtred who, sharing the family proclivity for behaving idiotically in the face of the enemy, taunted the Norsemen as they sailed upriver. And the consequence was, his severed head was dumped on the Saxons' doorstep by Earl Ragner (Peter Gantzler).
Thus the youngest Uhtred became the heir to his father's kingdom of Bebbanburg in Northumbria, but he also became a captive of the victorious Vikings. As the victors wenched, wassailed and laughingly strung up their Saxon prisoners from the rafters, the boy Uhtred was befriended by the venerable and blind Ravn (Rutger Hauer, pictured below), Ragner's father. Long story short, the boy was taken into Ragner's family as a slave, but, thanks to his feistiness and can-do attitude (and seeming indifference to the fate of his slaughtered family, perhaps because his dad was always bellowing at him), became more like an adopted son. Especially after he rescued Ragner's young daughter from the lascivous attentions of another Viking boy.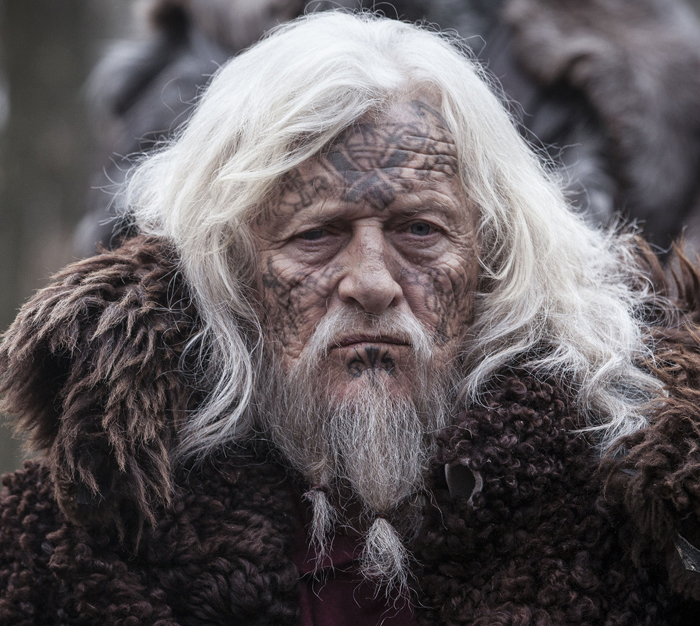 However, powerful forces of ambition, greed and the lust for revenge are stalking the land. Uhtred's adoptive family became the victims of a treacherous Viking clique, and Uhtred's uncle Aelfric has done a deal with the invaders so he can keep the inheritance which rightly belongs to his nephew (who has already grown up, and is being played by Alexander Dreymon). Now Uhtred wants his kingdom back, and he has a plan for getting it.
This looks like it's going to be a rattling, bone-breaking yarn full of blood, guts and big dynastic emotions. The raw and fearful period feel is potently conveyed, and some of the cinematography is stunning (the opening pulse-accelerating sequence of the Viking longships rounding the headland as the Saxons watched from the beach was the perfect curtain-raiser). And, being a co-production with BBC America, it's been given a generous eight episodes to be going on with. Rockin'!