Uchida, LPO, Jurowski, RFH |

reviews, news & interviews
Uchida, LPO, Jurowski, RFH
Uchida, LPO, Jurowski, RFH
A lucid journey through three centuries of great German music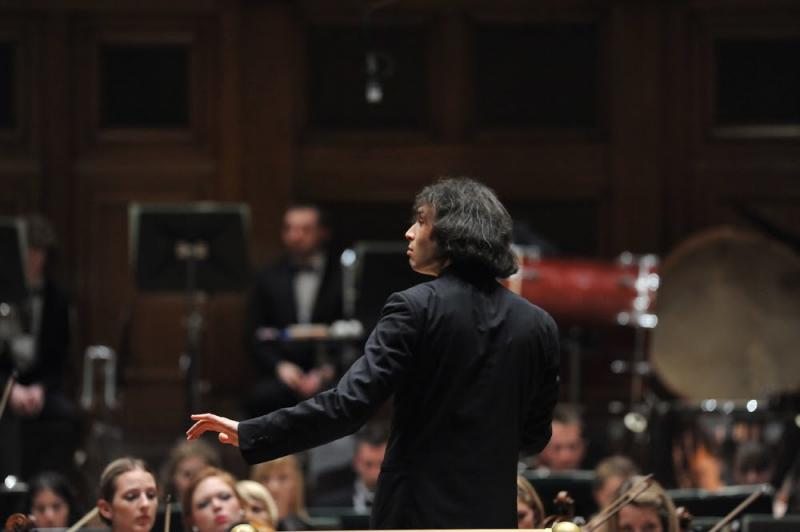 Vladimir Jurowski: carefully-moulded Brahms
Vladimir Jurowski is a master of the through-composed programme. Yet at first this looked like a more standard format: explosive contemporary work (if 1966 can still be called "contemporary") followed by popular concerto and symphony.
On reflection, though - and there was space enough for that - it turned out to be a back-to-front journey through German musical history, from Bernd Alois Zimmermann's atom bomb of light to classical-romantic Beethoven and late-romantic Brahms ending in a homage to Bach The sequence of works was executed with the sometimes blinding clarity we've come to expect from Jurowski, not to mention his peerless soloist Mitsuko Uchida.
Strings shifted positions between pieces, until we ended up with double basses centre-back and cellos right under the conductor's nose to emphasise the darker linings of Brahms's Fourth Symphony. And what a luxury to have a massive orchestra, organ and unusual brass included, for a mere ten minutes at the start. Not that Zimmermann's Photoptosis feels anything but epic as it moves so surely from darkness via shards of music past – only Scriabin's Poem of Ecstasy is obvious among the quotations – to a very unconventional and uncomfortable kind of light. A masterpiece, no doubt, to continue drawing on the inexhaustible wellsprings of last year's The Rest is Noise festival.
Then there were lucidity, poise and a brief shock of the new – or at least of Emperor Concerto territory – in a rolling cadenza as Mitsuko Uchida (pictured right) listened and responded to an exquisitely poised and shaded London Philharmonic in Beethoven's only modestly ambitious Third Piano Concerto. The previous performance I heard only a couple of weeks ago, from the magisterial Radu Lupu in Stockholm, had the soloist seeming to declare, "this is the way I do it, and you follow". But Uchida always makes chamber music with her fellow musicians, and Jurowski returned the compliment. Personally I'd rather hear any of the late Mozart concertos Beethoven occasionally evokes, but that's a personal blind spot and this time a work which can verge on the placid, especially in the slow movement, held me captive.
Brahms's Fourth Symphony is a monument, like Tchaikovsky's Pathetique resurfacing later this month, which Jurowski likes to repeat – his LPO Live cycle on CD is superlative already. Yet the interpretation is anything but frozen. Jurowski makes much of the epic-lyric balance, the heart that beats so freely in a masterfully flexible airborne opening and the heart that learns to turn itself to stone. That first happens in the first movement coda, magnificently sculpted here, and culminates in the supreme Passacaglia. Jurowski has the total measure of the way in which its stern opening and climactic concluding sweeps frame an awesome central calm. There, the three trombones led by Mark Templeton softened their sternness, and the guest principal flautist, that master Michael Cox, lent all the poignancy in the world to a last glimmer of the personal.
The orchestra as a whole was on top responsive form, from the warming vibrato of the violas in another moment of intimacy to the two-sticks triangle halos enriching the free and exuberant scherzo. Its position of finale-like triumph swept aside by colossal tragedy, both writ large here but with Jurowski's usual discipline, served us a reminder that Brahms got there first in terms of unconventional symphonic structure some years before Tchaikovsky plumped for a stunning Adagio lamentoso as the culmination of his Sixth Symphony. Don't miss Jurowski's even more radical re-interpretation of that, either.
Uchida always makes chamber music with her fellow musicians, and Jurowski returned the compliment
rating
Share this article